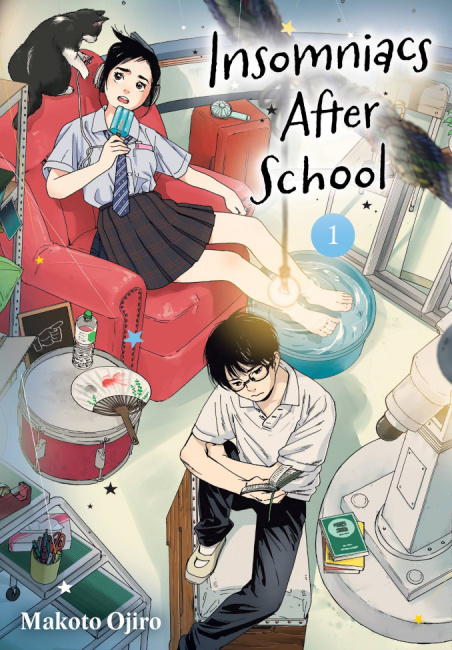 Insomniacs After School Vol. 1 TP
Publisher: VIZ Media
Release Date: March 22, 2023
Price: $12.99
Creator: Makoto Ojiro
Format: 192 pgs., B&W, 5.75" x 8.25", Trade Paperback
ISBN: 978-1-9747-3657-7
Age Rating: Teen
ICv2 Rating: 4 Stars out of 5
What do astronomy, insomnia and ghost stories have in common? Well, the night, for one thing, but in this case there's also the observatory at a STEM high school. There is a creepy ghost story involving why it's no longer in use, but there are also two teens, a boy and a girl, who share the problem of insomnia. Both are always looking for places to nap during the daytime, and both hit on the same solution, the unused observatory. Their adventures, which includes meeting a stray cat who has no problems sleeping, eventually lead to a sympathetic faculty member who comes up with an unusual way to help them.
This is sort of a pre-romance story, in that there is nothing romantic or sexual about their relationship, but it is a genuine friendship that might turn into something more as the series goes on. Both characters are awkward and out of step with their peers, and their shared insomnia leads both into problems and accidents. It also leads them to being true peers, and interesting "outsiders" of a type not often portrayed.
The artwork is very good, typical of a realistic VIZ manga, but the details that the artist includes, ranging from the parts of a telescope to those of a vending machine at night, add attractive realism to the story. This is a story to recommend to readers who want a good high school story that might also turn into a romance, but it will also be a good read for those who just want to read about outsiders having a good time with life.
-
Nick Smith