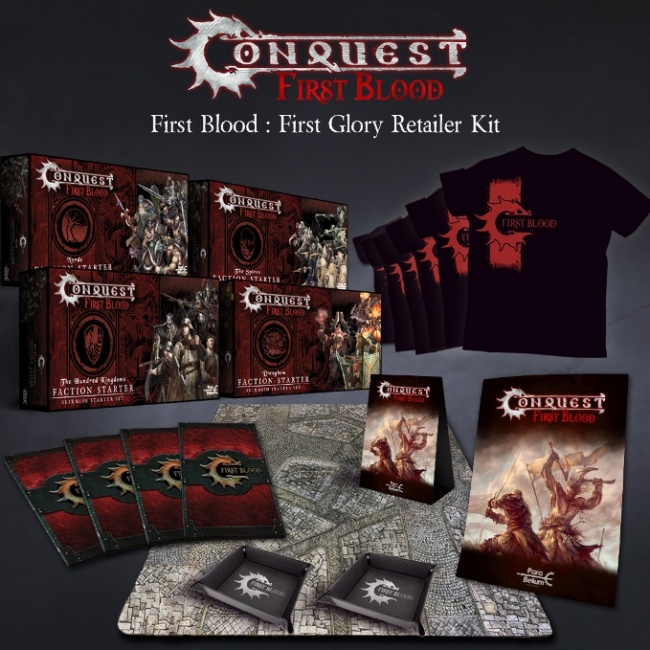 Sponsored
. Para Bellum Wargames, the developer and publisher of the fantasy Regimental Miniature Wargame
Conquest: The Last Argument of Kings
and the Skirmish system
Conquest: First Blood
, revealed a special kit for its retailers, available in January 2021, to promote the launch of
Conquest: First Blood
. Titled
First Blood: First Glory
these retailer kits contain previously unreleased "Taster" boxes, softcover
First Blood
rulebooks,
First Blood
t-shirts, marketing tents and
First Blood
themed mats and dice trays, specially made by Kraken Wargames.
"We want to support and enhance the efforts of our
Conquest
retailers and their gaming communities" says Daryl McKay, Global Head of Sales and Marketing. "Apart from products, this kit offers tools to promote not just
First Blood
, but all
Conquest
products. They are 'conversation starters', there to provide the opportunity to talk about
Conquest
as an entire tabletop gaming world."
The Faction "Taster" boxes, which will be initially available solely to retailers through the First Blood: First Glory kit, are designed as a starting force for the Skirmish First Blood. An opportunity for a 'first taste' of the Conquest game. Players are also set up with an initial foundation for a Conquest: The Last Argument of Kings army, the fast-paced Mass Battles game and the flagship of Para Bellum Wargames, becoming an entry product to not one but two games. The rules of both games are available online for free. It is also handy to have a printed rulebook during demos and gaming nights. Many players prefer a solid, printed version in their hands. The T-Shirts are designed for sale or prizing to customers and for staff members use. Finally, First Blood tablemats and dice trays, made by none other than Kraken Wargames of Germany, mark the initial collaboration of the two companies. The retailer kit provides quality materials for general use in stores to promote First Blood and build a larger Conquest community for their local store.

The First Blood – First Glory Retailer Kit contains:
4 x Faction Starter/"Taster" Box (one of each of the Conquest factions)
4 x Conquest: First Blood softcover rulebooks
1 x Conquest: First Blood Mat by Kraken Wargames
2 x Conquest: First Blood Dice Trays by Kraken Wargames
6 x Conquest: First Blood T-Shirts
2 x Conquest: First Blood Tents
1 x Conquest: First Blood Poster
Retailers: Visit the Parra Bellum website or email Daryl McKay for more information.