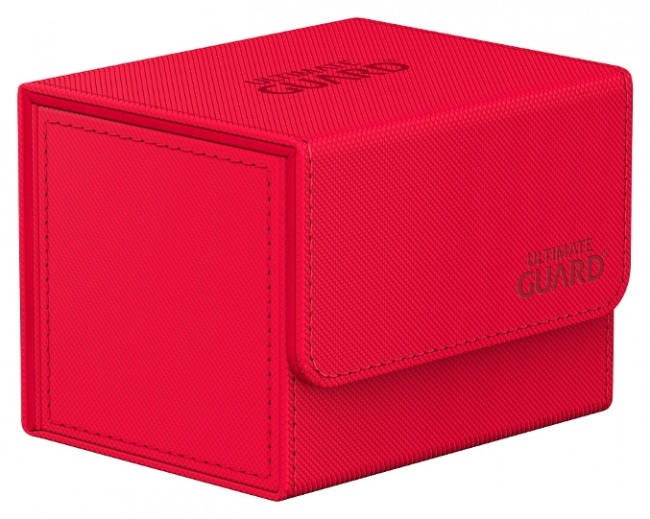 Sponsored
. Last week, the
Sidewinder 100+ Xenoskin Monocolor
products were showcased. Ultimate Guard shared that this SKU releases Globally on
July 9,2021,
with a North and South American order deadline of June 9, 2021. That date has been extended to
June 11, 2021
to accommodate the added demand, while still allowing for the global release to be achieved. Additionally, Ultimate Guard will take this opportunity to share with the retail channel a little more about the full
Monocolor
line, which merely kicks off with the
Sidewinder 100+ Xenoskin
in July.
As shared on the
Monocolor
landing page
, at the end of Summer, the
Arkhive 400+ Xenoskin
will join the
Sidewinder
with the first five, vibrant new monochromatic color schemes (White, Black, Blue, Red, Green). This raises the question; what else will follow? The entire
Xenoskin
line will follow. Going forward, the revised, vivid color scheme for the Ultimate Guard boxes and cases, will be as follows: White, Blue, Black, Red, Green, Petrol, Purple, and Grey. This includes the
Sidewinder,
Mat Case, Flip'n'Tray
series, and the
Twin Flip'n'Tray
series. The eight colors above will be the base colors for products, and potential future releases, within the Xenoskin box and case lines. Future colors, however; certainly, might find their way to market, but the simplification, renewal, and evolution of the market-leading products by Ultimate Guard was the focus for this change. For the Hive group of products, currently, but not limited to, the
Smarthive 400+,
the
Archive 400+
, the
Superhive 550+,
and the
Arkhive 800+
, the following colors will be included in the Ultimate Guard portfolio: Black, Blue, Grey, Red, and Petrol. Again, future colors have a habit of being developed, but these, like the cases and boxes above, will be the base line-up. Additionally, every Superhive going forward will have the same ZNAP claw magnetic closing mechanism, as the Arkhive 800+, increasing the protection provided to the treasures inside.
What to Expect? Ultimate Guard will be sharing more of those details, other great upcoming product releases, program enhancements, and more, with their Premium Retailers in the Americas, during a soon-to-be-announced series of small group sessions. Details of which will be delivered in their premium Newsletter in the next couple of weeks. Please also check in with Distributors, and others, for added opportunities to get a more in-depth understanding of the bevy of upcoming class-leading products, and program developments from Ultimate Guard.
As mentioned previously
,
Ultimate Guard will continue to share with the retail channel via their Brick & Mortar weekly updates on when the product(s) will arrive in port, when distribution should expect the product, to aid retailers in marketing efforts (if interested to receive this, please inquire with
ticket@ultimateguard.com
). Similarly, if you would like to get monthly updates, in more detail, contact the same email to get the Ultimate Guard monthly Newsletter.