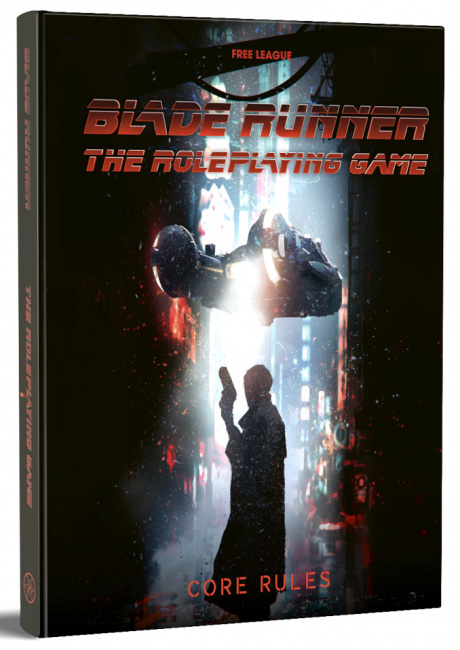 Sponsored
.
Blade Runner the Roleplaying Game
is a neon noir wonderland that will take your breath away, one way or another. Coming December 13 from Free League Publishing.
This is an evocative world of conflicts and contrasts that dares to ask the hard questions and investigate the power of empathy, the poison of fear, and the burden of being human during inhumane times. An iconic and unforgiving playground of endless possibilities that picks you up, slaps you in the face, and tells you to wake up.
Time to live. Or time to die.
The Game
The official
Blade Runner RPG
will propel players into the streets of Los Angeles as Blade Runners with unique specialties, personalities – and memories. The core game and its line of expansions will push the boundaries of investigative gameplay in tabletop RPGs, giving players a range of tools to solve an array of cases far beyond retiring Replicants.
Beyond the core casework, the game will both in setting and mechanics showcase key themes of Blade Runner – sci-fi action, corporate intrigue, existential character drama, and moral conflict – that challenge players to question your friends, empathize with your enemies, and explore the poisons and perseverance of hope and humanity during such inhumane times.

The rules of the game are based on the acclaimed Year Zero Engine, used in award-winning games such as the ALIEN RPG, Tales From the Loop and Forbidden Lands, but further developed and uniquely tailored for Blade Runner.

The Setting
Set in the year 2037, the adventures begin shortly after the Wallace Corporation debuts the new Nexus-9 Replicants on Earth, giving players the choice to play as either human or Replicant Blade Runners with different specialties, personalities, and memories.

As a member of the LAPD's Rep-Detect Unit, players will face impossible choices and find beauty and humanity in the stubborn resilience to keep fighting. To persevere through pain. To agonize over itches they can't scratch. To do questionable and extraordinary things, chasing after fleeting moments of love, hope, and redemption to be lost in time like tears in rain.

Other than that, it's just a normal day on the force, so get to work and grab some noodles on the way. That stack of cases won't crack itself. It's a shame you won't live long enough to solve them all. But then again, who does?

Blade Runner the Roleplaying Game is published in partnership with Alcon Entertainment and was voted Most Anticipated RPG of 2022 in the annual vote held by the EN World.

The Starter Set
Blade Runner the Roleplaying Game is launched with a beautifully illustrated 232-page hardcover Core Rulebook alongside a Starter Set. This massive, boxed set contains everything needed to start playing:
An 80-page condensed rulebook.
The 56-page booklet Electric Dreams – the first full-length Case File for Blade Runners to crack.
Four pre-generated characters to play.
A huge full color map of Los Angeles in 2037 in format 864mm x 558mm.
26 full-color evidence handouts for the players to pore over, including crime scene photos, data files, documents, maps, and more.
A custom manila envelope for the players to keep their evidence safe in.
A Time Tracker Sheet.
70 high quality custom cards for non-player characters, chase maneuvers and obstacles, and initiative in combat.
Eight engraved, transparent custom dice – two each of D6, D8, D10 and D12.
The Team
Free League is one of the most funded RPG publishers on Kickstarter, raising over $10M across 30 successful campaigns including the Blade Runner RPG, The One Ring™, Vaesen, Forbidden Lands, and Tales From the Loop. Tomas Härenstam, Free League co-founder and lead game designer of the ALIEN RPG, fills the same role for the Blade Runner RPG.

Original artwork comes from lead ALIEN RPG artist Martin Grip, with Joe LeFavi of Genuine Entertainment, who also brokered the deal with Alcon for Free League, serving as the lead setting writer, brand manager, and producer on the game series.

Webpage: https://bladerunner-rpg.com/

Click on Gallery below for images of interior pages.

©2022 Alcon Entertainment, LLC. All rights reserved.