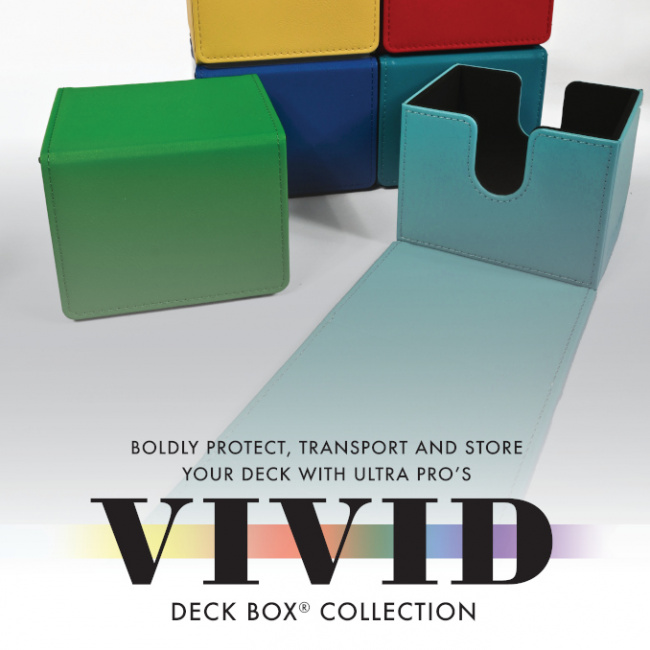 Sponsored
. Ultra PRO's new Vivid Collection of gaming accessories is now available, and with it come a huge variety of colorful and practical products, in a range of color and material options. Let's take a look at the new deck boxes included in the Vivid line.
The new Vivid Alcove Deck Boxes not only come in a great variety of bright and playful colors, but they also have two different versions to suit any play style. The Vivid Alcove Flip deck box has more vertical dimensions, with a taller and skinnier shape designed for stacking card decks vertically. If you like to pull cards in a certain order, or want to maximize random pulls without having to think ahead, the vertically-oriented Vivid Alcove Flip might be the right deck box for you! The Vivid Alcove Edge has more of a wide, rectangular shape, and is designed for storing cards in a horizontal fashion. Instead of a deck stacked with cards one on top of the other, cards stored in an Edge deck box are side-by-side, next to one another. This play style is better for gamers who actively want to randomize a card pull each time by pulling from a different spot within the deck. There is no right way to play, so whichever style calls to you is the best choice!
Either style of deck box can hold up to 100 standard size trading cards, double-sleeved in Ultra PRO Deck Protector sleeves. They both feature dual thumb notches for easy card access, and multiple magnets to keep your cards secure when not in use. The fold-out top can be used as a mat to display or organize cards while playing, and the vibrant leatherette material comes in the same great colors as the rest of the Vivid line: blue, green, purple, red, light blue, yellow, teal, and black. Mix and match multiple deck boxes according to deck style or trading card game, or just go with your favorite color! Whether you play
Pokémon TCG
,
Magic: The Gathering
,
Yu-Gi-Oh!
, or any other standard TCG game that utilizes deck building, there's a Vivid Alcove Deck Box for you!