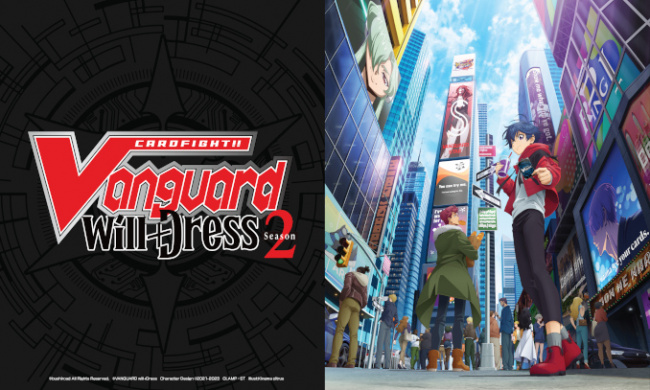 Sponsored
. After their win in the "DELUXE" tournament in Japan, Yu-yu, Raika, and Touya were invited to America for an exhibition match tour…
It was one blazing fight after another as their opponents were all top ranking fighters from "DELUXE" USA.
Danji, who had arrived earlier in America to look into the background of the "DELUXE" tournament at Michiru's behest, begins to suspect a connection with the case of the missing fighters…
Meanwhile, a new force emerges in Japan, with their ideal of achieving the "Ultimate Fight" in cardfights.
What is their goal of recruiting more and more fighters? This will eventually come to cast a shadow upon the future of Yu-yu and the rest of Blackout…
Production by CLAMP×Kinema citrus
Following the previous series, character design will be done by CLAMP, while the production is by Kinema citrus.
The combination of CLAMP's beautiful characters and high quality videos of Kinema citrus makes this a production beyond any regular hobby animation!
Daisuke Sakuma (Snow Man) joins the cast!
The new character, Michiru Hazama, is voiced by Daisuke Sakuma, who also voiced the main character in the movie "White Snake" in 2021!
Also featuring popular returning main casts such as Shouta Aoi, Yuma Uchida, and Amane Shindo!
Cast (Japanese Dub):
Yu-yu Kondo: Shouta Aoi
Megumi Okura: Amane Shindo
Tohya Ebata: Yuma Uchida
Zakusa Ishigame: Masahiro Ito
Tomari Seto: Hikaru Tono
Mirei Minae: Yuki Nakashima
Danji Momoyama: Yuki Ono
Raika Koshiba: Jin Ogasawara
Michiru Hazama: Daisuke Sakuma (Snow Man)
Urara Haneyama: Karin Kagami
Haruka Sokawa: You Taichi
Jinki Mukae: Daiki Yamashita
Masanori Iseki: Shuta Morishima
Sophie Belle: Suzuko Mimori
Sam (Samuel Fredson): Seiji Maeda
Halona Walker: Hina Aoki
Staff:
Created by: Bushiroad/Akira Ito
Executive Producer and Original Idea: Takaaki Kidani
Original Character Design: CLAMP
Director: Satoshi Mori
Character Design: Hiroyuki Saita / Tomokatsu Nagasaku
Animation Production: Kinema citrus / ぎふとアニメーション / STUDIOJEMI