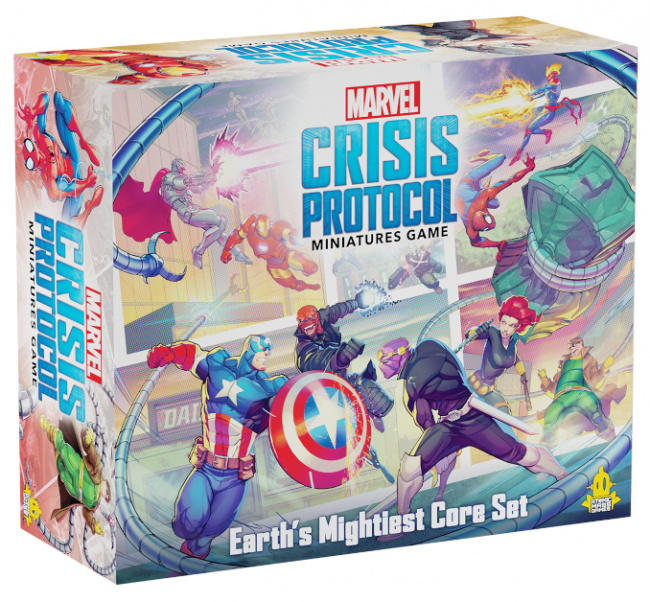 Sponsored
. Welcome to a very special
Marvel: Crisis Protocol
transmission where we will be taking a look at the next big thing for the game as we approach the game's four-year anniversary this November.
Since
Crisis Protocol's
release in November of 2019 the game has grown substantially, not just in terms of characters that have entered the game and the explosive growth of the global community but also how we at Atomic Mass Games has grown and advanced as a studio.
Atomic Mass Games started with just four members. Today it numbers nine times that many people. More importantly though, we've had years to hone and improve our craft. Our understanding of sculpting and engineering, of plastic production processes, of game design and development, of the artistic vision and how
Crisis Protocol
sits within the greater Marvel Universe have all grown exponentially over the past years of intense work on the game.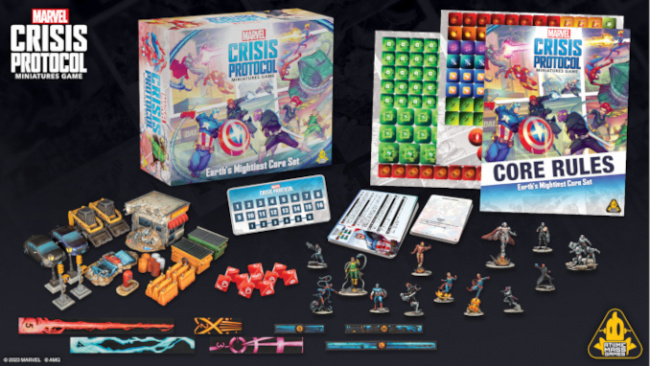 It's with all this growth in mind that Atomic Mass Games is thrilled to reveal that a new updated
Core Set
for
Marvel: Crisis Protocol
will be hitting store shelves this Fall. This new core set maintains all the current rules of
Crisis Protocol
, but packages them into a
Core Set
that has been updated in every other way to create the next evolution of entry points into
Marvel: Crisis Protocol
.
We caught up with Director of Product Development Will Shick to get an inside look at this new entry point for
Crisis Protocol
, "The new
Crisis Protocol Core Set
, called
Earth's Mightiest
, was an incredible opportunity for us as a studio to refresh the primary entry point for new players and help make sure the game's continued onward and upward growth. When we created the original
MCP Core Set
, we worked our butts off to make it the best, most compelling and fully formed starter experience for any miniatures game. We've learned so much over the last four years since the original core set's release. And even though we've been able to keep the game rules updated and in line with what we feel is creating the best
Crisis Protocol
game experience ever, we were really hungry for the chance to be able to update the original
Core Set
experience to ensure that it remained one of the best starter experiences in tabletop miniatures gaming."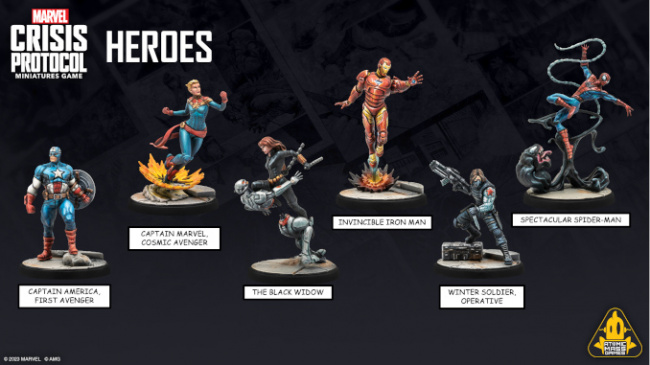 When it came to creating the updated and future miniature designs of the original core set's iconic lineup of characters Sculpting Director Marco Segovia (who was the original sculpting engineer for the game) said, "This new core set is a culmination of all the lessons we learned in sculpting and parting miniatures. Learning the material and its limitations allowed us to improve and integrate feedback from the community into these new versions of our beloved characters. From posing, part count, anatomy, special effects, terrain, the list goes on, this box shows the best parts of what we've learned and will continue to learn as our goal has no destination; To continually be better and improve."
Creative Director Dallas Kemp, another of the core four that began Atomic Mass Games added, "Atomic Mass Games has always pushed itself to create the best and most unique miniatures and games we can. As with all endeavors, that is an evolution and process that you learn and grow along with building on the what came before to shape the language and ideas that you want to express. The new core set is a culmination of the ideas and expression of
Marvel: Crisis Protocol
. A new stage that has been in progress for quite some time. A new standard if you will. We wanted to show our heroes... and villains, at new point in their journey and see where we can take the minis from a narrative, engineering, and sculpting standpoint."
Shick continued, "
Earth's Mightiest
brings our new best when it comes to sculpting, engineering, and art to create a
Core Set
for the future of
Crisis Protocol
. We looked at everything from the token designs, to stat cards, to crisis cards, even the assortment of terrain. But personally, the most exciting aspect for me was getting to go back and reimagine those
Core Set
characters with the current state of
Crisis Protocol
in mind. Getting the chance to make sure
Earth's Mightiest
was a full introduction and ideal launching point for players to the experience of
Crisis Protocol
. Now new players will get hands on experience with transforming characters and grunts right out of the gate, letting them really enjoy the full breadth of what MCP has to offer in bring superpowered showdowns to the tabletop."
Development Manager (and the original Lead Developer for
Marvel: Crisis Protocol
) Will Pagani agreed saying, "The opportunity to create new versions of characters we originally did with all the lessons we learned up to this point has been really fun. We did versions of these same characters at new points in their stories – being able to give a similar but new expression to these characters was really fun and interesting. How do we make them different? What throw backs can we do to the original designs? Oh! And the tactic cards – we tried to make the majority of the tactic cards work with previous versions of the characters. This was a really exciting design process that let us reach back to the very start of MCP and explore new interactions with those characters."
That's all for today's big reveal of what's next for
Marvel: Crisis Protocol
. Be sure to stay tuned for more information on this updated
Core Set
will be bringing to players both new and old as we get closer to its arrival this Fall.
Click on Gallery below for full-sized figure images.