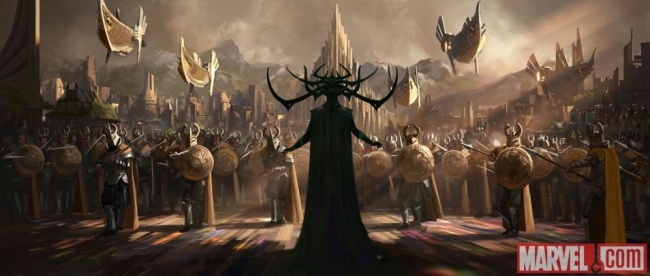 There has been a lot of Marvel movie casting news (from several studios) in the last few weeks, and we round it up here.
Several new cast members will be joining Thor: Ragnarok. Cate Blanchett (Blue Jasmine, Cinderella) has been cast as the mysterious villain Hela. Jeff Goldblum (Independence Day: Resurgence, Jurassic Park) will play the eccentric Grandmaster, Tessa Thompson (Creed, Selma) will play Valkyrie, and Karl Urban (Star Trek trilogy, Lord of the Rings: Return of the King) will portray Skurge. Mark Ruffalo (Spotlight, Foxcatcher) will reprise his role of Bruce Banner/the Hulk.
Wolverine 3 has added actress Elizabeth Rodriguez (Fear the Walking Dead, Orange is the New Black) to its roster, according to The Wrap. The role was not revealed, but was described as "small but key." Eriq Lasalle (ER) will also be joining the cast, according to Variety. Lasalle's role was likewise not divulged. Boyd Holbrook has already been announced as the main villain, with Richard E. Grant playing a mad scientist (see "End of April Geek Movie Round-Up").
Michael B. Jordan (Creed, Fruitville Station) has been added to the cast of Marvel's Black Panther, THR reported. According to the report, while the role has not been officially revealed, there is a chance it may be a villain. Chadwick Boseman is starring in the title role, with Lupita Nyong'o in negotiations to star as his love interest (see "Lupita Nyong'o to Star in 'Black Panther'").
Professor X will appear in the long-gestating 20th Century Fox New Mutants film, X-Men: Apocalypse writer/producer Simon Kinberg told Collider in a recent interview. "Right now, as the movie exists, Professor X would be a part of a New Mutants movie" were his words. Which incarnation of Xavier would be called upon to fill the role was not discussed. The last news on the film was the hiring of The Fault in Our Stars director Josh Boone to co-write and direct (see "'New Mutants' Movie Gets Director").
Oscar nominated actor Michael Keaton (Birdman) is in final negotiations to play the villain for Sony/Marvel's Spiderman: Homecoming. THR is reporting that while earlier negotiations fell apart, the studio circled back after looking at other actors. Tom Holland will star as Peter Parker/ Spider-Man, and Marissa Tomei will play Aunt May (Marisa Tomei to Play Aunt May"). The film will also see an appearance by Robert Downey Jr. as Iron Man ('Spider-Man: Homecoming' Casts Web, Nets Iron Man").