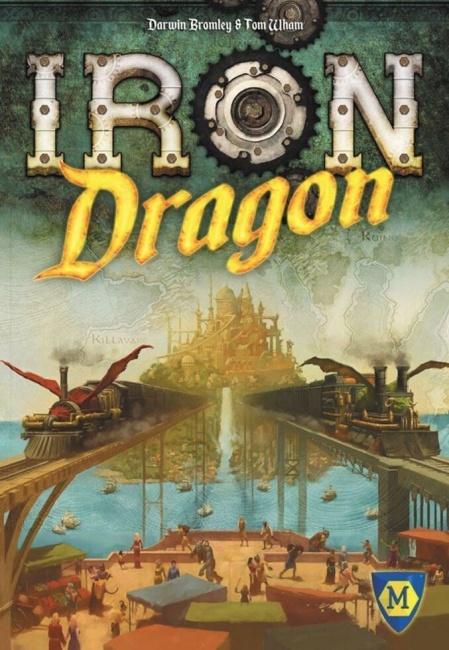 The steampunk/fantasy railroad building game
Iron Dragon
will soon return in a new edition from Mayfair Games. The new version will premier at the Origins game fair in June.
Originally released in 1994, Iron Dragon combined the proven mechanics of Mayfair's "crayon rails" game system, first implemented in Darwin Bromley and Bill Fawcett's Empire Builder, with the sometimes-wacky fantasy imaginings of Tom Wham (Snit's Revenge, Awful Green Things From Outer Space).
The game is played on a specially-treated board showing a map of the fantasy world of Darwinina, populated by the typical fantasy creatures: elves, dwarves, trolls, and whatnot. Players draw rail lines across the board with crayons (hence the nickname "crayon rails"), freely plotting their own paths across the board as they link together cities. This network building is combined with a "pick up and deliver" mechanic, where players pick up "loads" that are then carried along their rail lines to deliver for a payout, in turn used to further expansion. In the end, the first player to amass a large enough fortune is the winner.
The new edition of the game features a revised rulebook by the Empire Builder Design Team, as well as all-new steampunk style artwork. The game includes 1 game board, 184 cards, 100 load chips, 6 pawns, 6 wipe-off crayons, and a pack of paper money. The game can be played by 2 to 6 players, ages 12 and up, with playing times up to four hours. MSRP has not yet been announced.
Mayfair recently announced plans for a new expansion for Twilight Creation's Zombies!!! (see "Twilight Creations' 'Zombies!!!' Heads for Vegas") as well as a new Lookout Spiele title (see "Build a Bear-Only Zoo in 'Barenpark'").