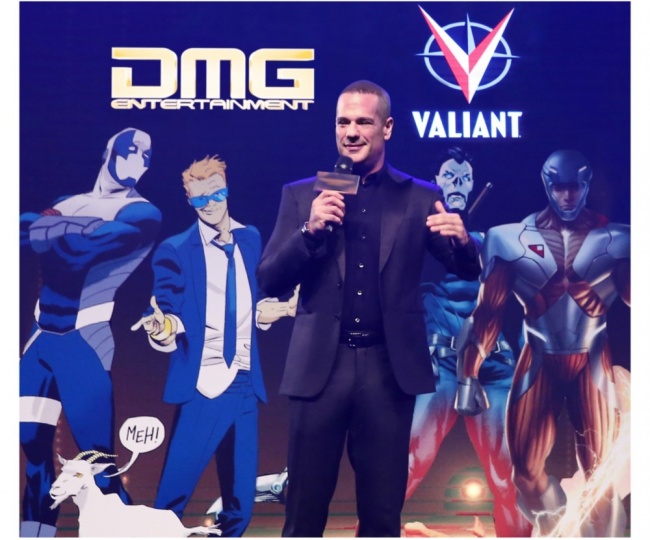 Chinese company DMG Entertainment, which invested heavily in Valiant Entertainment in 2015, has now acquired the comic publisher,
THR
is reporting.
DMG invested in Valiant in March 2015, devoting at least $10 million in a series C round of equity into Valiant, as well as dedicating at least $100 million toward film and TV production based on Valiant's vast superhero catalog (see "Valiant Gets Major Investment"). According to THR, DMG CEO Dan Mintz currently held a 57% state in Valiant, and chose to pursue the acquisition as a strategic move to make a concerted push into Film, TV and other media.
"This is about taking it to the next level," Mintz told THR. "I am not looking on expanding from a publishing standpoint but from a motion picture standpoint."
Mintz said he isn't going to make wholesale changes on the comic front, the writers and artists that stay will continue working on the comics, but "You can expect more strong storytelling with a defined road to other platforms," he said. "I'm also looking forward to bringing the writers close to the filmmaking process, which is something that is also important, and not keeping them siloed into the comic book area."
Dinesh Shamdasani, CEO and Chief Creative Officer of Valiant, will be transitioning out of the company as part of the acquisition.
Valiant has already been busy developing its IPs for other media. Valiant already has three films in development. Archer & Armstrong is being developed by the Sean Daniel Company (see "'Archer & Armstrong' Movie"); Shadowman is also in development with a script by J. Michael Straczynski (see "JMS to Adapt Valiant's 'Shadowman'"); and Bloodshot, which recently attaching Vin Diesel to star (see "Vin Diesel in Talks for 'Bloodshot'").
Quantum and Woody is being developed at a TV series (see "Misty Knight's Bionic Arm; 'Heartthrob' Optioned; 'Locke and Key,' 'Titans,' 'Quantum and Woody' Casting") and the CW is working on a drama series based on Dr. Mirage (see "Valiant in Preliminary Talks with CW for 'Dr. Mirage' Series").
A live-action digital series, Ninjak vs the Valiant Universe, is due this winter from Valiant Digital (see "Ninjak vs. The Valiant Universe'.")