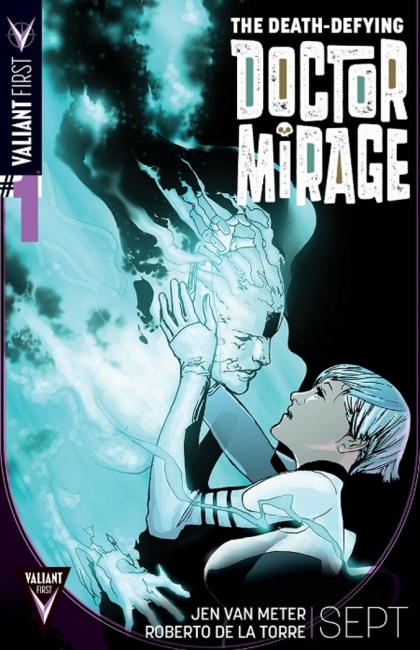 A source close to the project confirmed that Valiant Entertainment is in preliminary talks with The CW to produce a drama series based on Valiant's
Dr. Mirage
character.
Deadline initially published the story as a "set" deal with the CW, with writer Gary Dauberman attached to pen the script and executive produce. DMG's Chris Fenton and Chris Cowles were also named as executive producers. However, a source close to the project told ICv2 the series is far from a done deal, and that there have been preliminary talks only, with no firm commitments from any of the primary players.
Chinese company DMG Entertainment is financing Valiant film and TV productions via an investment announced last year (see "Valiant Gets Major Investment"). Valiant has a five-picture deal with Sony for films based on Valiant characters (see "Sony Plans Five Valiant Films"), but if it goes forward, the CW series would be the company's first foray into television.
The most recent comic featuring Dr. Mirage: The Death Defying Doctor Mirage, was launched in September 2014, written by Jen Van Meter and drawn by Roberto de la Torre. The first graphic novel collection was released in May 2015 (see "Review: 'The Death Defying Doctor Mirage' TP"). Doctor Mirage is a paranormal investigator who can talk to the dead, except the one person she wants to contact the most – her deceased husband. When she takes a job from an occultist with a classified military past, she finds a lead that may show her how to get her husband back.