Fantasy Flight Games has announced a multifaceted Organized Play program for its upcoming tactical miniatures game
Star Wars: Legion.
The Core Set and eight expansions for Star Wars: Legion are set to release on March 22 (see "Imperial Snowtroopers Deploy for 'Star Wars: Legion'"). Prior to that date, select retailers will offer game demonstrations beginning on March 8. These In-Store Demos will continue until the game's release. The demo offers players a change to examine the miniatures, practice drills, and learn how units move and attack.
On Launch Weekend (March 22 -25) participating retailers will host three Launch Weekend activities. The Build & Play activity is a step-by-step guide to understanding the basics of the game. The Challenge Duels teach players the strengths and weaknesses of their units. The Painting Contest offers fans a chance to be creative with their unit presentation. Special commemorative prizes will be available during the event. Participants will also be able to earn points for their faction: Galactic Empire or Rebel Alliance, as they complete activities, to help claim the store for their team. Each store will tally the points at the end of the weekend, and then decorate the Legion play area with a poster honoring the winning side.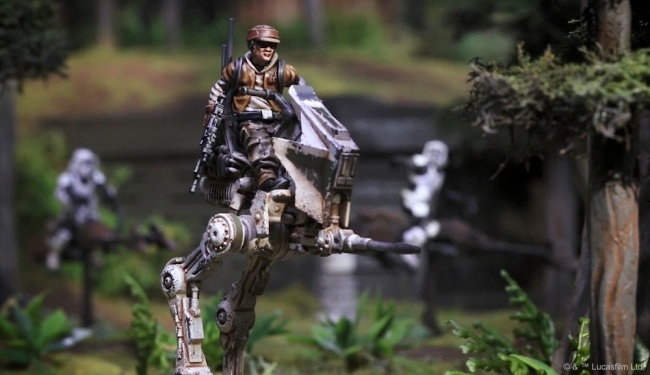 An in-store event program will launch after opening weekend. Retailers can order the
Star Wars: Legion Recruitment Kit,
which will offer stores the flexibility to run a weekly league, casual gaming, or single day events for the first two months. Then it can be followed up with a
Ground Assault Kit.
The seasonal
Ground Assault Kits
are released each calendar quarter and offer prize support for up to three months of in-store play. Retailers can decide if they want to host single-day events, weekly game nights, or casual in-store play.
Players who wish to test their skills against the galaxy's best commanders can participate in Championship Events. The large-scale events offer top-level competition as well as a path to the Star Wars: Legion World Championships. Championship events will be held at various stores and conventions, to be announced at a later date.
Star Wars: Legion rulebooks, campaign details, tournament guidelines and other Organized Play assets will be available on Fantasy Flight Games website soon.
Fantasy Flight already has announced some of the first expansions for Q2 (see "Rebel Reinforcements Arrive for 'Star Wars: Legion'").