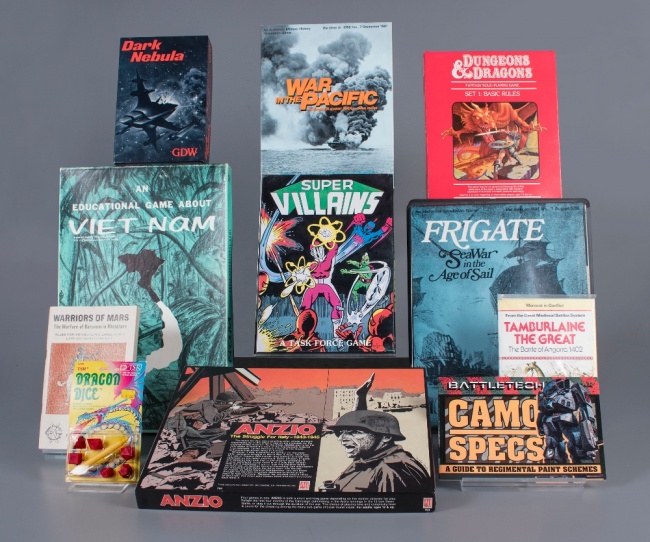 The Strong National Museum of Play in Rochester, NY has received a donation of thousands of artifacts and library titles from brothers Darwin P. and the late Peter Y. Bromley (see "
R.I.P. Peter Bromley
"), the single largest gift to the museum's collection ever recorded.
The impressive collection from the Bromleys includes more than 4,000 games and more than 7,000 library titles including a vast array of first-edition strategy and simulation games, wargames, and role playing games. The Bromleys' collection dates back to 1962. Darwin Bromley founded Mayfair Games in 1980 to publish has own railroad game and partnered with Bill Fawcett to design what became Empire Builder. Mayfair Games went on to become the United States publisher of the perennial hit Settlers of Catan. Mayfair Games endured until earlier this year, when its assets were purchased by the Asmodee Group (see "Asmodee Group Acquires Lookout, Publisher of 'Agricola,' and Mayfair Rights").
The collection includes near mint samples of extremely rare strategy, simulation and role playing games (including two rare 1970s "white box" sets of Dungeons & Dragons). Library titles include wargame journals from the 1950s, science fiction magazines from the 1960s, and near-complete runs on Dragon and White Dwarf magazines.
"Brothers Darwin P. and the late Peter Y. Bromley assembled this impressive collection, and we're honored to be the repository where these materials will be preserved, studied, and exhibited," says Christopher Bensch, The Strong's vice president for collections. "Before the Bromley collection, The Strong lacked a definitive collection of strategy and role-playing games, which are critical components of the history of play for older children and adults. These are playthings for people who are serious about play, who seek to compete, to be challenged, and to be entertained. Now this grouping will be the go-to collection for this type of play study. The entire collection reflects a pivotal time in game development, on the cusp of the computer age, when many currents would soon unite to change the nature of game play."
The Strong is the home of the National Toy Hall of Fame (see "National Toy Hall of Fame Gives Nod to 'Clue'"), the International Center for the History of Electronic Games, The World Video Game Hall of Fame, and houses the world's largest and most comprehensive collection of historical materials related to play.