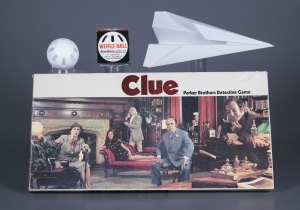 The National Toy Hall of Fame at The Strong museum in Rochester, New York has revealed its 2017 inductees, including the classic whodunit board game
Clue
.
In addition to Clue, the paper airplane and the Wiffle Ball were chosen to join the Hall of Fame this year. The three honorees beat out the rest of a 12-member field that included the Magic 8 Ball, Matchbox Cars, My Little Pony, the PEZ Candy Dispenser, the board game Risk, the card game Uno, the Transformers, toy staple play food, and even sand.
Strong museum curator Nicolas Ricketts stated that "millions of Clue games are sold each year—including a junior version, as well as travel, advanced, collectors, and themed editions. Clue has also had its own movie, been featured in numerous television and books, and remains an icon of pop culture." This popularity continues with both a comic book and a stage play inspired by the game, as well as plans for a new film adaptation (see "Follow the 'Clue' in New Comic Series").
The Strong launched the National Toy Hall of Fame in 1998, choosing new inductees every year. Nomination for the award is open to the public, with final selections made by a panel of "historians, educators, and other individuals who exemplify learning, creativity, and discovery through their lives and careers." The inductees are kept on display in a year-round exhibit at The Strong.
Last year, the Hall of Fame selected Dungeons & Dragons for the honor (see "'Dungeons & Dragons' Inducted Into National Toy Hall of Fame").