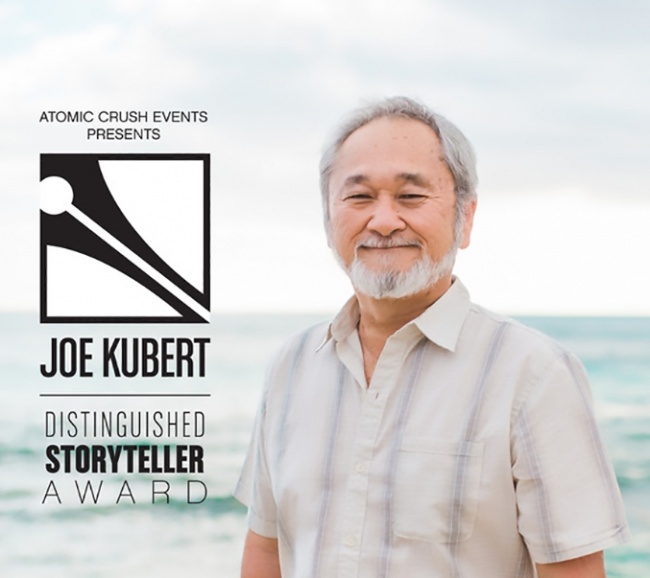 Legendary cartoonist Stan Sakai has been honored with the very first Joe Kubert Storyteller Award. The award recognizes creators who exemplify Kubert's talent and commitment to nurturing the comic book community. It was presented over the weekend, during Comic Con Revolution in Ontario, California.
Sakai was unable to attend the ceremony, but he sent a prepared statement that was read on his behalf. "I admired Joe's powerful art, his flawless compositions and his brilliant storytelling," wrote Sakai, "but most of all, I admired his dedication to the craft of creating comic and his desire to pass on that love and knowledge to young creators with the Joe Kubert School of Cartoon and Graphic Art. It is a very great honor to receive this inaugural Joe Kubert Distinguished Storyteller Award at Comic Con Revolution Ontario."
"I couldn't think of a better and more qualified artist to be the first recipient than Stan Sakai!" said Joe Kubert's son Adam Kubert. "Dad would be humbled and proud!"
Sakai began his comics career as a letterer, eventually moving into illustration. His most famous creation, Usagi Yojimbo, a samurai rabbit living and fighting in feudal Japan, debuted in 1984. The series, which is published by Dark Horse, continues today. The property is also in development for a TV series (see "Usagi Yojimbo in Development for TV").
In addition to the Storyteller Award, the Kubert School is partnering with Atomic Crush Events, the organizers of Comic Con Revolution, on a pair of scholarships for Kubert School students and recent graduates. The scholarship recipients will be announced at a later date (see "Kubert School Announces Two Scholarships, Award").