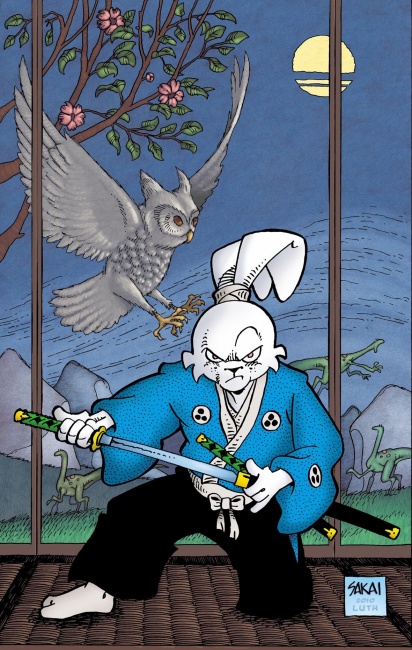 Stan Sakai's Usagi Yojimbo may soon come to TV screens in his first solo animated series, which will be co-produced by Gaumont, Sakai, and James Wan's Atomic Monster. Dark Horse's Mike Richardson and Keith Goldberg will executive produce with co-executive producer Chris Tongue. No further details on the series were released.
Gaumont, which has offices in Paris and Los Angeles, is behind several acclaimed TV series, including Narcos and The Frozen Dead, both of which air on Netflix, and Hannibal. Among its animation projects are Noddy (co-produced with Dreamworks), Belle & Sebastian, Furiki Wheels, and F Is for Family.
Usagi Yojimbo, a rabbit ronin warrior from 17th century Japan, debuted in 1984 as the titular lead in a diverse cast of anthropomorphic characters. The swordsrabbit has appeared on TV as a guest star on the animated Teenage Mutant Ninja Turtles series. Usagi and TMNT have also teamed up in comics (see "'Turtles' and Rabbit Cross Over This Summer"). Dark Horse publishes comics and collections centered on the character (see "'Usagi Yojimbo: Senso' Mini-Series"). Sakai has been awarded Harvey and Eisner Awards and recognition by the American Library Association and others for his creation.