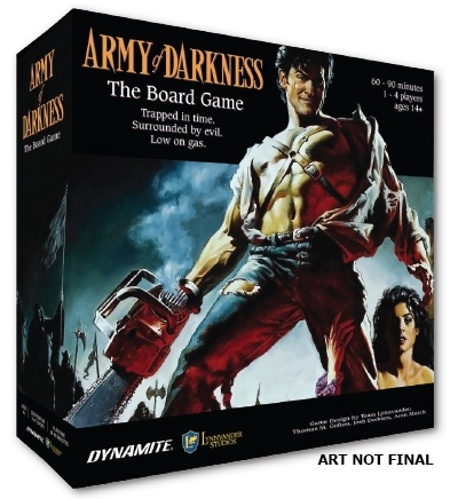 Dynamite Entertainment will produce a board game based on
Army of Darkness
, the company announced. The game, designed by Lynnvander Studios (see "
'Buffy the Vampire Slayer: The Board Game'
"), will incorporate highly detailed miniatures, the announcement said. Dynamite plans expansions, accessories, and other tie-in products for separate release.
In the game, players will take on the role of Ash Williams, who with his allies will lead an army of medieval knights against Deadite zombies.
Dynamite's association with the property is longstanding. "
Army of Darkness
was the first license we signed at Dynamite and it still holds a very special place In our heart," Dynamite CEO Nick Barrucci said.
Dynamite's license has no connection to the game license for
Evil Dead 2
, which is held by Space Goat. Space Goat raised $722,622 on Kickstarter for the
Evil Dead 2
board game in 2016, but now does not have enough money to fulfill the products for backers. A recent effort to crowdfund an equity raise to fund, in part, fulfillment of the Kickstarter (see "
Space Goat Kicks Off Crowdfunded Equity Raise
") raised only $3,350 of a targeted $250,000 to $1,070,000.
"The IP holder for
Army of Darkness
and the IP holder for
Evil Dead
are two entirely different rights holders who have nothing to do with each other," Dynamite's Barrucci explained. "The
Army of
Darkness movie is owned by MGM and I'm not certain who owns the
Evil Dead
franchise. We've produced
Army of Darkness
comics and merchandise for 14 years. Yes, Ash is in both, but different rights holders for each franchise. And Space Goat and Dynamite are two entirely different companies."
Of the Space Goat Kickstarter, Barrucci said, "Obviously, we have no inside information here, as we have nothing to do with that game. Space Goat's license is with the
Evil Dead
licensor. I don't have any more info than anyone else does publicly. I do hope that for the fans sake that they are able to finish and deliver the game. Our license is with MGM based on the
Army of Darkness
feature film, and different from theirs. Our game launches in the near future and stands on its own."