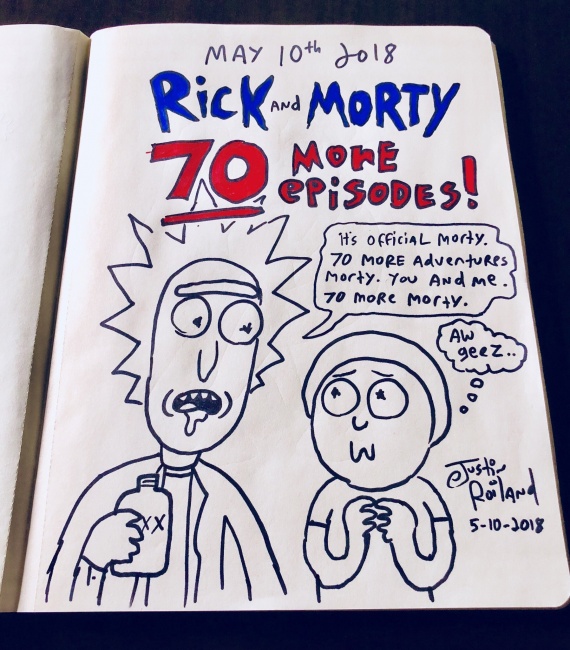 Although the fourth season may not debut until late 2019,
Rick and Morty
co-creator Justin Roiland assured fans that with the deal for 70 more episodes locked in, there will not be "these chasms in between seasons anymore."
Roiland made the remarks during an interview with Polygon, while promoting his new PSVR game Trover Saves the Universe. "[Series co-creator Dan] Harmon is in great spirits, we have a great writer's room. We want the episodes to stay good, but we do also want to try to turn them around a little quicker now that we have this big order, I think it gives us the ability to be faster," Roiland said. "We're not going to do these long breaks, these chasms in between seasons anymore. We're going to schedule vacation time and just keep the machine going."
The animated sci-fi adventure comedy series airs on the Adult Swim programing bock on Cartoon Network. The series premiered on December 2, 2013 and ran until April 14, 2014. Season Two debuted (15 months later) on July 26, 2015 and ran through October 4. Season Three did not premiere until April 1, 2017 (18 months later).
Season Three concluded on October 1, 2017 and the home entertainment version released on May 15 (see "DVD Round-Up: 'Black Panther,' 'Rick and Morty,' and 'The Shannara Chronicles'"). The series was picked up for an additional 70 episodes, to be split into an unknown number of seasons last month (see "'Rick and Morty' Renewed for 70 Episodes").
IDW Publishing, which publishes the ongoing Rick and Morty comic book series, will launch a special D&D miniseries in August (see "Two of the Hottest Properties in Geek Culture Cross Over in Comic Miniseries").