The latest geek TV news roundup has Marvel, Star Wars, Watchmen, and much more.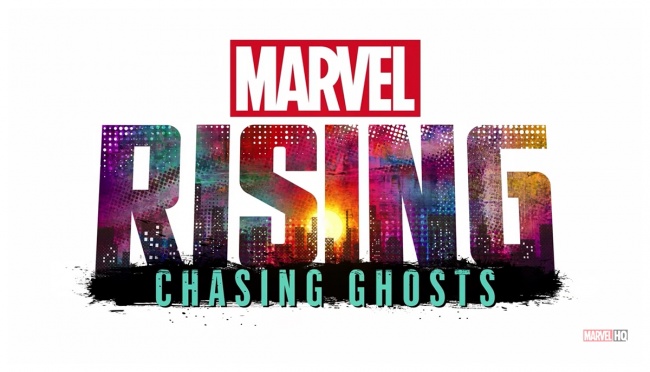 The next installment in the
Marvel Rising
animated webseries will hit the digital airwaves on January 16 at 4:00 p.m. PT. Ghost-Spider joins the Secret Warriors in
Marvel Rising: Chasing Ghosts
, a 22-minute special with voice talent Tyler Posey, Booboo Stewart, Kathreen Khavari, Kamil McFadden, and Roger Craig Smith, all of whom will be live-chatting during the premiere on the Marvel HQ YouTube page. The debut date for the next entry in the series,
Marvel Rising: Heart of Iron
, has not been announced yet (see "
More 'Marvel Rising' Specials
").
Marvel Rising
was announced last year (see "
Marvel to Launch New IP with Animation
"), and the line includes animation, comics (see "
'Marvel Rising' #1 Debuts in June
"), and merchandise (see "
'Marvel Rising' Launches Merchandise Line
").
Netflix has run into more legal trouble, with Chooseco, LLC suing the streaming giant over
Black Mirror: Bandersnatch
, according to
The Hollywood Reporter
. Chooseco alleges that the episode infringes on its trademark, causes reputational harm, and dilutes the
Choose Your Own Adventures
brand. The lawsuit demands compensation in the amount of $25 million or Netflix's profits, whichever is higher. Much like a
Choose Your Own Adventure
book, viewers are able to select the course of action in
Bandersnatch
, and the episode briefly references
Choose Your Own Adventures
in one scene. Netflix has not referred to the books in their advertisements, and most descriptions comparing the show to the popular books have been by third parties, such as reviewers. Chooseco sent the company a cease-and-desist letter before the episode aired. Netflix once pursued a license for the
Choose Your Own Adventures
mark, but it was not awarded to the streamer. The Satanic Temple recently sued Netflix for copyright infringement over the use of a Belial statue in
The Chilling Adventures of Sabrina
, and the case was settled for an undisclosed amount (see "
Disney's OTT Service Name, 'Rogue One' Series, Satanic Temple Sues Netflix, Netflix Adds New Anime, Grant Morrison Adapting 'The Invisibles' For TV
").
HBO's
Watchmen
series has added Hong Chau (
Downsizing
). Producers aren't offering details on her role in the series, but her character's name is rumored to be Lady T., reports
Deadline
. The series also stars Jeremy Irons, Jean Smart, Regina King, Don Johnson, Tim Blake Nelson, Louis Gossett Jr., Yahya Abdul-Mateen II, Andrew Howard, Tom Mison, Frances Fisher, Jacob Ming-Trent, Sara Vickers, and Dylan Schombing (see "
Watchmen Casting in Latest Geek TV Round-Up
"). It will air sometime in 2019.
Star Wars Resistance
has been picked up for a second season reports
TV Week
. The animated series, which airs on the Disney Channel and DisneyNOW, is set prior to the events of
The Force Awakens
and includes familiar characters like Poe Dameron and Captain Phasma (see "
AMC's 'The Walking Dead' Plans, 'Star Wars Resistance' Debut, Shudder Is a 'Lucky Man,' 'Swamp Thing' Cast, Live Action 'Ladybug & Cat Noir'
"). The first season debuted in early October, and the midseason premiere aired this week.
The CW announced several 2019 premiere dates and time changes for its geek shows via
Entertainment Weekly
.
iZombie
returns for its final season on May 2 at 8:00 p.m. ET/PT.
The 100
returns for its sixth season on April 30 at 9:00 p.m. ET/PT.
Legends of Tomorrow
is moving to a new time on April 1, airing at 8:00 p.m. ET/PT, followed by
Arrow
at 9:00 p.m. ET/PT beginning April 15.
Disney+'s series centered on Vision and Scarlet Witch has a showrunner and writer. Jac Schaeffer, who was a writer on
Captain Marvel
and the upcoming
Black Widow
film (see "
'Black Widow' Solo Feature Names Director
"), has been tasked with running the series, writing the pilot, and executive producing reports
THR
. Paul Bettany and Elizabeth Olsen are expected to reprise their roles for the series. Disney+ has been banking shows based on various characters from the MCU, including Loki (see "
Loki Series Starring Tom Hiddleston Planned For Disney+
") and Falcon and Winter Soldier (see "
Falcon and Winter Soldier Series
"), with the film actors set to star. Malcolm Spellman (
Empire
) has been hired to write the Falcon and Winter Soldier series.