It's a day for names, lawsuits, new series, and casting in the latest geek TV news update.
Disney's over-the-top streaming service finally has a name, and it has another Star Wars live action series in the works. The OTT service, now called Disney+, is developing a series based on Rogue One: A Star Wars Story's rebel spy Cassian Andor. Mexican actor Diego Luna is set to reprise the role for the planned spy thriller (see "Male Lead Cast For 'Star Wars: Rogue One'"). The series goes into production in 2019, but a release date has not been announced, nor do we know yet if Alan Tudyk's K-2SO will also appear. Disney+ will launch in late 2019.
The Satanic Temple has made good on its promise to sue Netflix over The Chilling Adventures of Sabrina reports Variety. At issue is the series' depiction of Baphomet, the central icon of the temple. The show features a statue of Baphomet in four episodes, and the Satanic Temple's $50 million suit claims that the statue violates its copyright. The temple created a statue of Baphomet in 2013 and 2014 in response to the display of the Ten Commandments at the Oklahoma capitol. The statue was based on a 19th century rendering of Baphomet, but contains several differentiating elements that have been reproduced in Sabrina. The temple is also concerned that the show's association of the statue with evil will fuel "Satanic panic." The Satanic Temple previously sent a letter to the streaming giant regarding its concerns over the depiction (see "Satanic Temple Takes Legal Action Against 'Sabrina'").
Netflix is betting big on anime with the announcement of five Netflix original series:
Pacific Rim: Based on Guillermo Del Toro's epic battle between Kaiju and robotic Jaegers, the series from co-showrunners Craig Kyle (Thor: Ragnarok) and Greg Johnson (X-Men: Evolution) and Legendary Entertainment follows a teenage boy and his younger sister as they pilot an abandoned Jaeger across a hostile landscape in search of their parents.
Altered Carbon: Written by Dai Sato (Cowboy Bebop, Samurai Champloo) and Tsukasa Kondo, this anime series set in the same universe as the live-action sci-fi series.
Cagaster of an Insect Cage: Directed By Koichi Chigira (Last Exile, Full Metal Panic!) and from animation studio Gonzo (Hellsing, Afro Samurai), this series is based on the manga about a post-apocalyptic world in which a mysterious disease turns people into giant murderous insects.
Yasuke: Created and directed by LeSean Thomas (The Boondocks, Cannon Busters), a retired ronin must take up his sword to protect a young boy in this series set in a war-torn feudal Japan of mechs and magic. Lakeith Stanfield (Atlanta, Sorry to Bother You) voices Yasuke in the series from animation studio MAPPA.
Trese: Drawing from Philippine folkore and a graphic novel of the same name by Budjette Tan and Kajo Baldissimo, this Manila-set series finds Alexandra Trese confronting a criminal underworld of malevolent supernatural beings.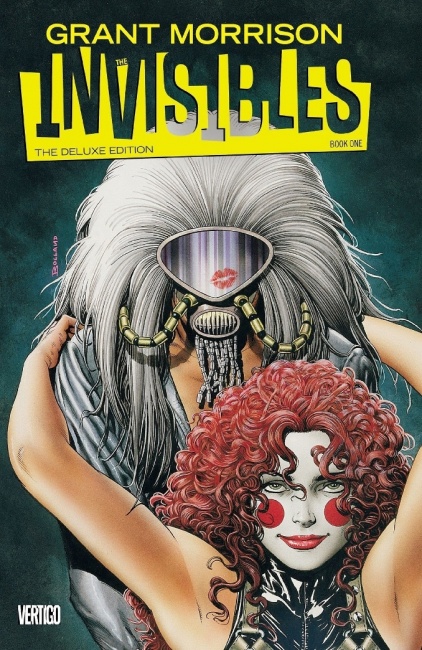 Grant Morrison is adapting
The Invisibles
for TV. The series is the first project under the writer's new partnership with Universal Cable Productions (UCP), which has Morrison developing and producing original content for the studio, according to
The Hollywood Reporter
. UCP is also behind the Syfy series based on Morrison and Darick Robertson's
Happy!
(see "
'Happy!' Premieres Tonight on Syfy
"), and Morrison is adapting Aldous Huxley's
Brave New World
for a UCP / Amblin Entertainment series that will air on Syfy.
The Invisibles
ran from 1994 to 2000 on DC's Vertigo imprint. Several artists worked on the story, which drew on magic, time travel, metaphysics, anarchy, and more to tell a story about a secret organization that battles physical and psychic subjugation.
The human half of Swamp Thing has been cast for DC Universe's live-action series. Andy Bean (It: Chapter 2, Power) will play ill-fated biologist Alec Holland, who transforms into the Swamp Thing (via THR). The latter is portrayed by veteran hulking bad guy actor Derek Mears. The cast also includes Will Patton, Virginia Madsen, Jeryl Prescott, Jennifer Beals, Crystal Redd, and Maria Sten (see "Rick Grimes' Story to Continue in Film, New 'Deadly Class' Promo, 'Swamp Thing' Casts Villain and Oscar Nominee, 'Penny Dreadful' Returns to TV, Discworld Series Order"). The show will debut in 2019.