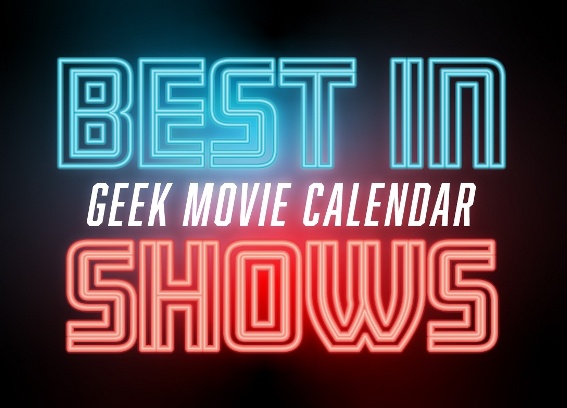 Best in Shows is an ICv2 calendar of geek movies listed by release date, with info and links. Dates are continuously updated as they change. Each year has a separate calendar page; see "
Best in Shows Index
" for geek movie calendars for other years.
Madame Web
February 14, 2023
Dakota Johnson (50 Shades of Grey) will play the title role with S.J. Clarkson (Jessica Jones) directing. Madame Web is a clairfoyant mutant who first appeared in Amazing Spider-Man #210.

Garfield
February 16, 2024
This animated film will star voice actors Chris Pratt in the title role and Samuel L. Jackson as Garfield's father. The date was set in August of 2022.
Elio
March 1, 2024
Elio is a Pixar movie about an 11-year-old dreamer Elio who finds it hard to fit in. His mom Olga works on a top-secret military project to decode a strange signal from outer space.
Kung Fu Panda 4
March 8, 2024
Universal has set this date for the fourth release in the animated franchise starring Jack Black. The third was the top movie in the U.S. when it opened in January of 2016.
Godzilla x Kong: The New Empire
March 15, 2024
Warner Bros. will release a second installment of the King of the Monsters taking on the King of the Primates.
Ghostbuster: Afterlife 2
March 26, 2024
This is the sequel to the first Ghostbusters: Afterlife Sony film.
The Lord of the Rings: The War of the Rohirrim
April 12, 2024
This anime feature from New Line Cinema and Warner Bros. Animation will be directed by Kenji Kamiyama and Joseph Chou (both of Blade Runner: Black Lotus) through his anime studio Sola Entertainment.
Deadpool 3
May 3, 2024 (moved from November 8, 2024)
Star Ryan Reynolds revealed that this would be the date for the third Deadpool feature and that Hugh Jackman would appear in the film as Wolverine.
Inside Out 2
June 14, 2024
This the sequel to the animated Pixar movie Inside Out.
Mission Impossible 8
June 28, 2024
Moved to this date in January 2022, after pandemic delays to the release of the seventh installment.
Mufasa: The Lion King
July 5, 2024
Mufasa: The Lion King a pseudo-live action prequel to the 2019 Lion King movie.
Venom 3
July 12, 2024
Kelly Marcel, who wrote the first two Venom features, will return as screenwriter and director of the third film in the series. The screenplay is from a story by Marcel and star Tom Hardy. The film was dated by Sony Pictures in July 2023, along with a number of other Spider-Man films.
Transformers One
July 19, 2024
This is a new animated movie with a voice cast starring Chris Hemsworth, Brian Tyree Henry, Scarlett Johansson, Keegan-Michael Key, Jon Hamm, and Laurence Fishburne.
Captain America: Brave New World
July 26, 2024 (moved from May 3, 2024)
​Disney grabbed this 2024 date, along with several others, in September 2021, and revealed that it was being held for a Captain America film at Comic-Con 2022. Sam Wilson, played by Anthony Mackie, will be Captain America in this film.
Untitled Alien Film
August 16, 2024
Ridley Scott is producing a new Alien movie, which will be directed by Fede Alvarez.
Kraven the Hunter
August 30, 2024
Sony has grabbed this date for another Marvel movie, which will star Aaron Taylor-Johnson as the title character, and Russell Crowe.
Beetlejuice 2
September 6, 2024
Warner Bros. announced this date, up against Blade, at the beginning of the writer's strike, in May 2023. This revival of the Tim Burton classic will star Jenna Ortega nad Michael Keaton.
Joker: Folie a Deux
October 4, 2024
Warner Bros. announced a date for its upcoming musical sequel to Joker, which will star Joaquin Phoenix, returning in the title role, and and Lady Gaga (see "Lady Gaga in 'Joker' Musical").
Untitled Marvel Film
November 8, 2024
Sony will release a thus far untitled Marvel film on this date.
Karate Kid
December 13, 2024
This is a reboot of the original Karate Kid movie franchise.
Sonic The Hedgehog 3
December 20, 2024
The second film in this franchise opened even bigger than the first, giving this threequel strong momentum as it heads into a tough holiday opening date against Avatar 3.
Thunderbolts
December 20, 2024 (moved from July 26, 2024)
​Disney grabbed this 2024 date, along with several others, in September 2021, and announced that it was being held for Thunderbolts, a team of MCU anti-heroes, at Comic-Con 2022.

Click here for Best in Shows – 2025!