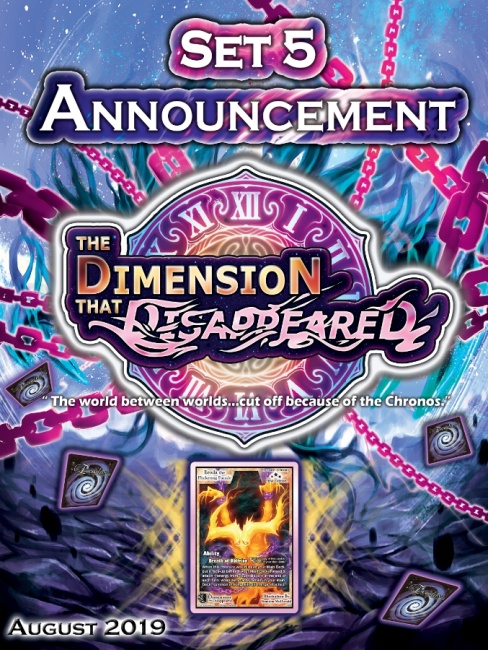 Existence Games will release Set 5 for its
Exodus TCG
,
The Dimension That Disappeared
, on August 1.
The Dimension That Disappeared will include support for Chronos, Treefolk and Shardfolk. The set will also introduce a new mechanic for Chronos called 'Afterthought'. The new mechanic allows a player to change the Chrono card type from a creature into an Afterthought. The Afterthought Ability will leave a lingering effect on the battlefield, affecting the flow of gameplay.
The set features 118 cards. Secret Rare cards will have a 3D foil, and Common and Uncommon cards will have a white border rather than previous sets' black border. Other cards will feature a foil-stamped border or textured extended art.
Each pack of The Dimension That Disappeared will contain 5 cards, with a guaranteed foil, with an MSRP of $3.50. Booster boxes will contain 12 packs and 2 box toppers with an MSRP of $41.99. Cases will contain 12 booster boxes.
The Dimension That Disappeared continues Existence Games schedule of a new expansion each year, following 2018's Converging Chasms (see "The Treeforge and Shardveil Guilds Rise in 'Exodus TCG'").
Existence Games has also announced a rule change to the Exodus TCG Organized Play (see "'Exodus TCG' Launches Organized Play") that will begin with Set 5's release. Symmetry cards and creature abilities will be adjusted to same speed. This will allow for every effect to be Stacked, eliminating missed timing opportunities.
Check out some of the new cards below!