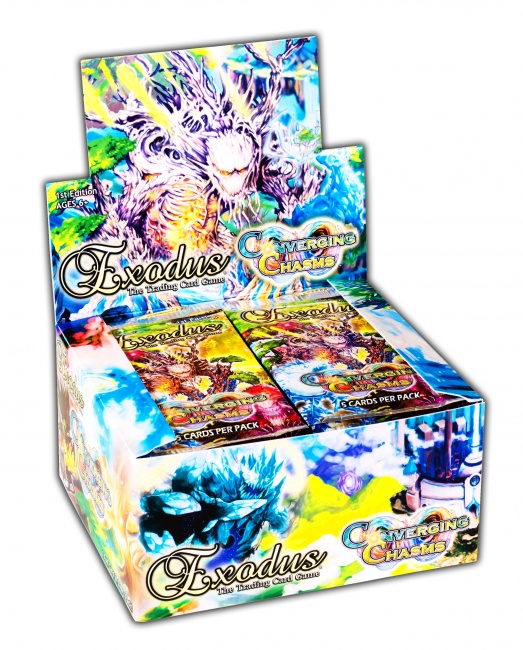 Existence Games will release
Converging Chasms,
a new booster expansion for its
Exodus Trading Card Game
on August 2.
The quick, family-friendly, fantasy trading card game began receiving national attention last year, and launched organized play in 2018 (see "
'Exodus TCG' Launches Organized Play
"). Now the second booster for the game (and fourth release overall),
Converging Chasms
will power up the Treeforge and Shardveil Guilds and introduce a new card rarity – Harmony Rare. There is support for Treefolk, Shardfolk, Dragons, Angels and other new creatures in this release.
The 80-card set is completely new, and includes 27 Commons, 22 Uncommons, 31 Rare, 8 Secret Rare, and 3 Harmony Rare. Every rarity tier now contains cards with effects, and Uncommons and Rares receive a new foil pattern. The Secret Rares will get a unique, 3D foil treatment where the raised foil follows the lines of the card art. There are over 50 foil cards to collect, making the complete set 113 cards.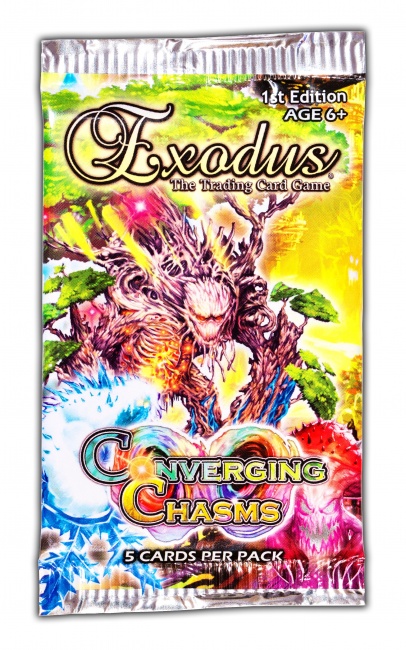 Each pack includes 5 cards, with one guaranteed foil in every pack. There are 12 packs per booster box, and 12 booster boxes per case. Each booster box includes 2 box toppers (1 "Grandaria, Forger of Songs" SR Ability creature and 1 random foil) and each case includes 1 case topper. E ach pack has an MSRP of $3.50 and each booster box is $41.99.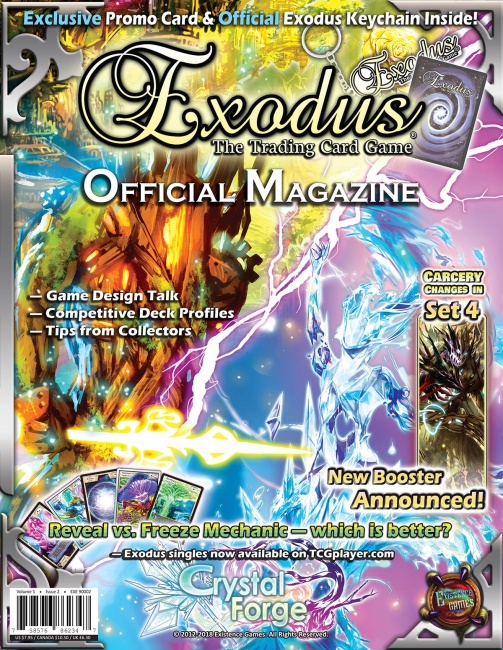 To build excitement for the new release, Existence is releasing a new issue of the
Exodus TCG Official Magazine
in April. The magazine will include exclusive information and spoilers for the new booster set, as well as advice on building decks, mechanics discussion, and collector advice (
Exodus
singles are now available on TCGplayer.com). MSRP is $7.95. It also includes a new promo card (see gallery below).