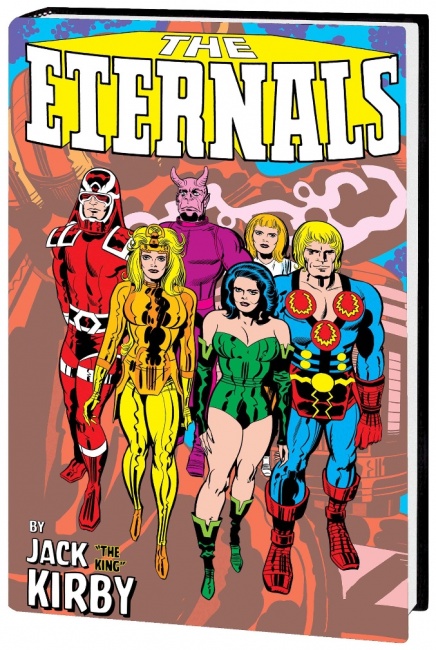 Marvel Comics has announced a new "Monster Size" edition of Jack Kirby's
The Eternals,
collecting issues #1-19 of the original comic as well as
The Eternals Annual
#1. The oversized, 384-page book will have a trim size of just over 13" x 21" and features a cover by Jack Kirby. It will be available in January 2021 with an MSRP of $125.
Kirby wrote and penciled the series, which tells the story of a new set of heroes, the Eternals, godlike creatures who fought the Greek, Roman, and Norse gods before leaving Earth to explore the stars. They must return to Earth, however, to protect humanity from their enemies, the Deviants, and both the Eternals and the Deviants must reckon with the higher beings who created them all, the Celestials.
Kirby began the series in July 1976, and the original run ended in January 1978, when it was canceled. Writer Peter B. Gillis and artist Sal Buscema revived it in a 12-issue miniseries in 1985, and Neil Gaiman and John Romita, Jr., brought them back for another series in 2006. The complete saga, including several other comics, was collected by Marvel in a 1,220-page hardcover omnibus scheduled for release on August 26, 2020 (see "
'The Eternals: The Complete Saga' Collected in Hardcover Omnibus
").
Marvel published Kurt Busiek and Alex Ross's
Marvels
in a similar format last year, which was also subtitled "Monster-Sized" (see "
Oversized Hardcover for Kurt Busiek and Alex Ross's 'Marvels'
").