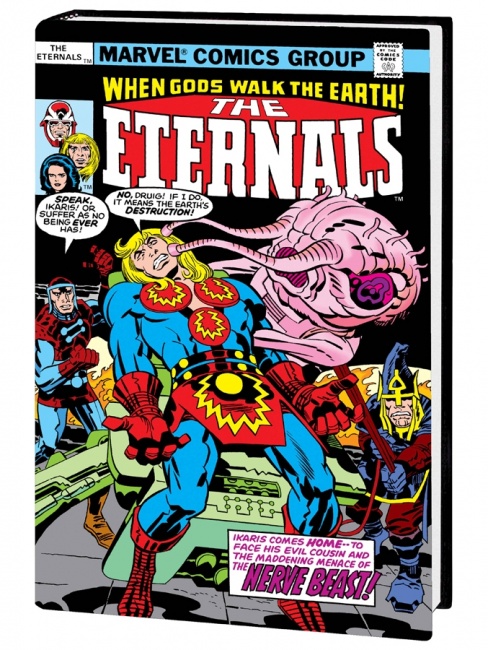 Marvel Comics announced
The Eternals: The Complete Saga Omnibus HC
coming August 26.
The Eternals told the story of the Eternals and the Deviants, races evolved by the experimentations of the towering Celestials. The Celestials seek to cast judgment on Earth while the Eternals defend humanity from the Deviants. The Eternals was born from the mind of Jack "The King" Kirby during his return to Marvel Comics in the 70's and is the inspiration from the 2020 theatrical film. The Eternals: The Complete Saga, collects Eternals (1976) #1-19; Eternals Annual #1, Eternals (1985) #1-12; Eternals: The Herod Factor; New Eternals: Apocalypse Now; Iron Man Annual #6; Avengers (1963) #246-238; and material from What If? (1977) #23-30.
The collection's stories are written by Jack Kirby, Peter B. Gillis, Walter Simonson, Roy Thomas, Karl Bollers, Michael Higgins, Mark Gruenwalk, Ralph Macchio, and Roger Stern. The collection includes art by Jack Kirby, Sal Buscema, Mark Texeira, Joe Bennet, Ron Wilson, Rich Buckler, Luke McDonnell, Al Milgrom, Keith Pollard, and Paul Ryan. The book will be available with either an Alex Ross cover or Jack Kirby cover.
The 1220-page, hardcover omnibus will retail for $125.00.
Marvel Comics recently announced an Absolute Carnage Omnibus HC coming in August 2020 (see "A Monster 'Absolute Carnage' Omnibus Is Coming Soon").
Click on Gallery below to see full-size images!