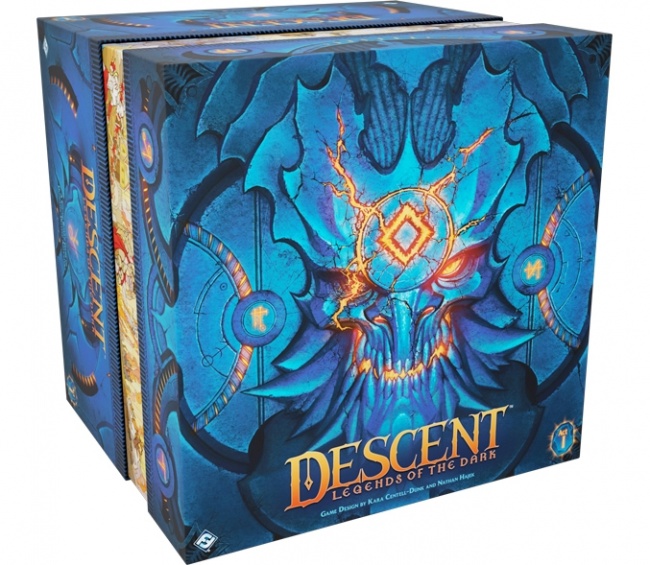 Fantasy Flight Games is taking the fantasy dungeon-crawl board game
Descent
in a new direction with the launch of
Descent: Legends of the Dark
, releasing in Q2 of 2021.
Descent: Legends of the Dark is not a new edition or expansion for the earlier game, but will be a completely separate, stand-alone offering. Unlike the original, which was envisioned as a competitive game that pitted hero players against the "overlord" player, Legends of the Dark is a fully-cooperative experience in which all players work together as heroes against the game itself. The monsters and villains are controlled by the integrated companion app, which takes over the role of overlord. The new game, developed by Descent: Journeys in the Dark veterans Kara Centell-Dunk and Nathan Hajek, will feature revised combat mechanics, a new fatigue system, and new features such as item-crafting, shopping, and skill development between adventures. This system allows players a greater ability to customize their character and equipment, but as a result, Legends of the Dark is not compatible with the Decent: Journeys in the Dark.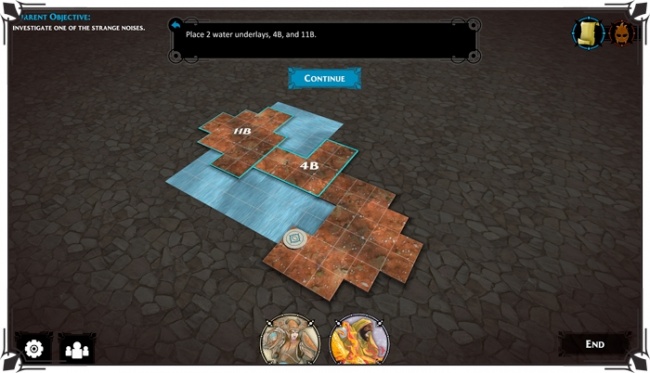 The companion app will guide players through their adventures, revealing the map during the game, controlling the monsters, and allowing players to interact with items they uncover. The game will feature three-dimensional terrain, including multi-level adventures and offering new ways to interact with the environment. Between adventures, the app will allow players to customize and upgrade their gear, craft new items, and develop their characters. The base game and the app will support the complete 16-part "Blood and Flame" campaign, representing the "first act" of a planned three-act story arc, with future expansions planned to support the later acts.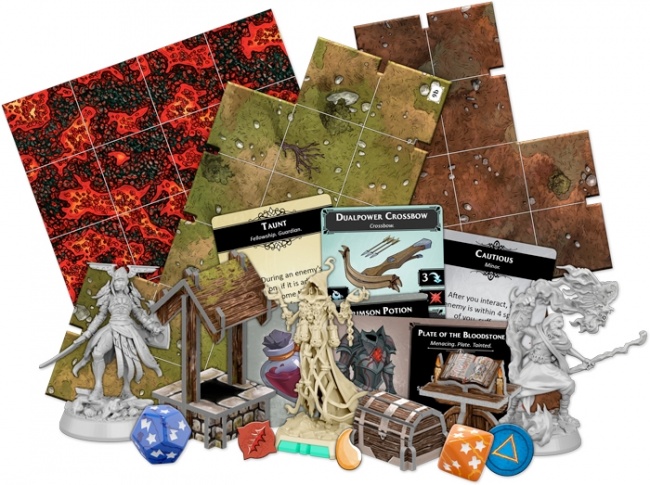 Descent: Legends of the Dark
will come with 46 pieces of three-dimensional terrain, 40 plastic miniatures representing heroes and monsters, as well as cards, tokens, dice and other materials needed to play. The game is intended for 1 to 4 players, ages 14 and up. Scenarios will take 2 to 3 hours to play. MSRP is $174.95.
Click Gallery below to see components from the game.
Fantasy Flight recently announced plans for a new expansion for Marvel Champions (see "'Quicksilver' Bolts into 'Marvel Champions: Card Game'"). The company has also reached a deal with CMON's Guillotine Press to produce graphic novels based on some of FFG's intellectual properties (see "'Twilight Imperium' and 'Android Universe' Licensed by CMON for Graphic Novels").