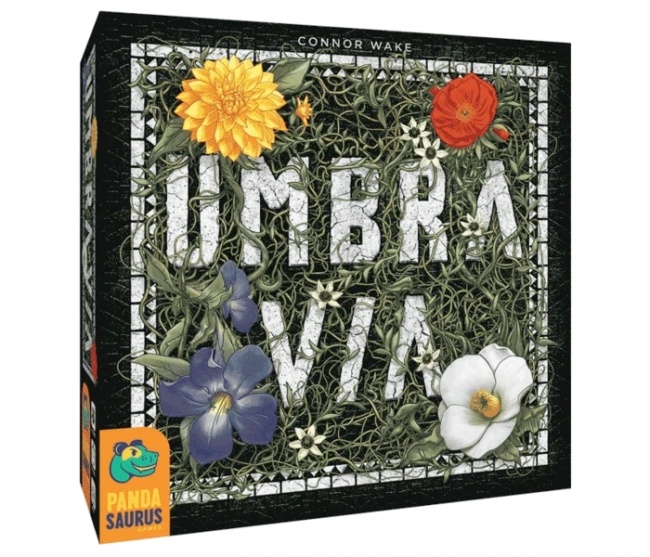 On March 17, Pandasaurus will release the
Umbra Via
boardgame from freshman designer Connor Wake.
In Umbra Via, players try free missing pieces of their soul from mysterious shadows by collecting all of their soul flowers. The game combines auction and area control mechanics. Players bid for game tiles during a two-round bidding phase, then place the tiles they won in the bids on the board to create pathways. When a pathway is closed, the player with the most tokens on that pathway liberates some of their soul flowers. The first player to liberate all of their soul flowers wins the game, but the more soul flowers they collect, the harder it becomes to gain control of the pathways.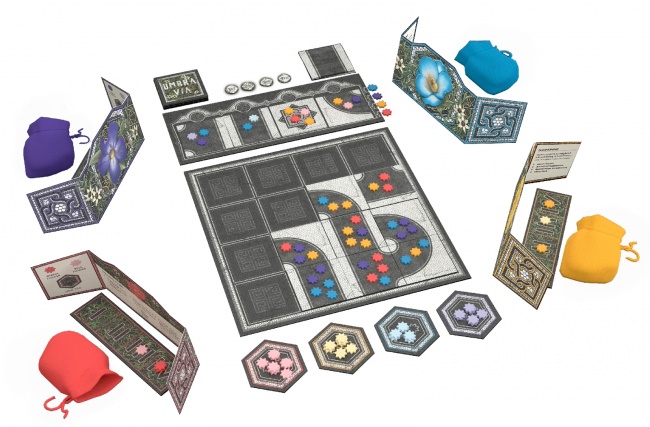 Umbra Via
includes 1 main board, 1 altar board, 4 player screens, 4 bidding boards, 4 cloth bags, 24 tiles, 200 wooden flower tokens, and 4 placement order counters. The game is intended for 2 to 4 players, ages 8 and up, and takes about half an hour to play. MSRP is $39.95.
In October, Pandasaurus released the Kinderspiel des Jahres-nominated Robots (see "Pandasaurus Games Will Release 'Robots' Into the U.S. Hobby Market") and the card-drafting game Ohanami (see "Welcome the Arrival of the Cherry Blossoms With a Beautiful Garden in 'Ohanami'").