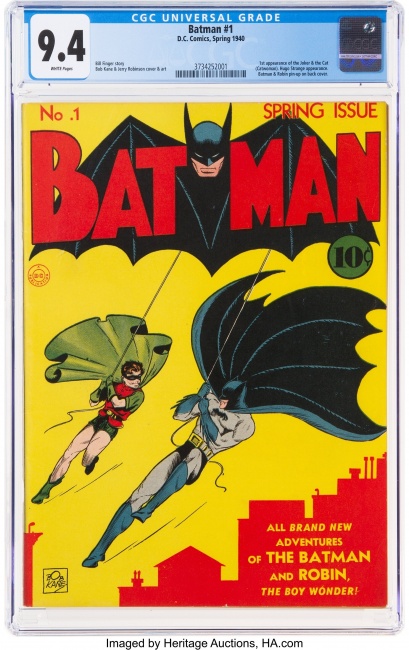 Heritage Auctions dropped the hammer on a high-grade
Batman
#1 at a record-setting amount of $2.2 million at their January 14 Comics & Comic Art Signature Auction in Dallas, Texas.
The uptrend in the high-end collectible comics market rolls on as the finest-known
Batman
#1 (see "
Finest-Known 'Batman #1' Hits the Auction Block in January
") yielded a record-setting number for a comic starring Bruce Wayne as the caped-crusader. The final price on the comic, including a buyer's fee, was $2,220,000. This is $720,000 more than the
Detective Comics
#27 sold in November (see "
Breaking News: Hammer Drops on 'Detective Comics' #27 at a Record $1.5 million
"), and more than double the 2012 sale of a CGC 9.2
Batman #1
sold in 2012 (see "
'Batman' #1 Sells for $850K
").
Other notable sales on the first day of this auction were a CGC 8.5
Captain America Comics #1
that sold for $384,000, a CGC 9.2
Fantastic Four
#5 that went for $72,000, and a CGC 9.2
Teenage Mutant Ninja Turtles
#1, signed by Kevin Eastman, that went for $28,800. It should also be noted that the
Captain America Comics
#1 sold for $530,000 less than a CGC 9.4 copy in 2019 (see "
'Captain America' #1 Gets Record Price at Heritage Auction
"). This is significant because the CGC 8.5 copy is still a rare book (only nine copies known in grade CGC 8.5 or higher), yet it failed to command a similar price premium of the CGC 9.0 or above copies. This also indicates that there is essentially a 140% premium gap between a CGC 8.5 graded copy and a CGC 9.4 graded copy, despite the generally low overall population of this book in higher grades.