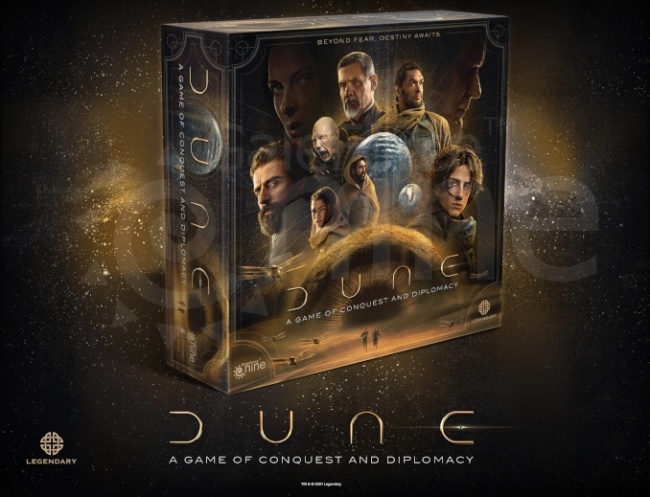 Gale Force Nine has released details about its upcoming boardgame
Dune: A Game of Conquest and Diplomacy
, which is being produced under license from Legendary Entertainment and set to launch in September.
Dune: A Game of Conquest and Diplomacy
is based on the 1979 Avalon Hill classic, which Gale Force Nine updated in 2019 (see "
Gale Force Nine Reveals 'Dune' Details
"). The new game, however, will offer a streamlined rules set and shorter playing time to create a more casual gaming experience compared to the original, including a 2-player mode and the introduction of a market deck that allows players to purchase advantages within the game.
Like the original, players control one of the great factions of the
Dune
universe: House Atreides, House Harkonnen, the Fremen, or the Imperium. They compete over the famed desert world and it's unique supply of the all-important spice, which also functions as a currency in the game.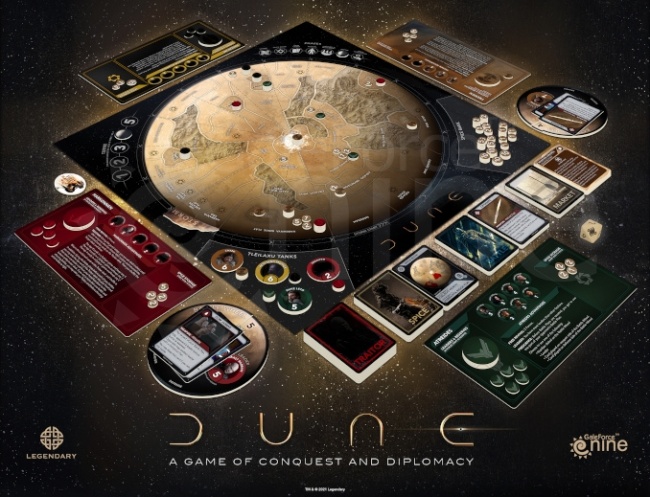 Dune: A Game of Conquest and Diplomacy
is intended for 2 to 4 players, and games take under an hour to play. It features a new board design and artwork that reflects the style and imagery of the upcoming film. MSRP is $50.00.
The release date for the
Dune
has been pushed back to October 1, 2021 (see "
Hollywood Comes Down with Another Wave of Geek Movie Coronavirus Shuffling
").
Frank Herbert's classic
Dune
series is inspiring a number of other releases, including a deck-building game (see "
Gale Force Nine and Dire Wolf Digital Team up for 'Dune: Imperium'
"), a series of games based on Portal's
Detective
engine (see "
Portal Games Announces 'Dune: House Secrets' at Portal Con
"), and a role playing game (see "
Modiphius Details 'Dune: Adventures in the Imperium' RPG
"), as well as comic books (see "
'Dune' Prequel Comics to be Collected in Hardcover
").
Click Gallery below for full-size images.