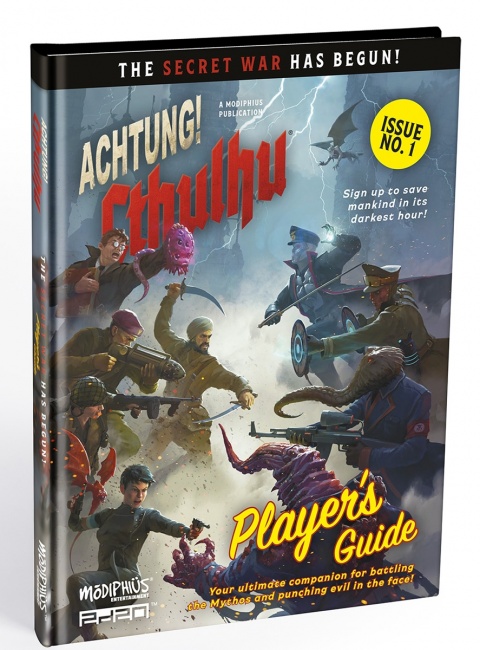 On September 28, Modiphius Entertainment will release the first print editions for its new
Achtung! Cthulhu 2d20
role playing game, including the
Player's Guide
, the
Gamemaster's Guide
, the
Gamemaster's Sreen + Toolkit
, two dice sets, and the limited-run
Black Sun Exarch Collector's Edition.
Combining World War II history with the cosmic horror of the Cthulhu Mythos, Achtung! Cthulhu imagines secret Nazi cults operating under the cover of the war to advance their unholy agendas. The players take on the role of agents of the Allies' equally secret organizations Section M and Majestic, tasked with halting the Nazis' occult endeavors.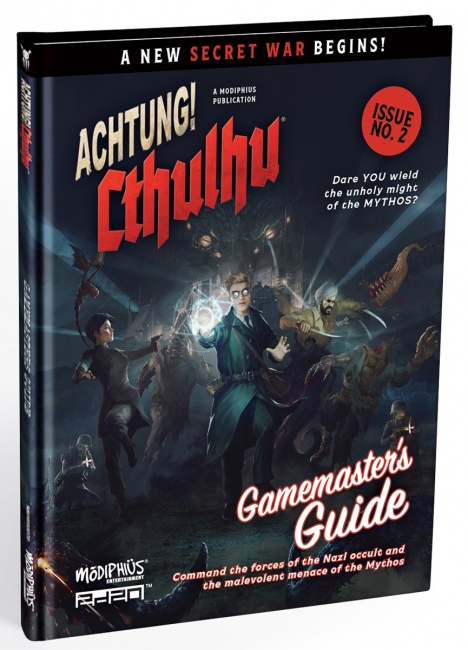 Achtung! Cthulhu
was the first game published by Modiphius back in 2013. This new edition is built on the company's
2d20
game engine, and was written by John Houlihan and Nathan Dowdell (
Conan: Adventures in an Age Undreamed Of
,
Star Trek Adventures
).
The initial wave of releases will include:
Player's Guide – a 178-page full-color hardcover book detailing character generation and the game system. MSRP $43.00.
Gamemaster's Guide – 260 pages of lore and background on the game setting plus advice for running campaigns. MSRP $57.00.
Gamemaster's Screen + Toolkit – A 4-panel screen with handy tables and reference guides with a booklet of GM hints and tactics. MSRP $36.00.
Black Sun Dice Set – Includes two 20-sided dice and four challenge dice in opaque black plastic with white numbers and a Secret War Squid on one face. MSRP $22.00
Blauer Kristall Dice Set – two 20-sided dice and four challenge dice in translucent blue with white numbers and Secret War Squid. MSRP $22.00.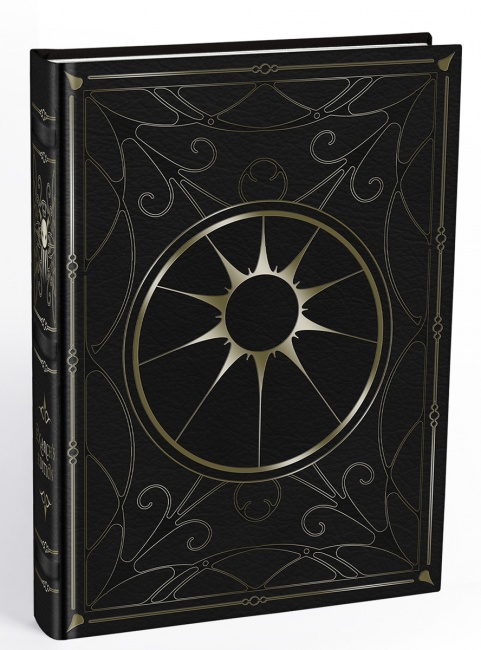 A limited edition version, the
Black Sun Exarch Collector's Edition
, will also be available, combining the
Player's Guide
and the
Gamemaster's Guide
into a single tome of 450+ pages with a black leatherette cover emblazoned with the Dark Sun logo, debossed in gold foil. MSRP $169.00.
Click Gallery below to see artwork samples from the game and the packaging for the dice sets.
This winter, Modiphius will launch another 2d20 RPG system game based on the Homeworld video game series (see "Modiphius Reveals its 'Homeworld'").
The company also recently announced plans to produce a licensed board game based on the James Bond films (see "'No, Mr. Bond, I Expect You to Die' in 'Spectre: The Board Game'").