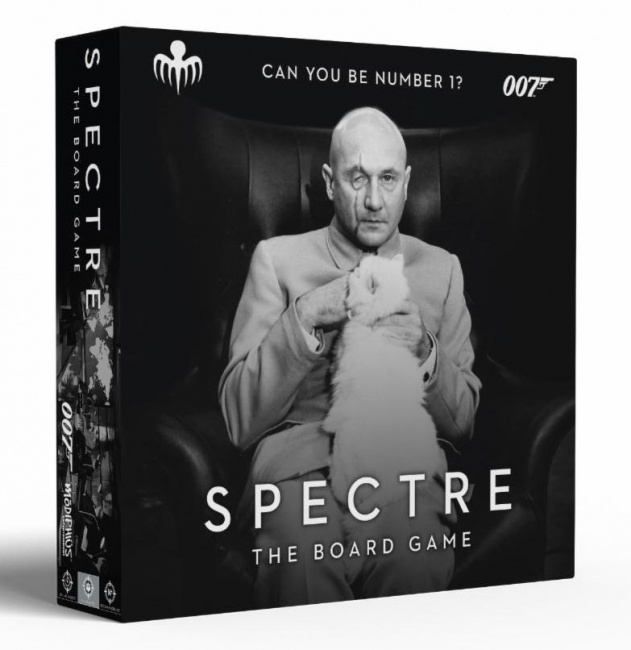 Modiphius Entertainment revealed
SPECTRE: The Board Game
, a new 007 villain-themed board game, which will release in spring of 2022.
In SPECTRE: The Board Game, players assume the roles iconic villains from the James Bond films vying for the opportunity to become SPECTRE's Number One operative. Each villain has their own Bond-inspired plotline to follow as they assemble devices, spy on opponents, blackmail rivals, and use their agents to infiltrate key installations. And, of course, they will have to battle 007 as he is a constant threat to their plans for world domination.
This game was designed by KAEDEMA and the Modiphius Design Team. The game box comes with a gameboard, 5 player boards, 4 Villian pawns, 4 Henchmen pawns, 4 numbered rank stands, 4 Spectre tokens, 7 Majority tokesn, 20 double-sided tokens, 25 Gold tokens, 25 Blueprint tokens, 25 Intel tokens, a 007 token, 80 Agent cudes, 20 Mission cards, 30 Secret Plan cards, and 2 007 dice. It supports two to four players. ages 10 and up, and plays in 20 to 45 minutes.
Upper Deck Entertainment recently revealed The Spy Who Loved Me , the next expansion for Legendary 007, a James Bond Deck Building Game (see "James Bond Battles Jaws in Next 'Legendary 007' Expansion").
Click on Gallery below for full-size images!