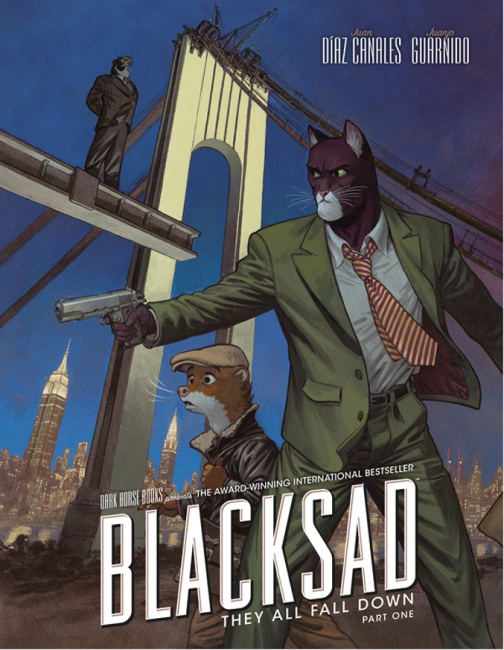 Dark Horse Comics has announced the details for its Summer 2022 release of the first of two new
Blacksad
volumes (see "'
Blacksad To Return with New Story in 2022
").
Blacksad: They All Fall Down – Part One will street on July 6 in comic stores and on July 19 in bookstores, at $19.99. Created by Juan Diaz Canales and Juanjo Guarnido, it will be translated by Diana Schutz and Brandon Kander, with letters by Tom Orzechowski and Lois Athena Buhalis.
In the story, Detective Blacksad faces the mob, the unions, and mid-century "master builder' Lewis Solomon, who plans to pave over New York's green spaces, while Blacksad pal Weekly finds himself in the hot seat when an old flame comes back to burn Blacksad.
The volume was released first in France, where it's been nominated for the Angouleme Grand Prix, and in the U.S. digitally in October by Europe Comics.
Dark Horse Comics released three Blacksad volumes between 2010 and 2014, and then collected all three and some additional material into a larger hardcover volume, Blacksad: The Collected Stories, in 2020 (see "'Blacksad' Returns"). Collected Stories is currently out of print, but the three original volumes are still available.