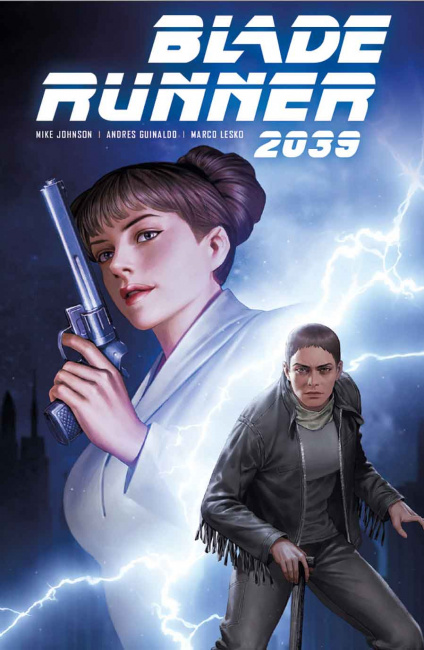 Titan Comics and Alcon Publishing will wrap up the comics take on the Blade Runner story with
Blade Runner 2039,
a 12-issue series that will launch in December 2022. The core creative team from the previous comics, writer Mike Johnson, artist Andres Guinaldo, and colorist Marco Lesko, will return for this series, and the first issue will have covers by Junggeun Yoon, Veronica Fish, Butch Guice, and the designer of many of the Blade Runner visuals, Syd Mead.
Blade Runner 2039 will be the third of Titan's Blade Runner series to be set in a specific decade, following Blade Runner 2019 and Blade Runner 2029. The newest series will be the final chapter in the story of Aahna "Ash" Ashina, an aging, disgraced female Blade Runner, who will do battle with Luv, the "First Angel" from the film Blade Runner 2049. Titan's other titles in the franchise include Blade Runner: Origins (see "'Blade Runner Origins'") and Blade Runner: Black Lotus.
Amazon has greenlit a new live-action television series, Blade Runner 2099, Deadline reports, with Ridley Scott, the director of the original 1982 Blade Runner movie, as executive producer alongside scriptwriter and executive producer Silka Luisa. The new series, a sequel to Blade Runner 2049, is the first live-action Blade Runner property. Blade Runnerand Blade Runner 2049 have also been adapted into an RPG (see "40 Years Later 'Blade Runner' Becomes an RPG") and a board game (see "'Blade Runner 2049: Nexus Protocol'").
Click Gallery for covers!