Gale Force Nine has announced the
Ecaz & Moritani House Expansion
for
Dune: A Game of Conquest, Diplomacy, and Betrayal
.
The
Ecaz & Moritani House Expansion
brings the total number of playable factions in the game to 12 by introducing two all-new factions that open up new strategic options. House Ecaz is designed to benefit from rapidly forming alliances and dispatching their diplomats to the strongholds of other Houses. House Moritani, on the other hand, benefits from a slower, more methodical approach by playing a long game and spreading terror among the other Houses.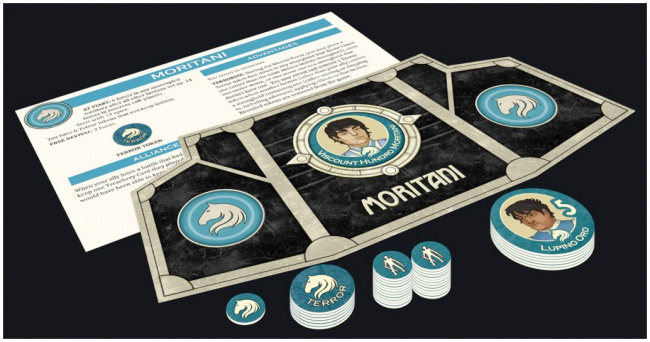 The expansion also seeks to entice players into exploring areas of the Arrakis map that are less utilized in the game with the introduction of Discovery tokens and new Spice cards. A new "Homeworlds" variant forces players to be more cautious when deploying their forces to the desert planet by encouraging attacks on other players' homeworlds and strongholds, representing the "War of Assassins" described in
Dune: House Atreides
and
Dune: House Harkonnen.
The expansion also introduces Nexus cards that provide new ways for solo wins as opposed to alliance victories.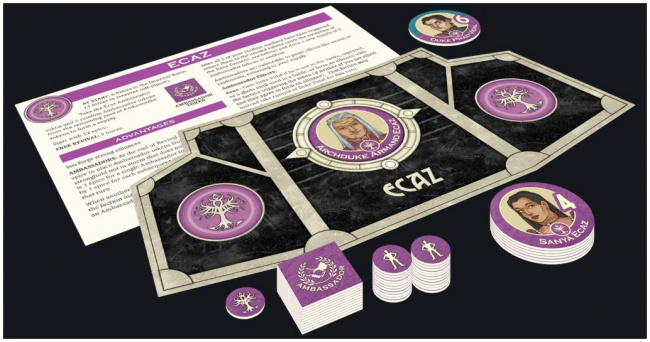 The expansion includes two complete faction sets, each with a player shield, sheet, and marker, 5 leader discs, 20 forces, and 2 Alliance cards. The Ecaz faction also has 11 Ambassador tokens, and Moritani has 6 Terror tokens and 1 Atomics Aftermath token. In addition, there is a Duke Vidal Leader disc, 47 cards, and 21 other tokens. MSRP is $25.00.
Dune: A Game of Conquest, Diplomacy, & Betrayal
is an updated version of the 1979 Avalon Hill classic released in 2019 (see "
Gale Force Nine Reveals 'Dune' Details
").
Ecaz & Moritani
follows two previous
House Expansions
(see "
Gale Force Nine Unveils New 'Dune' Board Game Expansion
" and "
Gale Force Nine Announces 'Dune: A Game of Conquest, Diplomacy & Betrayal' House Expansion
").
The company is also poised to launch a new
World of Tanks
starter (see "
Gale Force Nine Unveils New 'World of Tanks' Starter Set
") and new expansions for
ALIENS: Another Glorious Day in the Corps
(see "
Gale Force Nine Expands 'Aliens' Line
").