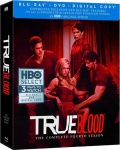 It's TV's turn to dominate this week thanks to the release of the stylish HBO series True Blood: Season 4 and the DVD debut of the first season of the classic tongue-in-cheek western series Maverick, plus for those fans suffering withdrawal symptoms from the end of House, there's a U.K. series about a brilliant doc with an outsized ego.
TV on DVD
HBO's True Blood has put the "gothic" back in "Southern gothic" with a bizarre and compelling mix of sexy supernatural creatures with appalling habits and appealing stories. True Blood Season 4 (HBO, $59.99, BD $79.99) features excellent work from the show's standout cast that includes Anna Paquin, Stephen Moyer, Alexander Skarsgard, and Deborah Ann Woll. Season 4 takes the series in a darker direction defined in part by Fiona Shaw's Marnie, who has proved to be an exceptional antagonist.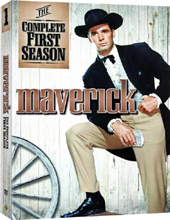 One of the best Golden Age western series makes its debut on Tuesday.
Maverick Season 1
(Warner Bros. 1350 min., $39.98) was an amazing breath of fresh air when it debuted in 1957. James Garner's smooth talking Bret Maverick was smart, slick, and consequently (given the ridiculous "code of the West") cowardly.
Maverick
brought both humor and realism (the spot-on parody of
Gunsmoke
made it clear that the latter film's opening duel sequence was absurd given the inaccuracy of the pistols of the era) to the TV western. Unfortunately Garner's Bret Maverick had to share the series with his straight (and supremely uninteresting) brother Bart (Jack Kelly). So skip the "Bart" episodes and embrace the "Brets,"—you won't be disappointed.
Contemporary series due this week include the Canadian-produced cop show Rookie Blue: Season 2 (eOne, 550 min., $39.98, BD $49.98), which contains all 13 episodes of the series that aired on ABC in the U.S., and the Long Island "valet" physician drama Royal Pains: Season 3, Vol.2 (Universal, $26.98).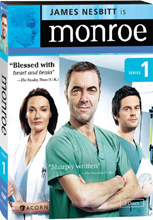 A much better medical drama is
Monroe Series 1
(Acorn Media, 274 min., $39.99), which includes all six episodes of the ITV series that stars James Nesbitt (
Murphy's Law
) as a brilliant, but difficult neurosurgeon with an ego the size of Greenland. Folks who are suffering withdrawal symptoms from the end of the
House
TV series should give
Monroe
a try.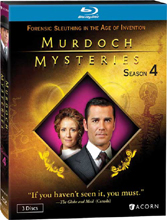 This week's other foreign entry is
Murdoch Mysteries Season 4
(Acorn Media, 624 min., $49.99, BD $59.99). This Canadian series is set in the early 1900s and features a team of detectives that are pioneering in their use of forensic science to catch criminals.
Slim pickings on the TV animation front this week, just the single-disc Garfield Show Vol. 6 (Vivendi, 72 min., $14.93), and the lame, computer game-based Wing Commander Academy: The Complete Series (FirstLook, 268 min., $24.98) collecting the 1990s series. Altogether more interesting is Lancelot Link/Secret Chimp: Complete Special Collector's Edition (Film Chest, 600 min., $24.98), a bizarre Saturday morning show from the early 1970s that was basically a direct rip-off of Get Smart featuring chimpanzees dubbed by "Grade Z" actors engaging in a hairy send-up of the spy genre.
Anime
This week's top new release is Dragon Ball Z Kai Part 8 (Funimation, "13+," 250 min., $29.98, BD $34.98), the latest installment of the hi-def re-mastering of the popular DBZ series with all the "filler" material (stuff that doesn't appear in Akira Toriyama's DBZ manga) eliminated. DBZ Kai is a staple of the NickToons cable network where its multiple showings have led to a revival of the property.
The other "new" release is Kurenai (Sentai Filmworks, "17+," 300 min., $49.99), a 13-episode series from Brains Base that was loosely based on the light novel by Kentaro Katayama and aired in Japan in 2008. Sentai's version is subtitled only.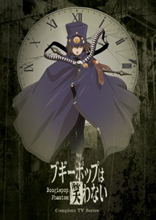 Re-priced releases include a new edition of
Boogiepop Phantom Complete TV Series
(Right Stuf, "15+," 360 min., $29.99), one of the most interesting anime horror series of all time, and the
Hero Tales Complete Series
(Funimation, "14+," 650 min., $59.98).
Theatrical Movies
The best bet in this week's handful of genre movies is the thriller Man on a Ledge (Summit, "PG-13," $26.99, BD $30.49), a quasi-Hitchcockian exercise in suspense that may have plenty of improbably plot points (as did many of Hitch's best films), but which delivers a lot more entertainment than it got credit for by either the critics (only 31% positive on Rotten Tomatoes) or audiences (it made only $24 million domestically).
The talented Amanda Seyfried stars in Gone (Summit, "PG-13," $26.98, BD $30.49), a less successful thriller about a young woman who has to take on a serial killer when the police refuse to respond to her sister's disappearance. Gone is flatly directed and received a miserable 11% positive rating from Rotten Tomatoes. Considerably better, though not great, is 96 Minutes (Arc, "R," $22.99), which features an excellent young cast in a carjacking saga that cut across class lines like Crash and features an interwoven and fractured narrative timeline that is also reminiscent of Crash.
Even better (especially for hockey fans) is Goon (Magnolia, "R," $28.98, BD $34.98), which stars Seann William Scott as a bouncer turned hockey enforcer in a saga based on a "true" story that mixes humor with violence in a very entertaining way that is reminiscent of the classic Slap Shot.
Art movie fans should enjoy Coriolanus (Weinstein Company, "R," $26.98, BD $29.98), a superior Shakespeare in modern dress saga directed by Ralph Fiennes, who also stars along with Gerard Butler, Jessica Chastain, Brian Cox, Vanessa Redgrave, and the ubiquitous James Nesbitt (see "Monroe" above).
Equally compelling in its searching examination of the human condition, though not as entertaining is We Need to Talk About Kevin (Oscilloscope, "R," $29.98, BD $34.98), a powerful film about a woman (brilliantly played by Tilda Swinton) raising a son, who adds several new dimensions to the term "bad seed."

--Tom Flinn

The opinions expressed in the column do not necessarily reflect those of the editorial staff of ICv2.com.