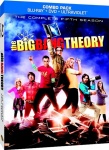 Once again TV releases dominate with the latest season of the geek-friendly sitcom The Big Bang Theory, the 3rd season of The Vampire Diaries, and some vintage Doctor Who, plus there's Kristen Stewart in Snow White and the Huntsman and a low-budget Australian horror film that could be the scariest thing you see this year.
TV on DVD
This is the time of year for big releases in this category and this week doesn't disappoint with ultimate "geek" favorite comedy series, The Big Bang Theory: The Complete Season 5 (Warner Bros., 550 min., $44.98, BD $54.97), which contains all 24 episodes of the highest rated comedy series on TV, which just happens to involve a group of guys who make weekly visits to their comic book store as well as play card games, board games, and video games, and generally carry on like the ubergeeks that they are.
Also of interest to lovers of "genre television" this week is The Vampire Diaries: The Complete 3rd Season (Warner Bros., 900 min., $59.98, BD $69.97), which collects all 22 episodes of the CW series created by Kevin Williamson and based on the Vampire Diaries novels by L.J. Smith, the New Zealand-produced sword and sandals epic Spartacus—Vengeance: The Complete Second Season (Starz, $49.98, BD $59.99), and the cancelled-but-not-forgotten humans and dinosaurs epic, Terra Nova; The Complete Series (Fox, 550 min., $49.98).
Other contemporary TV series due on Tuesday include the popular single-camera sitcom 30 Rock: Season 6 (Universal, $49.98), the trials and tribulations of parenthood epic, Up All Night: Season 1 (Universal, 550 min., $39.98), the Grey's Anatomy spin-off Private Practice: The Complete 5th Season (Disney, $39.99) and the Tom Selleck-starring family police drama Blue Bloods: The 2nd Season (Paramount, 52.99).
Animated offerings include Klasky Csupo's Nickelodeon series Aaahh!!! Real Monsters: Season 3 (Shout Factory, 300 min., $19.93), while other kid-targeted releases include three Goosebumps double-features that each include two Canadian-produced made-for-TV movies based on books by R.L. Stine, including Goosebumps: One Day at Horror Land/Go Eat Worms (Fox, 153 min., $14.98), Goosebumps: The Headless Ghost/Ghost Beach (Fox, 128 min., $14.98), and Goosebumps: The Scarecrow Walks at Midnight/A Night in Terror Tower (Fox, 154 min., $14.98) .
Classic TV offerings include the 1970s detective series Kojak: Season 5 (Shout Factory, 1550 min., $44.99), and the fondly remember 1980 British horror anthology series Hammer House of Horror: The Complete Series (Synapse Films, 702 min., $39.95), which includes all 13 fifty-minute episodes of classic horror series.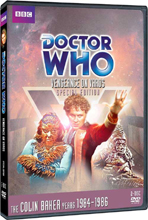 Of course what could be more "classic" than the
Doctor Who: Story 009—Planet of Giants
(BBC, 73 min., $24.98) the first serial of the second season of the long running TV series that was broadcast in three parts in the fall of 1964 and featured the First Doctor (William Hartnell) in a story set on 1960s Earth. Perhaps even more interesting to fans of the vintage sci-fi series is the classic saga,
Doctor Who—Story #139: Vengeance on Varos Special Edition
(BBC, 89 min., $24.98), which finds the Sixth Doctor (Colin Baker) trapped in the dreaded punishment dome on the Planet Varos where he must fight for his life and to save the planet's population from the reptilian Sil.
Also due this week from Blighty is Absolutely Fabulous: The 20th Anniversary Specials (BBC, 90 min., $24.98), which collects all three reunion specials featuring the bubbly-soaked cast of the original "fashionista" drama.
Theatrical Movies
This week's big release is Snow White and the Huntsman (Universal, "PG-13," $29.98, BD $34.98), a dark action-heavy take on the classic fairy tale that is more Brothers Grimm than Disney with much of the action coming from the Huntsman played by Chris Hemsworth (Thor). Charlize Theron steals the show as the evil queen, but Kristen Stewart gets in some girlpower action along the way. Snow White and the Huntsman only got a 48% positive rating from the critics surveyed on Rotten Tomatoes, but it was one of last summer's few medium size hits as it earned $155.4 million at the box office, a testament to how popular the fantasy genre has become.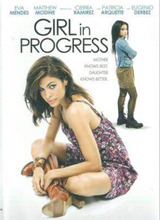 The coming-of-age saga
Girl in Progress
(Lionsgate, "PG-13," $19.98) fared even worse with the critics, earning just a 28% positive rating, but while this film has its flaws, it provides a fairily nuanced look at aspects of Hispanic life in America that are rarely touched on in feature films. This saga of a precocious teen girl who wants to grow too fast occasionally has a hard time deciding whether it's a comedy or a drama, but it does feature excellent performances from Cierra Ramirez as the title character and Eva Mendes as her mother.
For Greater Glory (Arc Entertainment, "R," $26.99, BD $32.99) examines the little known "Cristero War" that took place in Mexico from 1926-1929 when the Mexican government under the leadership of Plutarco Calles basically tried to outlaw the Catholic Church. Andy Garcia shines in the film's key role as a retired Army general and religious skeptic who becomes the unlikely leader of the rebellion against the anti-clerical government. This film is recommended for those who want to see what serious religious persecution is like.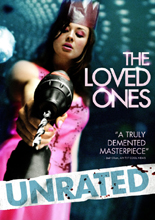 For horror movie fans this week's best bet could be
The Loved Ones
(Paramount, "Not Rated," $29.98), a low-budget Australian horror movie directed by Sean Byrne that is not for the faint of heart (or queasy of stomach). But those who liked Brian De Palma's original Carrie should enjoy a lot more than the contemporary remake of the Stephen King horror saga. Cheap and cheesy at times, this saga of a prom queen scorned overcomes its limitations and delivers some really scary scenes—which should be the object of any real horror film.
What To Expect When You're Expecting (Lionsgate, "PG-13," $29.95) is a specialized ensemble comedy film with a strong cast and a subject that is not of universal interest, but which does benefit from some strong performances and a few true-to-life moments amidst all the treacly "good vibes."
Anime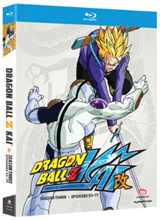 The top release this week is
Dragon Ball Z Kai: Season 3
(Funimation, "13+," 600 min., $49.98, BD $54.98), which collects episodes 53-77 of the hi-def remastered edition of
Dragon Ball Z.
This new hi-def version not only upgrades the visual and audio elements of the show, it also eliminates all the non-Akira Toriyama filler elements that were added to the original series.
DBZ Kai
airs on the Nickelodeon network and has brought about something of a renaissance of the property.
Also due this week is a Blu-ray edition of the controversial short anime film, Kite (Animeworks, "16+," 45 min., BD $24.99), a neo-noir, girls-with-guns OVA first released in 1998. Also due from Animeworks is Kanokon: The Girl Who Cried Fox (Animeworks, "17+," 350 min.), which includes the 12-episode harem comedy series animated by Xebec in 2008 plus two OVA episodes from 2009.
Re-priced, re-formatted editions out this week include the UFO Ultramaiden Valkyrie Collection (Section 23, 670 min., $49.98), which contains both twelve episode seasons of the 2002-2004 series along with the "Bridal Training OVA."

Tom Flinn

The opinions expressed in the column do not necessarily reflect the views of the editorial staff of ICv2.com.