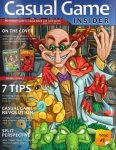 Rolling for Initiative is a weekly column by Scott Thorne, PhD, owner of Castle Perilous Games & Books in Carbondale, Illinois and instructor in marketing at Southeast Missouri State University. This week, Thorne talks about two useful magazines for hobby game retailers.
Despite rumors to the contrary, print is not dead, at least not in the magazine field. Despite the much trumpeted announcement that
Newsweek
will cease print publication as of the end of the year, other news weeklies such as
The Economist
and
The Week
have seen increases as have national specialty magazines such as
Cosmopolitan
,
Food Network Magazine
and
Southern Living
.
Game Informer Magazine
saw a healthy 48% increase in sales over the previous year. In the gaming industry,
Kobold Quarterly,
Miniature Wargames
,
Wargames Illustrated
and
White Dwarf
still soldier on (so to speak).
What started me on this train of thought was the first issue of a new gaming magazine crossed my desk this week,
Casual Game Insider.
Stratus Games, publisher of
Eruption
,
Launch Pad
and
Gold Mine
, among others, used Kickstarter last August to raise funds for the launch and, while it wasn't the runaway success that Giant in the Playground and Reaper Miniatures saw with their Kickstarters, it generated enough money to apparently fund CGI for an initial four issue run through 2013. Retailers may sign up for a free subscription to the quarterly publication at the Casual Game Revolution Website and, based on the first issue, if you sell board and card games, it is certainly worth your time do so.
The first thing I was happy to see is that CGI is not a house organ for Stratus Games, in the way that
White Dwarf
is for Games Workshop. Though there are two ads for Stratus Games' products, they appear in the rear of the magazine, while ads from Steve Jackson Games, Queen Games, Mayday Games and others appearing more closely towards the front. Though two of the included shelf talkers do promote Stratus Games' releases (and a $500 video contest), the other two and the center bound poster focus more on explaining what a "casual game" is (defined as set up and taught in 10 minutes or less and played in under an hour).
The featured article of the first issue, following the sponsored feature on Stronghold Games, looks at the genesis of Casual Game Insider and the Casual Game Revolution program, but, from a store's point of view, the following article on how to teach a game effectively by T. J. Crockett is much more helpful to the retailer, as one of the hurdles for a retailer has to overcome before selling a game is explaining it. While the tips provided are more applicable to playing a demo, the steps described to explain a game could be easily worked into any sales presentation for any game. If future issues keep providing useful information such as this, I will look forward to my upcoming issues of
Casual Game Insider.
On a related note, if you are a retailer, you do subscribe to
Model Retailer
magazine, don't you? Subscriptions are free at the
Model Retailer
Website and, while the main focus is on the hobby and model industry, the articles on running a business are readily applicable to specialty game stores and hobby store owners have to deal with situations and problems that any game store owner will recognize. Plus, the ads in the magazine (and in
Casual Game Insider)
may show you another product line for your store.
The opinions expressed in this column are solely those of the writer, and do not necessarily reflct the views of the editorial staff of ICv2.com.