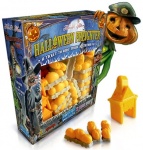 Rolling for Initiative is a weekly column by Scott Thorne, PhD, owner of Castle Perilous Games & Books in Carbondale, Illinois and instructor in marketing at Southeast Missouri State University. This week, Thorne looks at the perils of seasonal product ship dates.
The
Ticket to Ride Halloween Freighter Train and Station Set
from Days of Wonder, and to a lesser extent Asmodee Games'
City of Horror,
is a perfect example of the importance of paying attention to the seasonal product life cycle (PLC). According to the Alliance website, the
Halloween Freighter
set was released on October 25th. My sales representative went over it with us during our weekly sales call on October 30th. We are a two day ship, meaning that, if we had put the order in with him, it would have arrived on November 1st, or one day after Halloween, meaning we would miss the entire window of opportunity for selling Halloween-themed merchandise (I guess I could take a charitable look at it and view this as a 364 day window of opportunity to promote Halloween merchandise but too many other holidays in the way).
I took a look at the
Halloween Freighter
set at the Alliance Open House in early September and thought it a cute add-on that we could sell a couple of in the weeks leading up to Halloween. Notice I said "weeks" there. This is not the sort of item in which the vast majority of our customers have an interest. A comparatively small percentage of them like Ticket to Ride and an even smaller percentage of them would purchase a novelty item like this (to give you an idea, we still have most of our original order of the
Ticket to Ride Monster Expansion
that released over a year ago and we ordered lightly on that). We expect those customers with an interest in the
Ticket to Ride
line to come in one to two times a month. With the odds highly against them coming into the store during the brief period before Halloween, ordering it the week of the 31st just didn't make sense from a sales point of view. Perhaps if it had been called a Pumpkin Freighter, we could have sold it as a fall seasonal item, extending the selling season. As it is, with all the mass merchants around us marking everything tagged Halloween to half price on All Saints Day, our customers are trained to expect that of all Halloween merchandise and would be loath to pay full price for it.
City of Horror
also hit the shelves this week and suffers from the same problem but to a much smaller degree. While we would have liked to have had it in stock earlier in the Halloween selling season, when we promote games with themes such as this more extensively than at other times of the year (
Zombies
,
Resident Evil
and
Last Night on Earth
all made it onto the display), it still will sell the rest of the year as will the other zombie/horror-themed boardgames and RPGS. In fact, we just sold a set of
Last Night on Earth
today. Though they fit in well with the theme of
All Hallows' Eve
, we expect to sell even more of them at Christmas as the price point on these lends itself very well to gifts.
Anyhow, the main point is that, if you release a product tied to a particular event or holiday, it has a very short shelf life after the holiday ends. Ergo, if you plan on releasing a Christmas-themed game, it needs to hit distribution oh, about now, not the week of December 17th. As for
Halloween Freighter,
assuming it is still available, we will pick up a couple in August or September for Halloween 2013.
The opinions expressed in this column are solely those of the writer, and do not necessarily reflct the views of the editorial staff of ICv2.com.