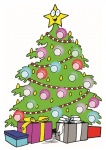 Rolling for Initiative is a weekly column by Scott Thorne, PhD, owner of Castle Perilous Games & Books in Carbondale, Illinois and instructor in marketing at Southeast Missouri State University. This week, Thorne lists the four things he wants from the games business.
Given this is the time of year for people to ask things of Santa other people, here are a few things I would like, just in case you were wondering:
TableTop to keep running new episodes through the Christmas season AND to get a second season pick-up form YouTube. With the exception of Wizards of the Coast, TableTop has done more to promote games this year than anything else of which I can think and the series has promoted a much wider selection of games than any single company could or would (Cannot justifiably expect WotC to launch a promotion for
Gloom
, after all). I would have certainly liked to see TableTop run through the Christmas season, showing people how much fun it is to play
Alhambra
and
Dragon's Age
. It appears that TableTop has proven successful enough that NBC has announced development of "Hollywood Game Night," a proposed series which, according to the press release will feature" A-list celebrities hanging out and living it up in a cocktail party atmosphere. In the series which has an eight-episode order, two contestants in each episode will be transported from their everyday lives into a once-in-a-lifetime night of fun and celebration as they step beyond the velvet rope and rub shoulders with the celebrity crowd," though one has to wonder if said celebrities will play
Monopoly
or
Munchkin
.
Cards Against Humanity
available through distribution. This was the number one item we had requests for from customers that we were unable to fulfill through distribution, which means we had to essentially make Amazon our distributor on this one item and keystoning the price of the copies once we received them. I don't care much for dealing with Amazon (not that they care either) but, in order to satisfy customer demand, we gritted our teeth. The publisher sees little reason to move the game through distribution, and, since it continually sells out for them through Amazon, there is no reason for them to do so. They even indicate they do not care if they sell any copies and make the game available for anyone to download as a free PDF.
More companies who sell through distribution moving to a standard discount. Looking at my Alliance invoice, the store's standard discount is 49%. That's pretty good. However, on just this one invoice, we have 5 different discount levels. A goodly number of companies come in at the 49% discount but we also have items arriving at 44%, 45%, 47%, 46.99% and even net priced. I'm not even looking at the Games Workshop and WotC items, since last time I checked, distributors pay the same prices for them that we do so I can justify a shorter discount on items from them. For a lot of these other products, if I had to go direct to the company to purchase them, I wouldn't carry them as the sales on them would not be worth the work. However, as long as I am willing to purchase them at the shorter discount, the publishers have no reason to move to any discount structure that would reduce their profit margin.
Finally, looking at just one company, heck just one product, I really, really, really wish Z Man Games would get its production capabilities up to the level that it keeps
Pandemic
and
Pandemic: On the Brink
in stock. It's the most popular game they make, in fact, it's in the top five in terms of boardgame sales here, when we can get it. Right now, it feels like a crap shoot every time we put an order in for either of the two as they appear out of stock quite often. Before Z-Man releases anything else new, I'd really like to see them make sure their best selling game stays in stock more often than not.
Those are the main things for which I am wishing. You?
The opinions expressed in this column are solely those of the writer, and do not necessarily reflct the views of the editorial staff of ICv2.com.