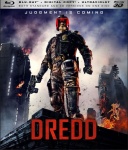 Is Dredd the best comic book movie of 2012? This "faithful" attempt to bring the 2000 AD comic to life leads a rich assortment of geekcentric releases that also includes Tim Burton's Frankenweenie, the wicked smart sci-fi movie Looper, a "lost" Doctor Who episode written by Douglas Adams, and the perhaps the funniest U.K./U.S. TV co-production ever.
Theatrical Films
There are many observers on both sides of the Atlantic that think that in spite of The Avengers, The Amazing Spider-Man, and The Dark Knight Rises, the best comic book adaptation of 2012 was actually Pete Travis' Dredd (Lionsgate, "R," $29.98, BD $39.99). How it stacks up is a subjective decision that each fan must make on his or her own, but there is no doubt that Dredd represents a serious and honorable attempt to bring the grit, satire, and over-the-top humor of the classic 2000 AD Judge Dredd comic to the screen intact--and as such this is a movie that fans of comic book sagas on the big screen should definitely endeavor to see.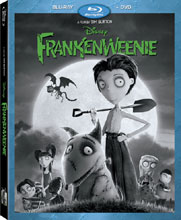 Another science fiction movie of great interest to the geek audience is
Looper
(Sony, "R," 119 min., $30.99, BD $35.99), a clever time-travel saga with a strong cast that was written and directed Rian Johnson.
Looper
was released a week ago while DVD Update was on break, but this is not a film that should be ignored by science fiction fans. Johnson's screenplay has been nominated for a bunch of awards, which is always a very good sign for a science fiction film.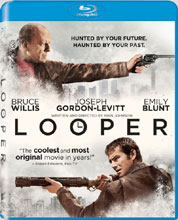 Tim Burton fans will definitely want to own the director's new
Frankenweenie
(Disney, "PG," 87 min., $29.99, BD/DVD Combo $39.99). The Blu-ray edition includes the original live-action short from 1984 that helped jumpstart Burton's career as well as the new groundbreaking black-and-white stop-motion animated film, which contains a ton of a heart along with heaps of Burton's signature Goth-tinged stylistic touches. A huge favorite with the critics (89% positive on Rotten Tomatoes),
Frankenweenie
should be a natural "cult hit" on disc.
This week's other offerings are less interesting, though Hit and Run (Universal, "R," $29.98, BD $34.98), which stars Kristen Bell and Dax Shepard, is a "road" comedy that is not without its pleasures that include its attractive leads and some cool autos.
Less edifying is House at the End of the Street (Relativity Media, "PG-13," $29.98, BD $34.98), a dreary and predictable horror film that is enlivened only by the performances of Jennifer Lawrence and Elizabeth Shue. Thanks to the popularity of The Hunger Games, which starred Lawrence, House did quite well at the box office ($31.6 million) for a movie that got only an 11% positive rating on Rotten Tomatoes.
TV on DVD
There is a cornucopia a great TV offerings from the U.K. this week along with some interesting U.S. shows as well, including the adult animated spy spoof series Archer: Season 3 (Fox, 286 min., $29.98, BD $49.98) that airs on the FX cable network. Those who admire the work of Mike Judge (Beavis & Butthead, King of the Hill), will want to check out The Goode Family: The Complete Series (Shout Factory, 600 min., $22.97), which follows the adventures of a family that is environmentally conscious to a fault.
For younger animation fans there is the well-produced Tiny Toon Adventures, Vol. 3, Crazy Crew Rescues (Warner Bros., 352 min., $19.99), which includes 17 episodes on two discs at a very attractive price.
Contemporary live-action American TV series due this week include the revamped Dallas: The First Season (Warner Bros., 440 min., $39.98), which includes all 10 inaugural season episode of the 2012 cable series that features a new generation of the infamous Ewing family plus Anger Management: Season 1 (Lionsgate, 220 min., BD or DVD, $29.97), the new "sitcom" starring defrocked Two-and-One-Half Men star Charlie Sheen, and perhaps the best of all Enlightened: The Complete First Season (HBO, $39.98), which includes all 10 episodes of the HBO comedy/drama series starring Laura Dern, who won a Golden Globe for her performance as a female executive at the end of her tether. Also due this week is Smash: Season 1 (Universal, $59.98), which collects the highly-touted NBC series about the creation of a Broadway musical that is due back for an abbreviated second season as a midseason replacement (a pretty good indicator that this is a "critic's darling" of a show that has yet to find a big enough audience to insure mainstream network success).
Vintage American TV releases of note include Buck Rogers in the 25th Century: Season 2 (Universal, 550 min., $24.98), which collects 13 episodes of the post-Star Wars 1980 TV series based on the science fiction comic strip, Hearts Afire: The Complete Series (Mill Creek, 1410 min., $29.98), which includes all 54 episodes of the 1990s politically-themed sitcom, and, also from the 1990s, the 3rd Rock From the Sun: Season 5 (Mill Creek, 475 min., $9.98) and 3rd Rock From the Sun: Season 6 (Mill Creek, 432 min., $9.98), plus Naked City: Best of the Naked City (Madacy Entertainment, 2030 min., $29.98), which collects 40 of the best episodes from the groundbreaking police drama that ran from 1958-1963.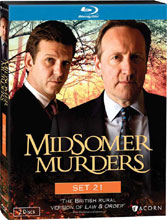 The solid U.S. offerings this week pale in comparison to Blighty's gifts, which include
Midsomer Murders: Set 21
(Acorn Media, 372 min., $49.98, BD $59.98). Each of the four mysteries in this set includes more humor, fine performances and clever writing than ten seasons of the voguish (and highly labored) Danish series like
The Killing
. The unflappable DCI Tom Barnaby (John Nettles) has been replaced by his cousin John Barnaby (Neil Dudgeon), who does give the series a new vibe, but
Midsomer
fans can rest assured that the quality of these charming, if occasionally perverse variations on the English village murder has not suffered. Potential viewers should note that this series is made for adults and does include some nudity and a few disturbing images.
Midsomer Murders
is so meticulously produced--and the settings are so picturesque that it is well worth to spring for the Blu-ray version.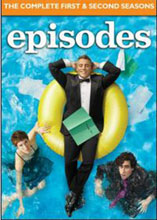 As consistently funny as
Midsomer Murders
is compelling, the U.K./U.S. co-production
Episodes
chronicles the misadventures of two writers of a successful U.K. TV series who journey to Hollywood to oversee an American version of their work.
Episodes: Seasons 1 and 2
(BBC, 459 min., $39.98) stars Stephen Mangan and Tamsin Greig as the two scribes and Matt Leblanc as the unlikely star of the American version of their show about a scholarly British headmaster.
Episodes
, which appears in the U.S. on Showtime, is simply one of the cleverest sitcoms of recent decades and is well worth watching.
Fans of the adroit BBC political drama The Hour will certainly want to catch The Hour: The Complete Series 2 (BBC, 360 min., $34.98, BD $39.98), which introduces new characters played by Peter Capaldi (In the Loop) and Hannah Tointon to the conspiracy-driven show about the development of long form BBC newscasts.
Another BBC series with serious "geek" appeal is Red Dwarf: Series X (BBC, 180 min., $34.98, BD $39.98), which features the most inept band of space travelers ever. This brand new Red Dwarf series was written and directed by Doug Naylor, and is judged highly like to amuse Red Dwarf fans everywhere.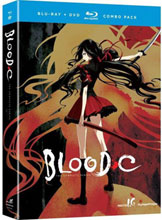 And then there is for the first time in the U.S. on DVD,
Doctor Who: Story #109: Shada
(BBC, 109 min., $39.98). Not only does this show, which was intended to be the final serial of the 1979-1980 season feature the popular Fourth Doctor (Tom Baker), it was written by Douglas Adams (
The Hitchhiker's Guide to the Universe
). A BBC strike kept the serial from completion in 1980, but the "lost episode" was whipped into shape in the 1990s with the help of an added narration, and
Shada
remains a "must-have" item for true Whovians.
Anime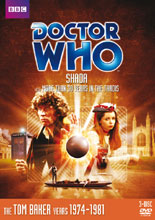 This week's top anime release is
Blood-C Complete Series
(Funimation, "17+," 300 min., DVD/BD $64.98), a 12-episode 2011 series from Production I.G. that was based on the anime/manga series co-produced by manga superstars Clamp and Production I.G. This is Production I.G.'s second anime series related to the vampire slayer-themed
Blood
franchise, and the Clamp connection should make it even more interesting for the American otaku.
Also new this week on disc is Bodacious Space Pirates Collection 1 (Sentai Filmworks, "14+," 325 min., $59.98, BD $69.98), which collects all 12-episodes of the TV series produced by Satelight that aired in 2012 in Japan (and was also simulcast by Crunchyroll). The anime is based on a series of light novels by Yuichi Sasamoto that has also spawned a manga adaptation and a live-action film.
Re-priced re-releases include Jubei-Chan the Ninja Girl: Complete Set (Media Blasters, "13+," 325 min., $29.98), which was previously released here in 2004, and Maria Watches Over Us Season 3 Litebox Collection (Right Stuf, "13+," 255 min., $29.99), which contains all five OVAs from the third season of the popular series. Typically this Right Stuf/Nozumi Entertainment version contains some excellent extra features including two English soundtracks, one of which retains all the Japanese honorifics.

-- Tom Flinn

The opinions expressed in this column do not necessarily reflect those of the editorial staff of ICv2.com.