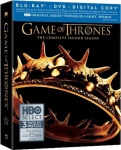 Ben Affleck's Oscar hopeful Argo leads this week's home entertainment parade, which also includes the second season of HBO's Game of Thrones, the pilot for the un-produced Battlestar Galactica: Blood & Chrome prequel series, and a full slate of animated offerings including another release from the Cartoon Network's brilliant Adventure Time.
TV on DVD
This week's top release is Game of Thrones: The Complete 2nd Season (HBO, 450 min., $59.98, BD $79.98), which collects the second season of the huge HBO hit adaptation of George R.R. Martin's epic fantasy series. This superbly-produced series follows the brutal conflicts for succession to the Iron Throne of the mythical kingdom/continent of Westeros. By all means spring for the Blu-ray version—the series' superb production values make the upgrade very worthwhile, and it appears from the price differential that the producers of the series recognize this fact as well. The release of Season 2 comes just weeks before the debut of Season 3 on March 31st, so now is the perfect time to re-view this sprawling series with its giant cast of characters and myriad plotlines that weave together into an intrigue-filled struggle for succession that easily equals any Byzantine examples from the actual history of our planet.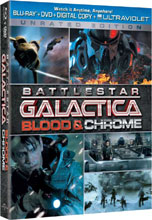 Another "geek" viewer "must-have" out this week is
Battlestar Galactica: Blood and Chrome Unrated Edition
(Universal, 188 min., $29.98, $34.98), the pilot movie for a BSG prequel series that was to have portrayed events during the first Cylon War. The new DVD and Blu-ray versions include a special "Unrated" version of the pilot plus bonus features including deleted scenes and a featurette on "Blood and Chrome Visual Effects." Though the Syfy channel failed to pick up this series, it did put versions of the pilot online and finally aired the pilot on its cable channel on February 10th (see "
Battlestar Galactica: Blood and Chrome Pilot
").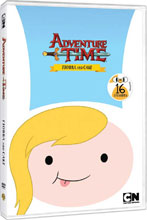 The Emmy-nominated Cartoon Network series
Adventure Time
is simply one of the best shows on American TV bar none (and it has spawned a comic book series from Boom! that isn't too bad either). The only criticism of the show's producers that I can muster centers on the way they release their material on disc. I prefer season (or half-season sets) that present a show's episodes in the order in which they were broadcast, but that quiblle aside, there are still plenty of reasons to like
Adventure Time, Vol. 4: Fionna & Cake
(Warner Bros., 176 min., $19.82), which includes 16 selected episodes drawn from seasons 2, 3 and 4..
The Complete First Season
was released last year and
Season 2
is slated for June, so those of us who prefer that format will have to wait—if we can.
Another animated release of great interest is Avengers: Earth's Mightiest Heroes Vol. 6: End of the Cosmos (Disney, 286 min., $26.99), which contains the final 13 episodes of the 52-episode series that aired on Disney XD starting in 2010, and which will be replaced this year with a new, more Whedon-esque, Avengers Assemble series.
The relationship between Hollywood's cartoon heritage and TV animation has typically been one of re-packaging theatrical cartoons for showings on television, but sometimes TV animators have attempted to create new extended works in the vein of the classic theatrical cartoons. Case in point is the Duck Dodgers TV series that was based on Chuck Jones' classic 1953 Daffy Duck opus that introduced Marvin the Martian. The Duck Dodgers TV series aired on the Cartoon Network from 2003 to 2005 and is still seen in reruns. Duck Dodgers: Season 1: Dark Side of the Duck (Warner Bros, 286 min., $19.97) includes 13 episodes of TV series plus as a bonus, the original Chuck Jones short.
An earlier effort along the same lines is the Wacky World of Tex Avery (Mill Creek, 697 min., $12.98), which was created by Brody Dowler as an homage to the work of cartoon director Tex Avery and his classic characters like Screwy Squirrel, Droopy, and George & Junior. This series, which was produced by DIC, was syndicated in some markets in the U.S. in 1997 and 1998.
Other animated TV offerings due this week include Yogi's Gang (Warner Bros., 392 min., $29.95), a DVD-R release that includes 16-episodes from the 1970s Hanna Barbera series that spun-off from Yogi Bear, the single-disc, holiday-themed Alvin and the Chipmunks: An Easter Collection (Bagdassarian, $14.99), the syndicated 1990s DIC series Beverly Hills Teens: Vol.1 (Mill Creek, 722 min., $12.98), another DIC syndicated series Jayce and the Wheeled Warriors, Vol. 2 (Mill Creek, 729 min., $12.98), a "best-of" selection of ten episodes from the long-running Johnny Test series, Johnny Test: The Awesome Adventures (Mill Creek, 220 min., $9.98), plus Street Sharks: The Complete Series (Mill Creek, 887 min., $12.98), which collects the 1990s DIC series that aired in 1994 and 1995.
Vintage American TV series due this week include Superhuman Samurai Syber-Squad (Mill Creek, 630 min., $12.98), a 1990s adaptation of the Japanese tokusatsu series Denkou Choujin Gridman, which ran for one season during the height of the Power Rangers craze, plus other live-action series including The Six Million Dollar Man: Season 3 (Universal, 1052 min., $39.98), The Life and Times of Grizzly Adams: Season 2 (Timeless Media, 1200 min., $29.93), and two "best-of" collections, Naked City: 20 Star-Filled Episodes, and The Carol Burnett Show: This Time Together (Time Life, $12.98).
Theatrical Movies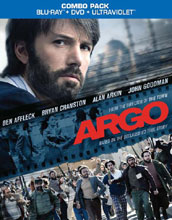 Ben Affleck's
Argo
(Warner Bros., "R," $28.98, BD/Combo $34.98), which has already won the BAFTA, Director's Guild, and Golden Globe awards, is currently the odds-on favorite to win "Best Picture" at next weekend's Oscar ceremonies. Surprisingly Affleck, whose previous directorial efforts
Gone Baby Gone
and
The Town
have been sterling, was not nominated for the "Best Director" Oscar (which is likely going to Stephen Spielberg for
Lincoln
anyway). Closely based on a true story,
Argo
is an exciting real life thriller based on a successful CIA ploy that allowed a group of Americans, who were trapped at the Canadian embassy in Tehran, to escape from right under the eyes of the Iranian authorities during the height of the hostage crisis. Affleck's direction never gets in the way in this crisply told political thriller, which deserves its 96% positive critical rating on Rotten Tomatoes.
Rather than attempt to recreate 19th Century Russia via green screen or some other modern effects process, Anna Karenina (Universal, "R," $29.98, BD/Combo $34.95) director Joe Wright decided to stage his version of the Tolstoy novel in a theater, which provides plenty of critic-friendly "verfremdungseffekt" (alienation effects) that constantly remind the audience that they are watching a very artificial construct. It's all very modern, bold and stylish, but one tends to wonder why they bothered to keep the costuming and other staple elements of the period film. Critics, who are always looking for something new, gave this film a 63% positive rating on Rotten Tomatoes, but they tended to like the film more than audiences who stayed away in droves (the film made only $12.7 million at the domestic box office). Keira Knightley demonstrates increasing mastery in the title role, but will her performances in this film and Wright's Pride and Prejudice stand the test of time?
Horror movie fans should check out Sinister (Summit, "R," $29.99, BD $39.99), a better than average horror movie in which Ethan Hawke plays a true crime novelist, who finds of box of very scary home movies that puts his own family in danger. Director Scott Derrickson knows how to mix old school horror tropes with an original twist on the genre.
This week's other options are not so interesting. Fun Size (Paramount, "PG-13," $29.99, BD $39.99), is a comedy misfire starring Victoria Justice, Johnny Knoxville, and Chelsea Handler, while Atlas Shrugged II: The Strike (Fox, "PG-13," $22.98, BD $29.99), is a low-budget adaptation of Ayn Rand's interminable novel that couldn't even generate much heat in an election year during which a Rand disciple was running for Vice President and her philosophy of objectivism was very much at the heart of the political debate.
Anime
The top release this week is Tiger and Bunny Set 1 (Viz Media, "13+," 300 min., $54.97), a 2011 series from Sunrise set in futuristic "Sternbild City," a sort of re-imagined New York where superpowered individuals known as "NEXT" keep the peace and star in their own TV series "Hero TV" as they accomplish feats of daring in uniforms emblazoned with the logos of their corporate sponsors. This set includes the first 12 episodes of the popular series that American superhero fans will definitely want to check out. Viz Media began streaming the series on its Neon Alley online network last October.
Also new this week is Kamisama Dolls (Sentai Filmworks, "17+," 325 min. $59.98, BD $69.98), which collects the entire 13-episode 2011 anime from Brains Base that is based on the seinen manga by Hajime Yamamura about a group of friends who discover a dead body and one of the group who discovers he has powers beyond those of any "Seki" in history.
This week's third interesting release is Tegami Bachi Letter Bee: Collection 2 (Sentai Filmworks, "13+," 300 min., $49.98), which collects episodes 14 to 25 of the 2009 supernatural steampunk adventure series produced by Studio Pierrot and based on the shonen manga by Hiroyuki Asada.
Classics on Blu-ray
Douglas Fairbanks' 1924 classic
The Thief of Bagdad
(Cohen Media Group, "Unrated," $24.98) is the first in a planned series of high definition versions of silent film staples from Cohen Media. Meticulously produced from two different 35 mm prints, this disc presents the entire 149-minute film in a spectacularly sharp tinted print that provides audiences with their best opportunity to view this film since the mid-1920s. The beautifully restored film is greatly enhanced by a superb score from Carl Davis, who scored the British documentary series,
The World at War
. As for the film itself, it remains a kinetic delight, and shows that even though Fairbanks' reign as the "king of Hollywood" had but a few years to run in 1924, he remained an energetic performer whose athletic style certainly prefigures "Parkour" in the way that Fairbanks sees a movie set or a building simply as a stage on which to display his acrobatic climbing and jumping talents. While the images in
The Thief of Bagdad
are not as sharp as today's movies shot with either high-def or advanced film cameras, they are revelatory and extremely pleasing in their own way. After viewing this Blu-ray
Thief of Bagdad
one can only wish for more high definition versions of silent movie classics.