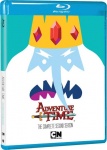 June is off to a solid start with the release of the second season of
Adventure Time
, the penultimate season of
Breaking Bad
, plus the raunchy comedy
Identity Thief
, a zombified
Romeo & Juliet
, and a full slate of anime including a new 13-episode adaptation of Shirow's
Appleseed
and the U.S. debut of a groundbreaking Tezuka series that was dubbed in 1967.
TV on DVD
This week's top TV release is a tough call, but it has to go to
Adventure Time: The Complete Second Season
(Warner Bros., 286 min., $26.95, BD $32.07), which collects all 26 episodes of the
D&D-
influenced Cartoon Network series created by Pendleton Ward. The zany adventures of Finn the Human and his 28-year-old magical dog Jake (who is voiced by John DiMaggio who also does Bender in
Futurama
) continue unabated with a cast that includes the Ice King, Marcelline the Vampire Queen, Princess Bubblegum and more. Learning the secrets of "dropball" and other droll games has never been more fun, and the Ice King
is
remarkably handsome when shorn of his immense beard. This highly imaginative series has developed a strong geek following because of its wonderfully twisted takes on all things human. It looks great in Blu-ray, and the high-def upgrade is well worth the surcharge. The extras on this set are also pretty special, in particular a featurette produced by series creator Pendleton Ward that provides access to some great interviews with members of the
Adventure Time
team.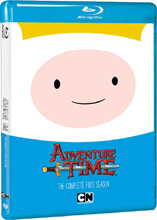 Speaking of which, Warner Bros. is now issuing
Adventure Time: The Complete First Season Blu-Ray
(Warner Bros., 286 min., $32.07). The first season may be even better than the second so if you haven't already bought it, now is the time to spring for the Blu-ray.
This week's other animated releases are not quite of the same caliber. Based on Don Bluth's 1998 animated movie,
All Dogs Go to Heaven: The Series, Season 3
(TGG Direct, $19.98) collects the final episodes of the 1996-1998 TV series that aired in syndication, and later on the Cartoon Network.
The Charlie Brown and Snoopy Show: 4 Kid Favorites
(Warner Bros., 197 min., 14.99) presents 4
Peanuts
TV specials at a very attractive price.
The week's most artistically compelling release just might be
Breaking Bad: The Fifth Season
(Sony, $55.99, BD $65.99), the penultimate season of the darker-than-dark saga of high school chemistry teacher-turned-Meth-mogul Walter White's continuing descent into darkness. Bryan Cranston is brilliant as White, but Laura Linney's work in
The Big C: The Complete 3rd Season
(Sony, $35.99) as a woman dealing with cancer is equally impressive, so it's tough to pick between this two powerful cable series.
Science fiction fans might enjoy the latest installment of another cable series,
Falling Skies: The Complete 2nd Season
(Warner Bros., 450 min., $39.98, BD $49.98), which continues the saga of the ordinary citizens of the 2nd Mass who struggle to survive a staggering alien invasion. Another TNT series is
Major Crimes: The Complete 1st Season
(Warner Bros., 430 min., $39.98) a police procedural set in the Major Crimes Division of the Los Angeles Police Department.
Also due this week is the ABC Family teen series
Pretty Little Liars: The Complete 3rd Season
(Warner Bros., 1056 min., $59.98) and the FX show starring Elijah Wood
Wilfred: The Complete Series
(Fabulous Films, 400 min. $29.93).
Vintage TV series available this week include the World War II show
Combat! The Complete 3rd Season
(Image Entertainment, 1530 min., $39.98), the service comedy sitcom
McHale's Navy: 20 Timeless Episodes
(Shout Factory, $12.99), and
Rawhide: The Sixth Season, Vol.1
(Paramount, 761 min., $45.98),
Rawhide: The Sixth Season, Vol.2
(Paramount, 761 min, $45.98).
Theatrical Movies
This week's bestselling movie on DVD could very well turn out to be the movie with the lowest rating on review aggregator Rotten Tomatoes. The R-rated comedy
Identity Thief
(Universal, "R," $29.98, BD/DVD Combo $34.98) could muster only a 20% positive rating from the critics, who ridiculed the film's unwieldy narrative, shifting tone, and sloppy slapstick. But audiences loved the movie and its plus-size force-of-nature title character played by Melissa McCarthy.
Identity Thief
was made for $35 million and managed to earn $173 million at the global box office. This crude and rude farce lives up to its "R" rating, but it's the lead performances by McCarthy and Jason Bateman that make this film worth checking out for fans of raunchy comedies.
The fifth installment in the
Die Hard
franchise,
A Good Day to Die Hard
(Fox, "R," $29.98, BD Combo $39.99), which began way back in 1988, once again features Bruce Willis as the one-man army John McClane, but the producers evidently felt the need to bring in McClane's son played by Jai Courtney for a little father/son bonding over hot lead and dead Russian gangsters in this wildly improbable film. They should have spent the money on the script. Critics agreed that this was the weakest
Die Hard
film yet, and it only managed to earn a paltry (for this franchise) $67.3 million.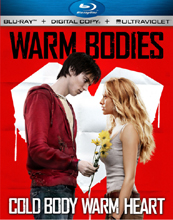 Thanks to
The Walking Dead
zombies are everywhere—even in teen romance dramas. Witness
Warm Bodies
(Summit Entertainment, "PG-13," $29.95, BD $39.99), a
Romeo and Juliet
with zombies and humans standing in for the Montagues and Capulets. Surprisingly
Warm Bodies
fared well with the critics (80% positive rating on Rotten Tomatoes) and earned $66.4 million at the domestic box office, almost as much as
A Good Day to Die Hard
. Nicholas Hoult, who played Beast in
X-Men: First Class
and reprises the role in the upcoming
Days of Future Past
, plays the zombie Romeo while Teresa Palmer is his human girlfriend in this saga that works better than it should.
This week's other release is the 3-D animated family comedy
Escape From Planet Earth
(Starz, "PG," $29.98, BD Combo $39.99), a fairly lame attempt to craft the animated equivalent of an E.T. for a very young audience. The movie earned just $56 million at the box office and could only manage a 26% positive rating on Rotten Tomatoes.
Anime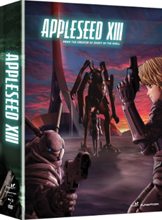 June starts off with a bang in this category with several strong releases including
Appleseed XIII
(Funimation, "14+," 390 min., BD/DVD $64.98. Limited ED BD $69.98), which collects all 13 episodes of the 2012 anime series from Production I.G. that adapts Masamune Shirow's
Appleseed
manga. This series follows the often-animated adventures of the comely agent Deunan and her partner the veteran cyborg Briareos as they attempt to take down a terrorist organization that threatens the city-state of Olympus. This computer-animated show looks great on Blu-ray (though also having the DVD discs available in the set is a real treat), and it includes a 140-minute "Inside" feature that details the making of every episode in the series.
Other releases of new material include
Dusk Maiden of Amnesia Complete Collection
(Sentai Filmworks, "14+," 325 min., $59.98), which includes all 13-episodes of the 2012 series from Silver Link that is based the shonen manga series by Maybe. The protagonist of this series is a middle school student who meets a ghost girl at the private academy he is attending and then proceeds to solve the mystery surrounding her death.
Also new on DVD (though it was streamed by Crunchyroll) is
Everyday Tales of a Cat God Premium Edition
(NIS America, "13+," 308 min., BD $69.98), which all 12 episodes of the 2011 series from AIC Plus+ that is based on the shonen manga by Flipflops about a cat goddess that lives in an antique show. In addition to all 12 episodes, this set includes the OVA and a 32-page hardcover book filled with illustrations.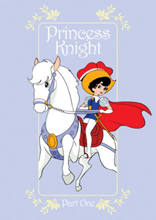 Another key U.S. anime debut this week involves the second
shojo
anime series ever produced, Osamu Tezuka's
Princess Knight
, which originally aired in Japan in 1967 and 1968.
Princess Knight Part I
(Right Stuf, "7+," 650 min. $39.99) collects the first 26 episodes of the 52-episode series based on Tezuka's groundbreaking shojo manga. This series almost made it to the U.S. in the late 1960s, but a rights dispute kept the project largely underground, though three episodes were edited together into a feature film
Choppy and the Princess: The Phantom Knight
that was shown here in the 70s. Now Right Stuf/Nozomi Entertainment is presenting the original 1967 English broadcast version that was actually found in the Netherlands. For fans of old school anime this series is a must-have.
Another old school anime favorite is the
Dirty Pair TV Series Collection
(Right Stuf, "13+," 325 min., $39.99), which contains the first 13 episodes of the 26 episodes from the 1985 Sunrise series (the last two episodes of the series were released as an OVA in 1987) featuring the sexy cops Kei and Yuri in a series of cyberpunk adventures.
Part I
was previously released here in 2010 by Right Stuf, but the MSRP then was $49.99.
Other re-releases this week sport even bigger price reductions. They include the new S.A.V.E. edition of the
Birdy the Mighty: Decode The Complete Series
(Funimation, "17+," 650 min., $29.98) and
Phantom: Requiem for the Phantom
(Funimation, "17+," 650 min., $24.98, BD $29.98).
Tom Flinn
The opinions expressed in this column do not necessarily reflect those of the editorial staff of ICv2.com.