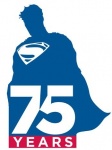 Confessions of a Comic Book Guy is a weekly column by Steve Bennett of Super-Fly Comics and Games in Yellow Springs, Ohio. This week, Bennett gives us his thoughts on Man of Steel, Amazing Spider-Man, Phineas & Ferb, and the Simpsons attraction at Universal Studios Orlando.
Well,
Man of Steel
comes out this weekend. The initial reviews are in and mostly positive, after what seemed like endless trailers and clips I've seen the
"final" trailer
and it looks great. Warner obviously feels confident, having already announced a sequel and a companion
Justice League
movie (see "
'Man of Steel' Sequel Fast-Tracked
"). And the shelves of Wal-Mart are full of
Man of Steel
merchandise featuring a design which pushes (hard) the "New Look" Superman; meaning not just the sans underpants look but what I'm calling "Badass Superman." As usual my default position is cautiously optimistic. I really want to see a good Superman movie, I can only hope this time they've given us one.
Since I wrote and wrote (and wrote) about whether I was going to see
The Amazing Spider-Man
, it's only fair to report I finally did, thanks to Netflix. Among the pluses, it really is quite visually striking, Emma Stone makes a perfect Gwen Stacy and the costume I had so much trouble with actually looks fine on screen. Among the minuses, it's nearly twenty minutes too long and from the way the love story got loaded upfront it felt like one of the producers said "My kids love those
Twilight
movies, any way we could make
The Amazing Spider-Man
more like that?" But my major problem with the movie was the way it treated Eugene "Flash" Thompson. By the final sequence he's seen palling around with Pete. Suddenly he's friends with the guy who not only for years made his life a living hell but had only recently delivered him a savage beating that included multiple kicks to the ribs while he was on ground without so much as a "pardon me." Maybe it's just my inner nerd talking but the very least thing you can do after committing second degree assault is say you're sorry.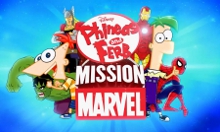 It was announced almost a year ago (see "
'Phineas & Ferb: Mission Marvel'
") and while for some reason Disney still hasn't announced its premiere date (other than it's "coming this summer") the first trailer is online and while I'm admittedly prejudiced in favor of the show it's pretty cool. In this extra-long episode the super scientist siblings team-up with Thor, Iron Man, Hulk and Spider-Man to battle The Red Skull, Whiplash, Venom and M.O.D.O.K. As I've said before, this is just the kind of project that can normalize comic books, or at least comic book characters, for an entire generation of kids--I only wish there was a comic book adaptation to go with it. Though I do have to question the inclusion of The Red Skull. I know he's not a Nazi anymore (having become just another generic deformed menacer with an accent) but given his baggage I just don't feel comfortable with him being that close to the boys' Jewish Mexican neighbor Isabella Garcia-Shapiro.
I don't know about you but I sometimes wonder about overseas fans of American comics and movies. I mean, more and more it's the international market that drives these big Hollywood tentpole movies. Which is why I was so interested in "
How Do You Say Geek in French? Warners Promotes Man of Steel, Games of Thrones at Paris Fan Day
" by Elsa Keslassy, a piece that appeared in the May 31 online edition of
Variety
. On May 25 Warner Bros had their first "May Warner Day" described as a "fan-only" event in the vein of Comic-Con" at Paris' Grand Rex theater. There 2700 "over-excited fans," "some dressed in their favorite hero's outfit," saw clips from the Warners movies
Pacific Rim
and
Man of Steel
as well as clips from the video game
Batman: Arkham Origins
. There was a
The Big Bang Theory
video booth and attendees received a
Hobbit
goodie bag stuffed with such swag as a "Bazinga" mug and
Game of Thrones
t-shirt. So far Warner Bros. is the only U.S. studio that's organized this kind of event in France, but I wouldn't be surprised if others soon followed suit.
But to answer the question which the piece raises, since its English slang apparently there is no French word for "Geek." But I did find some suggestions online, from the frankly unkind "no life" to "Mordu d'informatique" (though that term is specifically intended for computer geeks).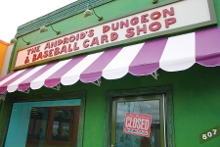 And as I'm sure most of you already know, Universal Studios Orlando has announced that sometime this summer they would be opening "Springfield," a mini-Simpsons theme park. Many businesses from Springfield will be represented including Moe's Tavern, Lard Lad Donuts, The Flying Dutchman, Luigi's Pizza, Krusty Burger, the Kwik-E-Mart and (yes) The Android's Dungeon and Baseball Cards. From the table and chairs situated out front in the promotional art I'm going to go ahead and assume it too will inexplicably somehow also serve food. But what are the odds they'll be selling any comic books inside?
The opinions expressed in this column are solely those of the writer, and do not necessarily reflect the views of the editorial staff of ICv2.com.