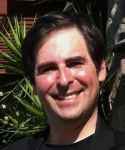 While digital-first may still be a risky financial bet for publishers and creators, it is emerging as one of the best bets for readers seeking a certain kind of storytelling.
In a couple of weeks I will be moderating a panel at San Diego Comic-Con on digital-first comics: the wave of great original work being produced for distribution on commercial digital platforms in the first instance. The last year has seen the emergence or maturation of a bunch of high-profile projects including
MonkeyBrain, Thrillbent, Aces Weekly
and
Madefire
, flooding online storefronts with new material.
To get prepared for my panel, I've been catching up on a bunch of my favorites and checking out work that people have referred me to over the past few months. Perhaps because the format of digital-first comics is new and has something to prove (e.g., that readers should pay real-world dollars to read work that only exists as ones and zeroes), the quality of the first batch of work is unusually high. Reading a lot of it in one sitting is a good way to restore your faith in the viability of the pure comics artform if overexposure to hyper-commercialized cross-media "comics culture" is starting to burn you out.
Mark Waid and Peter Krauss's
Insufferable (
on Waid's Thrillbent imprint) for example, seamlessly blends an up-to-the-minute postmodern superhero tale with foursquare Silver Age-style plotting and an art style that would have sent shivers up the legs of fanboys circa 1982. Also featured on the Thrillbent site is
City of the Dead
, bringing together Karl Kesel's Johnny Zombie character with Ron Randall's Trekker in a solid sci-fi adventure yarn that would have looked right at home in the pages of a 1980s Eclipse comic. Those who grew up reading the clean, well-drafted and immaculately-paced work of Dave Gibbons, David Lloyd, Steve Lieber and Val Mayerik will find that sensibility present--not just in spirit, but incarnate, as new works from all of these talents are available as digital-firsts.
But it's not all about old guys and nostalgia. MonkeyBrain's
Bandette
, by Paul Tobin and Colleen Coover, achieved instant acclaim for its delightful premise, fun stories and visual charm. In Panel Syndicate's
Private Eye
, by Brian K. Vaughan and Marcos Martin, we see two of the industry's brightest lights at the peak of their talents taking their work directly to digital (with a name-your-own-price model), and doing so with a cleanly-told sci-fi mystery tale.
The clear visual storytelling and straightforward narrative style found in the most acclaimed and successful digital first titles stands in stark contrast to the dense, highly-rendered and deeply colored work that fills the pages of the majority of top-selling print titles from DC and Marvel. This is notable because the digital world offers a nearly unlimited palette of tricks for producing super-rich imagery and effects. Yet among the top-tier digital imprints, only Madefire tries to go toe-to-toe with the mainstream using this approach.
Why do so many creators taking the digital-first plunge work in clean lines and flat colors, against prevailing trends in the most economically successful corner of the industry? Here are a few possible explanations:
Simpler art is easier to read on a tablet. Is there something about the reading device and the reading experience that is a better fit for more stylized, less realistic cartooning? Perhaps, but simpler art is easier to read anywhere, and highly-rendered mainstream work seems to sell fine on comiXology and through publisher platforms. Maybe using a more straightforward art style helps compensate for the newness of the format?
The audiences for digital-first and direct market are distinct. People who seek out digital-first comics, which are still much less well-known and publicized than printed comics, tend to be readers of indie books, graphic novels and webcomics, where less realistic styles prevail, while printed comics are mostly consumed by fans with an appetite for visual detail and verisimilitude. Perhaps this is true, but we need more and better data to test this theory.
The pioneers of a new medium are more self-conscious and thoughtful about their craft. The great artist Alex Toth said that when it came to drawing comics, the choice of what to leave out was more important than what to put in. It's true: simplicity of design requires discipline, thoughtfulness and maturity. So does making the deliberate decision to participate in a technological and economic experiment rather than taking the path of lesser resistance: the tried-and-true, albeit problematic, world of print and direct market. The people producing the first wave of digital-first titles are disproportionately composed of self-selected, self-conscious risk-takers and this is reflected in the contrarian style of their stories.
Digital-first creators are making a virtue of necessity. Some snarks might say that those who work in the more popular commercial styles can get work at the Big Two and don't need to take risks in the immature digital-first market, at least not yet. Thus styles (and creators) that are out of favor in the upper echelons of the industry prevail at the frontier by default. Clearly this is not true in many cases, as the talent working at the front lines of the digital-first movement represent some of the top names in the business.
Mainstream periodical comics are just serialized trade paperbacks in waiting, while format considerations are irrelevant in digital. The decompressed storytelling and art styles of mainstream comics are optimized for 6-issue arcs that can be collected and issued as trades to realize additional revenue--an important pillar in the economics of the industry. In digital, there's no experiential distinction between reading a "collection" and a bunch of individual issues. There's no arbitrary minimum story length at which a digital edition becomes viable, so creators can be concise or expansive as the work dictates.
Very shortly, we will see the aesthetic differences between today's digital-first avant-garde and the printed mainstream begin to dissolve as DC and Marvel shift focus to this market in earnest. Early evidence indicates both companies are putting their financial and technical muscle behind high production values, digital gimmickry (sorry... "storytelling innovation") and the proven popularity of high-gloss, decompressed stories. In the meantime, those of us with simpler tastes can savor the Golden Age of purely fun and inventive comics we are living through during these tumultuous early years.
Rob Salkowitz
(@robsalk
) is a business futurist and author of several books including
Comic-Con and the Business of Pop Culture
.
The opinions expressed in this column are solely those of the writer, and do not necessarily reflect the views of the editorial staff of ICv2.com.