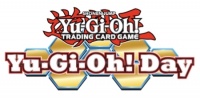 Rolling for Initiative is a weekly column by Scott Thorne, PhD, owner of Castle Perilous Games & Books in Carbondale, Illinois and instructor in marketing at Southeast Missouri State University. This week, Thorne discusses Yu-Gi-Oh! Day.
As you may or may not have heard, National Yu-Gi-Oh! Day was this past weekend, Saturday, July 27 specifically. When first broached by Konami, it sounded like a great idea: a national television campaign to draw
Yu-Gi-Oh!
players into stores with a tournament and playmats for participating. Later, Konami added Demo Day to the event, with a free Duelist League kit with promo cards to give away. Despite the hoops that Konami makes retailers jump through to put on their Sneak Peeks--limits on the time of day tournaments can run; specific instructions on how much to charge for events; a requirement that sales tax may not be charged on tournament entry fees and, if the state requires it, the retailer is required to absorb the sales tax as part of the entry fee; receiving the Sneak Peek materials 2-3 days before the event--the company puts out some very high quality materials, such as their LED signage and annual Gen Con Ticket tournaments, so the lack of communication regarding this event is truly surprising.
I received the original email asking the store to opt in to NYGOD on June 24, offering a poster and an exclusive play mat. Note that this is only a month before the event takes place. Almost any retailer that puts on events will tell you it takes about six to eight weeks to fully promote one. A week later, another email, asking if stores would run demo games, give away promo cards and another exclusive playmat. Then nothing until this past Wednesday, when the documents for running the event arrived, no posters or promo items, just event instructions and reporting forms. I thought it really short notice and several other retailer agreed with me:
Pat Fuge, Gnome Games (Green Bay, WI)--
I certainly hope that Konami makes no judgment on a store's ability to perform in any way based on this event. With less than 48 hours effective marketing time and absolutely no marketing materials, combined with what might be the worst manufacturer-to-retailer communication we have seen in a long time it made it nearly impossible to effectively advertise and promote outside the already created community of players.
I don't know why this was so poorly executed on their part--but it once again reveals the total lack of understanding of the realities of effective event promotion on the local level. Six weeks is what a good promotion needs to be "good"--at the retailer level. Anything less than this is less than optimal; and from a company that seems to do good things on a large scale--it is extremely disappointing to say the least.
George Vasilakos, Zombie Planet (Albany, NY)--
We were excited about Yu-Gi-Oh! Day when we first heard of it at GAMA--then months ago we were e-mailed if we wanted to participate, and we promptly jumped on it. Then silence. Until yesterday when we got an email saying how to run this event on Saturday… needless to say we now have to scramble to get staff in here and spread the word amongst the community in less than 48 hours! This will make us look bad--considering we don't have a lot of information, but as with all our events, we will do our best given the resources and time given to us.
Rhonda Becker, The Gamer's Den (Cambridge, MN)--
Our Yu-Gi-Oh! events have grown over the last few months and we were really excited when initially contacted to be involved in Yu-Gi-Oh! Day. When first contacted we already had another Konami/Yu-Gi-Oh! event scheduled and confirmed we were able to host both events on the same day so we confirmed our participation. Unfortunately the good information provided for the other event (a Gen Con badge tournament) was lacking in the Yu-Gi-Oh! Day event. We did not receive specific information about the event so were only able to promote it to our players as "something additional" happening that day. The specific information came last night (less than 72 hours before the event). We have spent the last 24 hours spreading the word to the local Yu-Gi-Oh! community and doing Facebook promotions, so hopefully we will still pull a decent turnout. I don't think the turnout will be as good as it could have been had we been provided with specific information and promotional materials earlier. To successfully plan an event we need six weeks, especially when targeting new players. Our calendars are published that far out in order to reach all our players. We will do our best to make Yu-Gi-Oh! Day successful but think there was a missed opportunity here for retailers and Konami to work together and I sincerely hope future events will include more details early enough to promote fully.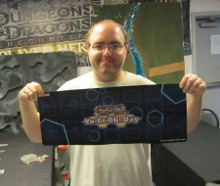 After our efforts, our store ended up with 7 (that's seven) players. They had fun and four were new, which was the point of the Demo Day. Other stores that I heard from said they had typical numbers for a
Yu-Gi-Oh!
tournament, that few if any new players showed up, and that players were underwhelmed with both the playmat and the older cards given away.
Yep, with over 400 stores, according to Konami, participating, this could have been a gangbuster event, now, a shadow of that. From what I have heard Konami has indicated they may run multiple Yu-Gi-Oh! Days a year. If so, I really hope we get more notice and more information in advance so we can make this a premier event.
The opinions expressed in this column are solely those of the writer, and do not necessarily reflect the views of the editorial staff of ICv2.com.