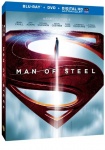 Zack Snyder's
Man of Steel
heads this week's home entertainment hit parade, but there are other delights at hand including a quartet of interesting indie comedy/dramas, the final season of the fascinating TV series
Dexter,
as well as brilliant new Blu-ray editions of Katsuhiro Otomo's
Akira
and F.W. Murnau's vampire classic
Nosferatu
, both of which represent upgrades that all serious geek viewers will want to consider.
Theatrical Movies
This week's top release is
Man of Steel
(Warner Bros., "PG-13," $28.98, BD/Combo $35.99, 3-D Combo $44.95), Zack Snyder's reboot of the
Superman
franchise earned $291 million domestically making it the third highest-grossing film of the past summer season. Henry Cavill plays
Superman
with verve and style, and leads a strong cast that includes Amy Adams, Michael Shannon, Diane Lane and Russell Crowe. Those who can handle Snyder's frenetic staging should be impressed with the director's feeling for this original superhero saga and his (and screenwriter David Goyer's) knowledge of all of its nuances.
Just as with theatrical releases, the studios give big home entertainment bows like that of
Man of Steel
some space, so there aren't a lot of other films due out this week, though there is a quartet of very interesting items for those who like indie comedies. Noah Baumbach's
Frances Ha
(Criterion, "R," 86 min., BD $39.98) stars Greta Gerwig, who also co-wrote the movie about a struggling dancer in New York City. Filmed in black-and-white
Frances Ha
has garnered plenty of comparisons to Woody Allen's
Manhattan
, but it many ways it has the footloose and fancy free attitude of an early Truffaut movie. Baumbach's
The Squid and the Whale
(2005) is one of the gems of the indie movement, and
Frances Ha,
like Baumbach's previous effort
Greenberg
only adds to the director's growing body of keenly-observed slice-of-life comedy dramas.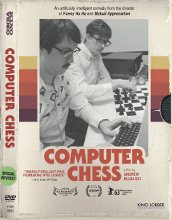 Also fascinating in its own way is
Computer Chess
(Kino, Not Rated, 92 min., $29.95), a strange almost mockumentary film that is set at a weekend tournament for chess software programmers circa 1979.
Computer Chess
is shot in such a way that it has the fuzzy black-and-white look of footage from an early video camera. It appears to be a documentary at first, but it is soon clear that this is fictional film filled with dry character-driven humor as its cast of highly diverse computer nerds negotiate the tournament, which is being held simultaneously with a sort of New Age couples retreat—a juxtaposition that ultimately helps the movie make its point about the nature of artificial intelligence. While not a film for everybody, those of us who struggled on those early computer consoles will love this trip back to the stone age of computers (three entire decades ago).
In spite of the popularity of Kristen Wiig (
Bridesmaids
),
Girl Most Likely
(Lionsgate, "PG-13," $19.98, BD $24.98) didn't make much of an impact in theaters, and it is easy to see why. This is not a raunchy comedy, in fact the humor here is entirely character-driven and the story of a once-promising playwright who is dumped by her boyfriend and forced to forgo Manhattan and return to the (pre-Sandy) Jersey shore and her oddball family is really more of a drama anyway. While there is a considerable element of wish fulfillment in the film's denouement, directors Shari Springer Berman and Robert Pulcini shot the movie with a de-glammed hi-def video look that couldn't be farther from the glossy approach of the typical Hollywood romcom or 3-camera sitcom. There are no big laughs here, but those who enjoy Kristen Wiig or slice-of-life indie comedies should seek this film out on video.
A more easily recognized indie comedy is
Prince Avalanche
(Magnolia, "R," $26.98, BD $29.98), which stars Paul Rudd and Emile Hirsch as two guys who spend the summer of 1988 painting traffic lines on a remote section of highway that runs through an area that has been devastated by a forest fire. The two actors bicker and joke their way through the film's hour and one-half running time. Plotless and discursive
Prince Avalanche
nevertheless has its charms for those who enjoy the laid back semi-comedy of director David Gordon Green (
Eastbound & Down
).
All of the above are preferable to
Turbo
(Dreamworks, "PG," $29.98, BD/Combo $39.98), a well-animated film that is just one unsupportable inspirational personal fantasy too far (a snail who wants to compete in the Indianapolis 500).
Turbo
was a major box office disappointment, but not because it is a bad film. It just came out in a very crowded market and was unable to distinguish itself. It might have been a big hit ten years ago, but the number of animated features has grown so quickly that not only is the summer movie season glutted with them, but the familiar inspirational story tropes are beginning to wear very thin.
Anime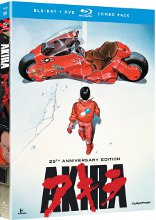 For fans of classic anime it is hard to beat this week's release of Katsuhiro Otomo's
Akira: 25th Anniversary Edition
(Funimation, "R," 124 min., BD/DVD Combo $34.95). This classic looks spectacular in Blu-ray and I love the way Funimation has returned the film to its original 1.85:1 aspect ratio—the previous Blu-ray release of
Akira
was slightly window boxed. The colors in the Funimation release also appear to be more saturated, though it should be noted that both versions are not as sharp and hard-edged as BD versions of contemporary computer animated features simply because of the hand drawn (and painted) nature of the animation in
Akira
. The soundtrack on the new Funimation
Akira
Blu-ray represents a major advance over previous DVD releases. The Japanese language track just plain kills and anyone who can stand reading subtitles should give it a try.
The dystopian post-apocalyptic world of
Akira
has been imitated numerous times, but never duplicated. Otomo's
Akira
is one of those cutting edge science fiction anime titles that drove interest in anime to new heights in the late 1980s. The new Funimation edition includes both the 1988 Streamline Pictures dub and the 2001 Pioneer/Animaze English dub.
For those who enjoy fan service-filled harem comedies there is
Maken-Ki: Battling Venus Complete Series
(Funimation, "17+," 300 min., BD/Combo $64.98, Ltd. $69.98), which follows the misadventures of a horny teenager who matriculates at Tenbi Academy, which has recently gone coed after years as an all-girls school. Koichi Ohata, the director of another "fighting girls" series
Ikki Tousen
, helmed this series for AIC in 2011, and a second season is slated for 2014. This release also includes a 2012 OVA and the Limited Edition comes with a special artbox.
Also new is
Nakaimo: My Sister Is Among Them!
(Sentai Filmworks, "17+," 325 min., $59.98, BD $69.98), a romantic comedy based on a series of light novels by Hajime Taguchi. This 12-episode series (plus an OVA) was produced by Studio Gokumi in 2012 and streamed on Crunchyroll and the Anime Network. The high school protagonist of this saga is heir to one of Japan's major industrial groups. He thinks his illegitimate half-sister is also attending his school and watching over him, but what if his girlfriend is really his sister?
The only re-priced re-release is the 2004
Yumeria Complete Collection
(Sentai Filmworks, "14+," 300 min., $39.98), that was most recently released back in 2009.
TV on DVD
The top release in this category this week is
Dexter: The Complete Final Season
(Paramount, $54.99, BD $74.99), which includes the powerful final season of the Showtime series that stars Michael C. Hall as Dexter Morgan, a blood-spatter analyst for the Miami police department and serial killer who specializes in killing those who (in his opinion) richly deserve it. The series finale, which aired this September attracted the largest audience (2.8 million) in the network's history.
With the holidays approaching, large complete sets are thicker than mosquitoes in a Wisconsin marsh in June, so it makes perfect sense that Paramount is releasing
Dexter: The Complete Series Collection
(Paramount, $359.99, BD $459.99, Exclusive Gift Set $544.99).
The Complete Series Collections
come in "memento" boxes like those used by the series' protagonist, while the
Exclusive Gift Set
includes a full color art book as well as a spectacular package of its own.
Other holiday gift fodder includes
Merlin: The Complete Series
(BBC, 2829 min., $199.91), a massive 24-disc collection that includes loads of extras from the recent BBC Arthurian series, the Dick Van Dyke-starring medical detective series
Diagnosis Murder: The Complete Collection
(VEI, $299.95 ) the vintage young cops series,
The Mod Squad: The Complete Collection
(VEI, 6448 min. $219.95), the vintage 1960s sitcom
My Mother the Car: The Series
(TGG Direct, 900 min., $24.96), as well as the classic World War II drama
Combat: The Complete Series
(Image Entertainment, 7260 min., $229.98).
Also due this week are
MADtv: The Complete 4th Season
(Shout Factory, 1080 min., $29.93), the late night comedy show that competed with
SNL
not the Cartoon Network animated series, and the occasionally interesting reality series
Stan Lee's Superhumans: Season 2
(A&E, 616 min., $24.98).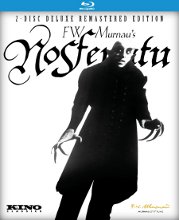 TV titles for kids include
Power Rangers Lightspeed Rescue: Seasons 8-12
(Shout Factory, 2610 min., $179.99), which includes 196 episodes, many of which have not been available on DVD before. This is kind of gift that can keep
Rangers
fans occupied for a very long time. This massive 26-disc collection includes a full DVD of extras as well as an informative 40-page book, but the real prizes are the five seasons that encompass
Power Rangers: Time Force, Power Rangers: Wild Force, Power Rangers: Ninja
Storm
, and
Power Rangers: DinoThunder
, as well as
Power Rangers: Lightspeed Rescue.
For those with more modest means there is
Power Rangers Zeo Vol.1
(Shout Factory, 480 min., $19.93), which includes the first 25 episodes of the Zeo series on three DVDs.
Another great gift for the younger set is
Sesame Street: Best of Collection
(Warner Bros., 303 min., $59.98), a 7-disc collection that comes in a colorful school bus package, and then there is
The World's Greatest Super Friends, Season 4: And Justice For All
(Warner Bros., 180 min., $14.98), which collects 8 episodes from the 1979-1980 series produced by Hanna-Barbera that was based on DC Comics'
Justice League.
This week's releases of U.K. material include the classy legal drama
Silk: Season 1
(BBC, 360 min., $34.98), which aired on PBS this year, and
The Paradise
(BBC, 471 min., $44.98), a dramatic series built around the development of Britain's first modern department store.
Classics on Blu-Ray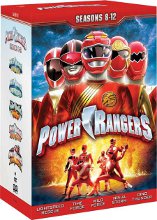 Looking for a gift for the horror movie fan on your list? The new Blu-ray of F.W. Murnau's
Nosferatu
(Kino, Not Rated, BD $39.95) is light years better than previous home entertainment versions of the movie. This is by far the best that
Nosferatu
has ever looked on disc with wonderful details apparent throughout and a sharpness that is seldom seen in modern versions of silent movies. The film is also greatly enhanced by the inclusion of Hans Erdman's brilliant 1920s symphonic score. All in all this is a great presentation of a groundbreaking horror film filled with some of the most lasting images in the history of horror films (and this is why that enhanced visual quality is so important). Since
Nosferatu
was in the public domain there have been dozens of terrible versions of the film released, but watching the Kino version is like seeing the movie for the first time again. The first shot of the abandoned warehouses across from Thomas Hutter's house in Wisborg in the new Kino version will send a chill down your spine even though Count Orlok hasn't even taken up residence there yet.
Of course the film is the main thing, but this two-disc Blu-ray set contains some great extras including a 52-minute 2007 documentary about the making of the film, plus lengthy excerpts from other Murnau films including
Journey Into Night, The Haunted Castle, Phantom, The Finances of the Grand Duke, The Last Laugh, Tartuffe, Faust,
and
Tabu.
Tom Flinn
The opinions expressed in this column do not necessarily reflect those of the editorial staff of ICv2.com.