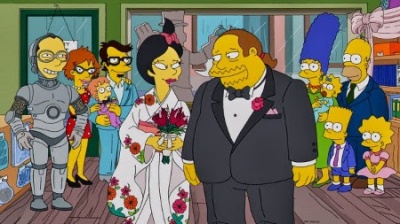 Confessions of a Comic Book Guy is a weekly column by Steve Bennett of Super-Fly Comics and Games in Yellow Springs, Ohio. This week, Bennett covers comic stores on TV, and the new Astro Boy.

Not being a young man anymore I find myself still deep in recovery from the recent festive period, not that the holidays are ever actually over. I continue to make all sorts of interesting grocery store discoveries with "holiday" flavor/scent themes. Last time I went shopping I counted no less than four new items that were either "pumpkin spice" or "spiced pumpkin" flavored, including a "Seasonal Release" of Pumpkin Spice Jello Instant Pudding. Having been reduced to 39 cents I naturally picked up a couple. But the winner for most grotesque and ridiculous, so far anyway, is a limited edition Softsoap called Wintermint Snowfall. Most "interesting" though wasn't holiday related. I discovered that they now make a brand of toothpaste recommended for the dental conditions people over 50 experience. Sadly, I qualify so I decided to give it a try.

It didn't get much attention but it should be noted that last week two of TV's most popular comedies had episodes that involved comic book shops. First up, The Simpsons, "Married to the Blob." The highlight was supposed to be a tribute to the work of legendary Japanese animator Hayao Miyazaki (My Neighbor Totoro, Howl's Moving Castle, etc.). Admittedly that was pretty cool, but it also contained a lot of other pleasures for geeks and nerds, starting with a Bill Plympton couch gag which segued to a sequence literally torn from an issue of a Radioactive Man comic book. The actual plot is predicated on a midnight sale at the Android's Dungeon of a new Radioactive Man #1 comic, a dated take on the Death of Superman mania but also strangely prescient as we're about to receive a new Amazing Spider-Man (see "Peter Parker to Return").

Among the attendees was Milo, owner of Springfield's cool comic book shop (introduced in "Husbands and Knives") who stopped by with girlfriend Strawberry (who demonstrates her nerd chic via an accessory; previously it was a Malibu Stacy lunch box repurposed as a purse, this time she's seen sporting Steampunk goggles). While there they dropped a truth bomb on Jeffrey Albertson a.k.a. The Comic Book Guy: "nerds get girls now." This causes TCBG to reassess his life--to say more would ruin it for those who haven't seen it, and those who haven't - you really should.

Secondly, though I know it's dangerous to do so, I'm going to again write about The Big Bang Theory. In last week's episode, "The Occupation Recalibration," the "B" storyline involved Howard's wife Bernadette visiting Stuart at The Comic Center of Pasadena to replace a damaged copy of Batman: The Dark Knight Returns #1. This led them to a trip to his shop's main competitor, Capital Comics, a much larger, cooler shop where he receives contempt and humiliation from its owner. Customers though receive free popcorn, lattes, and scones, which helps to explain why Stewart's shop is so often empty.

Mentioning this gives me enough wiggle room to mention a piece I recently came across online, "Why French people love The Big Bang Theory," by Nico Lang, that appeared on the Salon website. Unfortunately it does a fairly bad job of saying exactly why it's so popular there, other than floating the dubious proposition it's because it's "kind of like Friends." But it does quote from a website called Eurodata TV Worldwide that states TBBT is the most popular American sitcom in the world.

While I cannot independently confirm that, while searching for an image of Capital Comics sufficiently large to use here, quite by accident I found one at End of the World Villas, a Chinese language website for English language TV shows. This is where I discovered that apparently in Asia, New Girl is known as "Male and Female," Marvel's Agents of S.H.I.E.L.D. is "Aegis Service Agents," Arrow is "Green Arrow Man," while Grimm is, inexplicably, just "Green."

Since there is no official governing body to make an official determination I cannot in good conscience call myself "the world's biggest Astro Boy fan," but frankly, I kind of am. So I'm all in on anything that keeps the boy robot from going the way of Mutt and Jeff, but after the 2009 movie version crashed and burned, I don't expect to see another attempt to bring back the character anytime soon.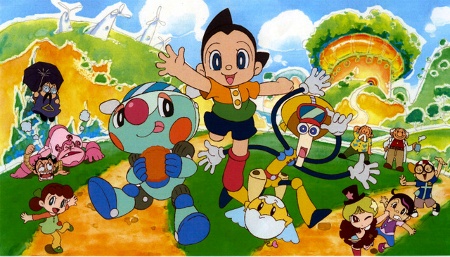 So you can imagine (though I really don't believe you can) my surprise when I saw the piece on the Anime News Network website titled "New Astro Boy/Mighty Atom Animation to Air in Nigeria." In March, a thirty minute show intended for preschoolers called
Robot Atom
(though a Japanese website is calling it
Robot Boy
) is premiering. Instead of a champion of justice Astro will be just a kid having adventures with his friends, and while I generally loathe it when classic characters are infantalized, this is OK with me.
Almost as interesting as an
Astro Boy
series debuting in Africa is that not only is this an international joint production between Tezuka Productions and a Nigerian TV station, but some of the animators are Nigerians, trainees who studied in Japan. Nigerian cinema, aka "Nollywood" is already a cinema powerhouse, imagine if they started to develop an indigenous animation industry…
The opinions expressed in this column are solely those of the writer, and do not necessarily reflect the views of the editorial staff of ICv2.com.