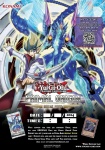 Rolling for Initiative is a weekly column by Scott Thorne, PhD, owner of Castle Perilous Games & Books in Carbondale, Illinois and instructor in marketing at Southeast Missouri State University. This week, Thorne finishes his Aldo Ghiozzi interview and comments on recent Sneak Peeks.
As promised last week, the rest of my questions for Aldo Ghiozzi (of Impressions Advertising and Marketing), as well as some comments on last weekend's
Primal Origin
Sneak Peek.
What are your demo and liquidation programs?
We do a quarterly demo kit program for retailers that is a flat $30. From there, we put games in the box that total up to that $30 in shipping only. It's actually the best deal in the industry--it usually comes to about 15 games with a MSRP of about $300.
For our liquidation opportunities, those are like the secret, behind closed door deals! We always have games that had too many printed or not enough sales. With that, we find conventions and retailers that could use the games for prizes and/or special events. It's usually just the cost of shipping and we hope to clear some warehouse space basically.
What do you wish I had asked you about?
I personally wish I could actually ask you, the retailer, what can help you sell more of the new games from new publishers that come on the market. It's obviously so hard to break into distributors and retailers, so how does a new game company get past a retailer just using their money to order more
Settlers
, more
Ticket to Ride
or more
Munchkin
?
Thanks Aldo!
In other news, we had pre-releases for
Magic: The Gathering--Journey into Nyx
and
Yu-Gi-Oh!: Primal Origin
about two weeks apart and once again found Wizards of the Coast's handling of its pre-releases far superior to Konami's, though, to their credit, Konami did implement some operating changes that made things a bit easier. But still, Wizards of the Coast trusts stores to run pre-releases with a lot less oversight and restrictions than Konami does.
Case in point, instructions from Konami not to open the Sneak Peek kits until May 10th. Given that the Sneak Peek takes place on May 10th and 11th, not opening the kits makes it rather hard to check and make certain that nothing is missing from them. Granted, we have never had any problems with items missing from the kits before this but there is always a first time. Opening the kits ahead of time allows us to check and contact Konami if needed. An email to Konami pointing this out did get a response saying it was OK to open the kits the Thursday before the Sneak Peek. I understand Konami's desire to stop Sneak Peek organizers from selling cards from the set early but WOTC faces the same problem and does not restrict stores from opening pre-release materials early.
Bowing to player and store requests, Konami did allow stores to run Sneak Peek tournaments using
Primal Origin
this time, though such tournaments were unsanctioned and did not add to a player's ranking. Here's hoping next time Konami allows the sanctioning of Sneak Peek tournaments.
One final note. I did like the change in the reporting method Konami implemented for the Sneak Peek, using Survey Monkey to gather the information rather than asking us to fill out a form and email it back (though Konami does ask for a lot more information about players, as well as pictures, than WOTC does). However, sending a link out to the reporting form at 9 p.m. the night before the Sneak Peek, not a good idea. Way too last minute. If there was a problem receiving the email, much like with the instructions on the Sneak Peek kits, it would have been the proverbial mad scramble to get everything straightened out. No store owner needs or wants to face something like that the day of a major event like a Sneak Peek.
The opinions expressed in this column are solely those of the writer, and do not necessarily reflect the views of the editorial staff of ICv2.com.