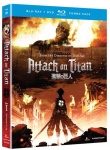 This week's home entertainment releases include the eagerly awaited debut (on disc) of the anime adaptation of the mega-popular manga
Attack on Titan
, plus the latest season of HBO's always fascinating
True Blood
, the most popular film to come out of the recent conflicts in Iraq and Afghanistan, new collections of some of the 1960s DC Comics-based Filmation cartoons, and a limited edition Blu-ray collection of the first three seasons of
The Walking Dead
.
Anime
This week's top release is
Attack on Titan Part 1
(Funimation, "17+," 300 min., BD/DVD Combo $49.98 Ltd. Ed $89.98), which includes the first 13 episodes of the anime TV series created by Production IG and Wit Studio that is based on the bestselling science fiction manga created by Hajime Isayama. This saga is set in a future in which humanity is confined to walled cities because of gigantic humanoid creatures, known as Titans, who devour humans voraciously. After seeing his mother eaten by a Titan, Eren, the hero of
AoT,
vows to kill all Titans.
Attack on Titan
is currently the most popular manga property in North America, having displaced
Naruto
, which spent nearly a decade at the top of the charts. Given the popularity of the manga and the
Attack on Titan
anime's exposure on the Cartoon Network's Adult Swim block, this has to be one of the most highly anticipated anime releases of the year—and Funimation's Blu-ray/DVD combo does not disappoint.
The Limited Edition
includes a 24-page digibook, "Notes From Beyond the Wall, Part 1," and a lenticular art card,.
Other releases of new material due on Tuesday include the
Amnesia Complete Collection
(Sentai Filmworks, "14+," 300 min., $59.98, BD $69.98), which contains all 12 episodes of the 2013 anime produced by Brain's Base and based on the popular romance "visual novel" series created in Japan by Idea Factory, and
Hentai Prince and the Stony Cat Complete Collection
(Sentai Filmworks, "14+," 300 min.,$49.98, BD $59.98), which contains the 12-episode series produced by J.C. Staff in 2013 and based on the harem comedy light novel series written by Sou Sagara.
This week's top re-priced reissue is the
Ah My Buddha Complete Collection
(Nozomi, "16+," 650 min., $34.99), which includes all 26 episodes of the supernatural comedy drama produced by Studio Deen that was based on the manga by Toshinori Sogabe and aired in Japan in 2005 and 2006.
TV on DVD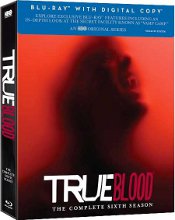 This week's top TV release is
True Blood: The Complete Sixth Season
(HBO, $59.98, BD $79.98), Alan Ball's highly entertaining adaptation of Charlaine Harris'
Sookie Sackhouse
novels. There were big doings in Bon Ton, Louisiana during Season Six as the state's governor Truman Burrell declares war on vampires. HBO's
True Blood
mixes a compelling and wild inventive supernatural storyline with enough allegorical social commentary to keep things very interesting—and Season Six may be the most effective demonstration of the show's formula yet.
There are a couple of new editions of previously released material due out this week worth noting including
The Walking Dead: The Complete Seasons 1-3 Ltd. Edition
(Starz, 1558 min., BD $149.98). All three seasons have been released before, but they are available here on Blu-ray along with a bonus t-shirt. Also available this week is
Breaking Bad: The Complete Series
(Sony, 2952 min., $160.99, BD $230.99). The complete
Breaking Bad
was first offered last November (see "
DVD Round-Up: Red 2, Jobs, & Breaking Bad
"), but that set was packaged in a special "chemical barrel" case (rather than the conventional box set packaging of the set due on Tuesday) and had an MSRP of $250.99.
Other previously released material set for a Tuesday release includes the
Doctor Who: Doctors Revisited Gift Set
(BBC, $125.92), which includes one complete saga for each of the eleven Timelords in the long-running science fiction series that began in the 1960s and continues today. The
Gift Set
includes all the Docs from the classic series along with Doctors 9-11, who were played by Christopher Eccleson, David Tennant, and Matt Smith in the revamped
Doctor Who
TV show that ended a 17-year hiatus in the series in 2005.
For other science fiction fans this week's top release might well be
Falling Skies: The Complete Third Season
(Warner Bros., 440 min., $39.98, BD $49.98), which contains all ten episodes from the recently completed third season of the top rated series on cable channel TNT. A strong cast helps raise this alien invasion saga above the level of most cable sci-fi efforts, though some genre aficionados may find
Falling Skies
a little too mainstream in its approach.
Other contemporary series out this week include a DVD-R release of the Florida-set police procedural comedy
Glades: Season Four
(Fox, 572 min., $29.95), a DVD-R edition of the third season of the American version of the Danish Nordic Noir series,
The Killing: Season 3
(Fox, 528 min., $29.95), the ABC Family teen mystery drama
Pretty Little Liars: The Complete Season 4
(Warner Bros., $59.98), and the Comedy Central scripted comedy series
Workaholics: Season 4
(Comedy Central, 286 min., $22.98).
Fans of TV superhero animation can choose from two important vintage series,
The New Adventures of Superman: Seasons 2 & 3
(Warner Bros., 192 min., $19.97), which includes 32 six-minute animated Superman adventures produced by Filmation that aired on the CBS network between 1966 and 1970, and
The Adventures of Batman
(Warner Bros., 331 min., $19.97), which collects 17 episodes of the Filmation-produced
Batman
cartoon series that aired in 1968 as part of the
Batman/Superman Hour
.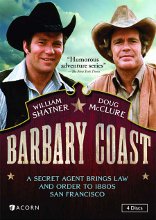 Vintage TV releases include one of special interest to geek TV viewers,
Barbary Coast: The Complete Series
(Acorn Media, 745 min., $59.99). The short lived series, which starred William Shatner and Doug McClure (half the inspiration for
The Simpson's
"Troy McClure) as two undercover spies trying to bring law and order to 19th Century San Francisco, demonstrates an engaging mixture of comedy and action. Clearly inspired by
The Wild, Wild West
,
Barbary Coast
was the first post-
Star Trek
TV series for Shatner—and the Byzantine plots for the show were concocted by a writing staff that included a number of
Mission Impossible
scribes.
Other vintage offerings include
The Best of the Equalizer
(VEI, 188 min., $9.99), which includes selected episodes from the series starring Edward Woodward (the poor man's Michael Caine), and the popular western series
Rawhide: The 8th & Final Season
(Paramount, 670 min., $39.98), during which Rowdy Yates (Clint Eastwood) took over as trail boss after the untimely death of Eric Fleming, who played trail boss Gil Favor during the show's first seven seasons.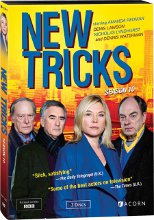 The top U.K. offering is
New Tricks: Series 10
(Acorn Media, 590 min., $39.98). Big changes are afoot in this well-written series about retired U.K. policemen who return to work on previously unsolved cases. In Series 10 one of the most colorful members of the UCOS squad Brian Lane is forced out after a courageous act of defiance and the UCOS Squad leader Sandra Pullman also decides to head in a new direction. The good news is that in spite of all the changes
New Tricks
remains one of the most consistently entertaining detective series on television thanks to a great mix of fascinating cold cases, workplace drama, and character-driven comedy.
Theatrical Movies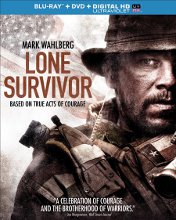 This week's biggest release is Peter Berg's
Lone Survivor
(Universal, "R," 244 min., $29.98, BD $34.98), a relentless action film based on the real life adventures of a group of Navy SEALs on an extremely dangerous mission to take out a high-level al-Qaeda target. This story of a dangerous mission gone wrong can be hard to watch, but
Lone Survivor
is clearly the most popular and widely seen movie based on America's 21st Century wars. Mark Wahlberg gives one of his most impressive performances and Berg does an excellent job of simulating both the combat and terrain in Afghanistan with a high degree of realism.
As good as
Lone Survivor
is, some geek viewers might be more interested in Jose Padhilla's remake of
Robocop
(MGM, "PG-13," 117 min., $29.98, BD $39.99). The new
Robocop
got short shrift from the critics (just 49% positive on Rotten Tomatoes), but, as remakes go, this one isn't all that bad. Padhilla manages to retain and update much of the social commentary for our even more technological society.
So far in 2014 religiously-themed movies have made a major comeback at the box office, and there is no better gauge of their success than the fact that
Son of God
(Fox, "PG-13," 138 min., $29.98, BD $39.99) made nearly $60 million at the domestic box office. This amount is impressive because
Son of God
was edited from footage that was broadcast the 2013 TV miniseries
The Bible
.
Tom Flinn
The opinions expressed in this column do not necessarily reflect those of the editorial staff of ICv2.com.