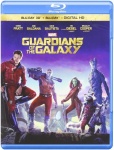 Guardians of the Galaxy
leads this week's slate of home entertainment releases, but it is not the only gem, since there is also the first season featuring the new 12th incarnation of
Doctor Who
, the latest season of
Family Guy
, and the sophomore season of the TV adaptation of Stephen King's
Under the Dome
that has been shepherded to the small screen by showrunner Brian K. Vaughan.
Theatrical Movies
When Marvel Studios announced a film based on the little known (outside the comics world)
Guardians of the Galaxy
(Disney, "PG-13," $29.99, BD $39.99) many analysts were skeptical, especially after Warner Bros. came a cropper with its adaptation of the DC Comics' space opera
Green Lantern
. But following the sage advice of Joss Whedon, Marvel choice James Gunn to direct
Guardians
. Even though Gunn had never directed a big budget summer blockbuster, he had shown a flair for both comedy and solid genre filmmaking with his horror comedy
Slither
, and he brought the same innovative spirit to
Guardians of the Galaxy
, which is currently the highest-grossing film of 2014 (in North America), and certainly the biggest break-out franchise creating hit of 2014. With a jingly soundtrack of 1970s and 80s hits
Guardians
tapped into the "gee whiz" spirit of 1970s science fiction sagas like
Star Wars
and presented audiences with a film that was breezy, fun, and never took itself too seriously. Even if you don't like superhero films,
Guardians
has the power to please with its fusion of the adventure-filled
Indiana Jones
and
Star Wars
traditions.
But
Guardians
isn't the only solid release this week.
A Dolphin Tale 2
(Warner Bros., "PG," $28.98, BD $35.98) is a solid family film that earned a 69% positive rating on Rotten Tomatoes, which is no mean feat for a movie in this genre, and art movie fans should enjoy
Frank
(Magnolia, "R," 95 min., $26.98, BD $29.98), a strange and interesting film (directed by Lenny Abrahamson) about an avant garde pop group led by enigmatic singer played by Michael Fassbender who insists on wearing a giant fake head. This gives Fassbender a chance to demonstrate his acting skills without use of his physiognomy, a feat akin to playing tennis without arms, and the critics were impressed, giving
Frank
a 92% positive rating on Rotten Tomatoes (though my rule-of-thumb is to subtract 25% from any "art" movie's RT score, and add a similar percentage to any genre film's score on the site).
Another movie that will please art house fans is
Calvary
(Fox, "R," 101 min., BD $27.99), a smart, downbeat Irish film that features a towering performance by Brendan Gleeson that is worth the price of admission.
Also due this week is
When the Game Stands Tall
(Sony, "PG," 115 min., $30.99, BD $40.99), a sports saga starring Jim Caviezel that is based on a true story, which unfortunately can't save it from the sort of TV Movie-of-the Week inspirational quality that characterizes many sports-themed films.
TV on DVD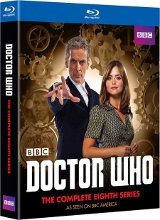 There is a trio of releases of special interest to geek viewers headed by
Doctor Who: Season 8
(BBC, 602 min., $79.98, BD $99.98) is a five-disc collection of the latest season of the revived
Doctor Who
TV series, the first to feature Peter Capaldi as the 12th incarnation of the Timelord. Capaldi reminds this viewer of Tom Baker in his approach to the role, and so far Season 8 has had plenty of knowing references to classic Whovian plotlines and characters.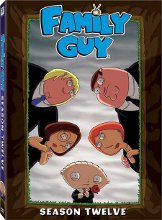 Family Guy: Season 12
(Fox, 461 min., $39.98) collects the latest season of the popular Fox animated TV series created by Seth Macfarlane. For some unknown reason Fox has decided to change the numbering of the
Family Guy
releases, so what would normally have been the
Family Guy,
Vol. 13 has now become
Family Guy: Season 12
. Whatever the name, the mayhem created by Peter, Stewie, and the rest of the gang remains intact.
The other item of special interest is
Under the Dome: The Second Season
(Paramount, 525 min., $59.99, BD $74.98), the CBS summer series based on a novel by Stephen King and overseen by Brian K. Vaughan, the creator of
Y: The Last Man
, who functions as the "showrunner" for
Under the Dome
, a series that is a true bright spot in the absolute wasteland of reality show crap that fouls the airwaves during American network TV's execrable summer season.
Most of the other releases this week are holiday gift-targeting "complete" editions of TV shows of varying vintage, a list that includes the excellent Nickelodeon animated series
CatDog: The Complete Series
(Shout Factory, $39.99), the Norman Lear-produced sitcom,
The Jeffersons: The Complete Series
(Shout Factory, 4,440 min., $229.99), the talking horse saga,
Mister Ed: The Complete Series
(Shout Factory, 3480 min., $139.99), the groundbreaking sitcom starring the late Robin Williams,
Mork & Mindy: The Complete Series
(Paramount, 2400 min., $129.99), and the classic U.K. spy series,
Secret Agent (Danger Man): The Complete Series
(Timeless Media, 3350 min., $79.97).
Anime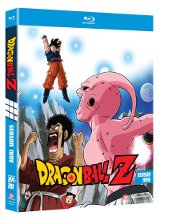 There are a number of interesting releases this week including
Dragon Ball Z: Season 9
(Funimation, 875 min., BD $44.98), which includes episodes 254-291, the final 36 episodes of the original
Dragon Ball Z
TV anime series re-mastered in high-definition (and yes, purists object to the change in aspect ratio), but others will delight in how clear and colorful the saga of the struggle against Majin Buu looks in this Blu-ray edition.
New this week is
Infinite Stratos 2: Complete Collection
(Sentai Filmworks, 300 min., $59.98), which includes all 12 episodes of the 2013 anime series produced by 8-Bit and based on the mecha-rich science fiction harem comedy light novel series by Izuru Yumizuru.
Sentai is also re-packaging some previously released series and offering them at a reduced per-episode cost.
Hiiro no Kakera: The Tamayori Princess Saga Complete Collection
(Sentai Filmworks, 650 min., $79.98, BD $99.98) includes both seasons of the Hiiro no Kakera anime, which were previously released separately, and the
ef—A Tale of Memories & Melodies Complete Collection
(Sentai Filmworks, 600 min., $79.98, BD $99.98) includes both the previously-released
ef—A Tale of Memories
and
ef—A Tale of Melodies
12-episode TV anime series.
Also due on Tuesday is a Blu-ray edition of
Okamikakushi—Masque of the Wolf: Complete Collection
(Sentai Filmworks, 300 min., $59.98), a subtitled-only release of a 12 episode series that was released on DVD last year.
But for fans of old school anime comedies, the top release of the week is
Ranma 1/2: Set 4
(Viz Media, 530 min., $44.82, BD $54.97), which continues the sparkling new edition of the classic 1990s gender-bending martial arts comedy series based on the manga by Rumiko Takahashi.
--
Tom Flinn
The opinions expressed in this column do not necessarily reflect those of the editorial staff of ICv2.com.